How to Get Started with Amazon Marketing in 2022?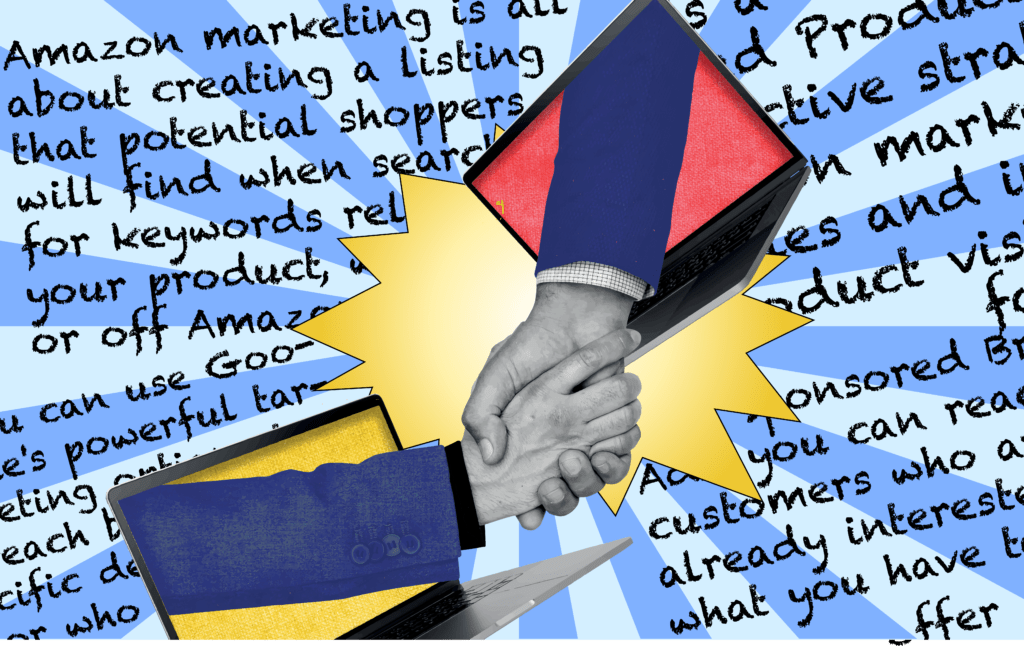 Are you an Amazon seller looking to ramp up your marketing in 2022? If so, you're in luck. In this blog post, we'll show you how to get started with Amazon marketing in just a few simple steps. So what are you waiting for? Read on to learn more!
What is Amazon Marketing?
Amazon Marketing is the process of promoting Amazon products and services to potential customers on Amazon.com and its affiliated websites.
Amazon Marketing includes a variety of tactics and strategies, such as Amazon Sponsored Products, Amazon Pay-Per-Click Advertising, Amazon Product Listings, Amazon Brand Stores, Social Media Marketing, Search Engine Marketing, Email Marketing, and Amazon Reviews.
This methodology can be an effective way to reach potential buyers interested in Amazon products. By using an Amazon Marketing approach, businesses can improve their visibility, drive traffic to their Amazon listings, and increase profits.
What is the purpose of Amazon marketing?
Amazon marketing is all about creating a listing that potential shoppers will find when searching for keywords related to your product, whether on or off Amazon.com.
To do this, you'll need to optimize your Amazon listing title, product images, Amazon product descriptions, and backend keywords, which requires a well-oiled Amazon SEO strategy.
Remember toinclude creating Sponsored Ads on and off Amazon to promote your brand to a maximized audience. By optimizing your listing and running Amazon Sponsored Ads, you can reach more shoppers and multiply your profits on the world's largest eCommerce platform.
What Are Different Strategies for Amazon Marketing?
As mentioned above, your marketing efforts should target potential customers on and off the Amazon Marketplace. So you can break down the whole strategy into 2 main categories:
On-Amazon Marketing
Amazon Reviews
Amazon reviews are a powerful tool to get customers' trust and advertise your product. By providing potential customers with honest feedback from other purchasers, you can give them the confidence they need to make a purchase. In addition, Amazon reviews can help improve your product ranking on the Amazon search engine, making it more accessible for potential buyers to find your listing.
Not every review will be positive. But you can show your store's visitors that you are providing a quality product by taking the time to respond to all feedback. With Amazon reviews, you have the power to reach a large audience and promote your product effectively and efficiently.
Amazon SEO
Amazon means optimizing your product listings to appear higher in Amazon's search results. When users search a particular phrase on Amazon, the results that appear first are more likely to get clicked on. And the more clicks your listing gets, the higher it will rank in Amazon's search results. So, if you want your product to be seen and bought by as many people as possible, you need to optimize your listing for Amazon's search engine.
Amazon PPC advertising
Amazon PPC advertising is a version of pay-per-click advertising used on the Amazon marketplace. PPC ads are text-based ads that appear on Amazon.com and Amazon-affiliated websites. They are targeted to potential shoppers searching for products that are relevant to the keywords you select. When a shopper clicks on your ad, they land on your product detail page. There they can learn more about your product and make a purchase. 
Amazon PPC advertising is a great way to get your products in front of shoppers interested in your products. And, because you only pay when a shopper clicks, it's a cost-effective way to drive extra traffic to your Amazon store. There are a variety of ways to run Amazon PPC ads but the most popular ones are:
Sponsored Product Ads
Sponsored Products Ad is a category of Amazon Ads that enables sellers to promote their products on Amazon with pre-targeted ads in search results paged and product detail pages. When people click on your ad, they will land on your Amazon detail page, where they can learn more about your product and make a purchase. 
Sponsored Products is a cost-effective strategy for on-Amazon marketing to drive sales and increase your product visibility. As an Amazon seller, you only pay when your ad gets clicks. There is no minimum spend, and you can set your own budget. 
Sponsored Brand Ads
Sponsored Brand Ads are a form of Amazon Marketing, especially for private labels, to promote their brand on Amazon. They appear at the top of search results pages and feature your brand logo, slogan, and up to three products. When people click on this type of ad, they will land on your Amazon Store. There they can learn more about your brand's unique value, shipping time, and products. 
These ads are an effective way to reach highly motivated shoppers and promote your brand, especially if you're a private label on Amazon. With Sponsored Brand Ads, you can reach customers who are already interested in what you have to offer. In addition, Sponsored Brand Ads can help increase brand awareness and discoverability.
Off-Amazon Marketing
Amazon DSP Ads
Amazon DSP (Demand-Side Platform) is an advertising platform that helps brands to reach potential shoppers with relevant ads even on and even off Amazon.com. You can target your favorite audience on the Amazon Mobile App, Amazon Fire TV, and 3rd party websites and apps that are part of the Amazon Advertising network. Amazon DSP allows you to buy ad space on Amazon.com and other Amazon sites in real-time through a programmatic auction. You can use Amazon DSP to reach people across devices with your ad campaigns and improve your campaign performance with data-driven optimization and reporting. 
Google SEO optimization
Google is the world's largest search engine, and Amazon is the world's largest online retailer. Interestingly, Google and Amazon are also two of the most popular places to shop for products. This is because both Google and Amazon offer a wide variety of products, a convenient shopping experience, and competitive prices. However, there is one main difference between Google and Amazon: Google is a search engine, while Amazon is a marketplace. Google ranks products mainly based on keywords and backlinks, while Amazon ranks products based on sales. To target the significant audience who start their shopping process on Google, it's essential to SEO-optimize your product listings for Google as well.
Google Ads
Google Ads can be a highly effective tool for marketing on Amazon. By creating a campaign specifically for Amazon, you can target shoppers interested in your product category. In addition, you can use Google's powerful targeting options to reach buyers in specific demographics or who have made certain purchasing decisions in the past. And because Google Ads is a pay-per-click platform, you only pay when someone actually clicks on your ad, making it an affordable way to reach potential customers. With careful planning and execution, Google Ads can be a powerful tool for driving sales on Amazon.
Email Marketing
Email marketing is a great free tool to reach out to your customer base and keep them updated on what's going on with your Amazon business. You can use it to promote new products, announce sales or discounts, or keep them in the loop about what's going on. Plus, it's an excellent way to build and nurture relationships with your customers and get their feedback. Once you have a list of email addresses, you'll need to create an email template that you can use to send out updates. You can also use emails as an Amazon marketing tool by including links to your products and promoting your upcoming campaigns.
Social Media Marketing
Social media marketing is the fastest growing and most effective Off-Amazon marketing tool. By utilizing platforms such as TikTok, Facebook, Twitter, and Instagram, businesses can reach a large audience of potential customers and build relations.
The formula to success with social media marketing is to create engaging content that will interest users and encourage them to follow your business page. Additionally, it is crucial to run targeted advertising campaigns on social media platforms to reach potential customers interested in your products or services. With a well-executed social media marketing strategy, businesses can increase their visibility on Amazon and attract new customers.
Affiliate Marketing
Affiliate marketing is an excellent way to get new customers on Amazon. You can collaborate with affiliate marketers to promote products and earn a commission on your sales. Affiliate marketing can be a very effective Amazon marketing strategy because of high conversion rates, the significant positive impact on brand reputation, and the strong networks you can build with it among potential customers.
Influencer Marketing
Influencer Marketing is a very efficient marketing tool for Amazon sellers. You can reach a wider audience, impress them and promote your products to a new group of potential customers by working with popular influencers. Influencer Marketing can help you increase brand awareness, build trust and credibility, and boost sales when done correctly. With a little effort, Influencer Marketing can help you take your Amazon business to the next level!
Conclusion
If you want to get ahead of the competition in 2022, start Amazon marketing now. This blog post showed you how to get started with Amazon marketing in just a few simple steps. So what are you waiting for? Get started right today and see the results for yourself! And if you need help, don't hesitate to reach out to us for a Free PPC Audit. We're happy to provide our expertise and help you get your Amazon marketing on the right track.
Was this article helpful?