For anybody selling on Amazon for the first time, getting used to Amazon's jargon might be pretty difficult. It may be a jungle out there, with unusual acronyms, obscure abbreviations, and long words and terminologies.
To assist you in navigating the ins and outs of your eCommerce experiences effectively, we've created this comprehensive Amazon seller dictionary. It includes all of the critical Amazon business phrases that you may encounter during your selling journey.
A
A+ Content (FORMERLY KNOWN AS ENHANCED BRAND CONTENT (EBC)
A premium feature that enables brand owners to create compelling listing content using high-quality images, engaging videos, creative text fonts, and professional templates.
A/B Testing
An analytical method used for testing two different variations of the same product listing to optimize for clicks, conversions, and sales.
A9
The company that develops Amazon's search and advertising technology.
A10
An industry-adopted term for the most recent Amazon core algorithm update.
Amazon Search Algorithm
Developed by the A9 team, which is in charge of deciphering the billions of search requests that occur each month. The primary goal of the search algorithm is to make it easier for consumers to discover goods and for merchants to promote their products on these searches.
Amazon Fire TV Stick
The 2nd most widely-used TV streaming device that delivers a host of streaming channels including Prime Video, IMDb TV, Netflix, Hulu, and more.
Account Health
An indicator of how well a seller is doing complying with Amazon's policies and performance targets.
ACoS (Advertising Cost of Sales)
ACoS is the ratio of how much you spend on sponsored ads for every dollar you make in sales. It is expressed as a percentage and is one of the most critical metrics for measuring the efficiency of an ad campaign.
Ad Daily Budget
The average daily budget you set for an ad group.
Ad Impressions
The number of times buyers see your ad on Amazon.
Ad Spend
The total amount spent on ads in a given period.
Ad Sales
The total number of sales generated in a week against an ad campaign on Amazon.
Ad Targeting
An option available in the Amazon ad settings allows you to choose between manual and automatic keyword targeting.
Ad Status
Describes the current status of an ad group: paused, ended, running, archived, scheduled, incomplete, out of budget, or failure.
Alibaba.com
A Chinese B2B online marketplace used for sourcing products for Amazon.
Alibaba Assessed Supplier
A verified supplier, manufacturer, or wholesaler on Alibaba.com. These suppliers are assessed by leading third-party inspection companies such as SGS, TüV SüD, and Bureau Veritas.
Alibaba Gold Supplier
A premium supplier, manufacturer, or wholesaler on Alibaba.com. Gold suppliers pay an annual fee to Alibaba.com to maintain their Gold membership.
Alibaba Trade Insurance
A free service that covers Alibaba.com buyers in the event of quality or shipping-related disputes with the suppliers.
AMZ (Amazon)
A commonly used abbreviation for Amazon.
API
Application programming interface or API is a piece of code that allows you to connect two different applications for reporting or other operational purposes.
ASIN
ASIN is an acronym for Amazon Standard Identification Number. It is a string of alphanumeric characters that help with product tracking and identification across the Amazon supply chain. Every item sold on Amazon has a unique ASIN assigned to it.
A-to-Z Guarantee
A type of claim that Amazon customers can file to obtain a full refund on their purchase against late deliveries, wrong order receipts, or damaged shipments.
Amazon Attribution
A feature that allows sellers to measure and track the impact of their external marketing campaigns on their Amazon sales.
Amazon Marketing Services
Amazon Marketing Services (AMS) is a former set of Amazon advertising tools that helped vendors and sellers run and manage ads on the Amazon marketplace. The service was rebranded to Amazon Advertising in 2018, alongside Amazon Media Group and Amazon Advertising Platform.
Amazon's Choice
A special badge is given to a product that Amazon finds as the best fit for a specific search query.
Amazon Prime
A paid subscription program on Amazon allows customers to avail themselves of special services such as same-day delivery, exclusive discounts on purchases, and access to premium music, video, audio, and reading content.
Automatic Targeted Ads
Types of Sponsored Product Ads run on auto and don't require any keyword inputs from the seller.
Amazon Associate Program
An Amazon affiliate marketing program for bloggers and website owners.
Advanced Shipment Notification (ASN)
An electronic notification is sent to Amazon to confirm a delivery slot for an inbound shipment.
Average Selling Price (ASP)
It is the average amount of money you generate per unit sale.
Average Order Value (AOV)
The average amount a customer spends per order when shopping from your store.
Amazon Vendor Services
A paid support-service program for vendors that help them better manage their business operations on Amazon.
Amazon Store
A feature that allows brand-registered sellers to set up a dedicated online storefront for free.
B
B2B
A type of business model where one business sells a product or service to another business.
B2C
A type of business model in which businesses sell services or products directly to consumers.
Bid+
An option on Amazon that allows you to increase your ad bid up to 900% for both top of search and product detail placement auctions.
BOGO
Buy One Get One or BOGO is a promo code on Amazon that allows you to offer two different products to your customers for the price of one.
Brand
The label under which you sell a product on Amazon.
Brand Registry
Brand Registry is a program that protects Amazon sellers from hijackers and counterfeiters.
BSR (Best Sellers Rank)
A score assigned by Amazon to a product based on its past and present sales data. The higher the sales of a product, the lower its BSR.
Buy Box
The white-colored widget present on the right side of an Amazon product detail page allows customers to make a purchase or add a product to their shopping cart.
Bid
The amount you're willing to pay to display your ads on Amazon.
Brand Analytics
A premium feature that offers valuable insights and tools to help brand owners make informed business decisions.
BMVD (Books, Music, Video & DVD)
A category for books, music, videos, and DVDs sold on Amazon.
Browse Node
A numeric code that sorts and identifies a given product category inside Amazon. Every category has a unique browse node.
BISS (Business Industrial and Scientific Supplies)
A category for industrial and scientific supplies sold on Amazon.
Bundle
A bundle is a group of closely related products assembled and sold in a single package. Each item in a bundle has its own ASIN.
Bar Code
A machine-readable optical label that helps in identifying and tracking inventory during different stages of the fulfillment process.
C
Category
A product segment on Amazon containing items with shared attributes and uses.
Cost of Goods Sold (COGS)
Cost of goods sold or COGS is the sum of all direct expenses incurred in manufacturing a product. It includes the cost of material, labor, and factory overheads.
CPM (Cost Per Thousand Impressions)
It is the cost you pay for every thousand ad views on Amazon.
Customs Clearance
The process of obtaining permission from customs authorities to import or export goods from a country.
Coupons
These are discount tokens that Amazon customers can use to save money on their purchases. Sellers distribute coupons to increase their product sales.
CTR (Click-through-rate)
The number of clicks an ad generates against the total number of impressions it receives.
Child Listing
A variation listing selling the variation of a parent product. This variation can be color, size, dimensions, pack size, flavor, design, etc.
Conversion Rate (CR)
The percentage of visitors who buy your product after clicking on your listing.
CPC (Cost-Per-Click)
It is the amount of money you pay every time someone clicks on your ad.
An Amazon Program that aims to help consumers find sustainable and green products on the Amazon marketplace.
Chargeback
A payment reversal order is issued against an incomplete delivery, incorrect multiple transactions, or any other pending issue that the customer may have with the seller.
D
DDP (Delivery Duty Paid)
A shipping agreement where the supplier takes complete responsibility for handling all the costs and risks associated with transporting the inventory to the destination.
Dropshipping (DS)
It is a type of business model on Amazon wherein you list products on your account but don't invest in the actual inventory. When a customer places an order, you ask the supplier to ship the product to the customer, and in return, you take your cut.
Duty Tax
The tax paid on the import of goods.
DSP (Demand Side Platform)
An Amazon-owned ad platform enables sellers to buy display, audio, and video ads on Amazon partner sites and apps.
Deals of the Day
A page on Amazon that shows the best daily discount deals for products in different categories.
Display Ads
Sponsored Display Ads, or simply Display Ads, are ad types on Amazon that help brands promote their products off Amazon using customer-based targeting strategies.
E
EAN (European Article Number)
A 13-digit universal, standardized barcode used for identifying products in the global trade system.
Early Reviewer Program
A former incentivized review program on Amazon that helped new sellers acquire authentic product reviews from customers. The eCommerce giant discontinued the program on April 25, 2021.
EXW (EX Works)
A shipping agreement in which the buyer handles the complete transportation of the inventory from the supplier's point of origin.
EBC (Enhanced Brand Content)
The old name of Amazon A+ Content.
F
FBA (Fulfilment By Amazon)
A fulfillment solution provided by Amazon to third-party sellers where the company handles the complete order fulfillment process on behalf of the seller.
FBM (Fulfilment By Merchant)
A fulfillment method where the seller assumes full responsibility for their fulfillment process, including storage, packaging, and shipment.
FBA Fees
The fee Amazon charges for picking, packing, and shipping services under FBA.
Fulfilment Center (FC)
An Amazon warehouse where FBA sellers send their products for storage, packaging, and shipment.
FFP Program
FFP or Frustration-Free Packaging Program is an initiative by Amazon that promotes sustainable packaging.
Fast Track
An Amazon operations team focused on improving the customers' shopping experience.
Fill Rate
It is the success rate percentage of completed deliveries against stock-outs, backorders, or lost sales.
FCA (Free Carrier Agreement)
A shipping agreement where the supplier is responsible for the transfer of goods to a pre-designated carrier.
First Party Sellers (1P)
Manufacturers or distributors who directly work with Amazon to sell their products through the Vendor Program.
FNSKU (Fulfilment Network Stock Keeping Unit)
Also called Product ID, it is used to identify a product to a seller.
FOB (Free on Board)
A shipping agreement where the Amazon seller bears all the responsibility of transporting the goods once they are loaded on board.
Freight Forwarder
A company that provides shipping services to businesses.
File Feed
A bulk upload option on Seller Central that allows you to create or edit product listings and update variations.
G
Gated Category
A restricted category for which you need to take approval from Amazon to list items.
Giveaway Promo
A feature that allows sellers to set up promotional giveaways to boost their sales.
Gross Profit
The profit you make on sales after deducting the cost of goods sold.
GTIN (Global Trade Identification Number)
A unique 14-digit universal code used to identify trade items across different product databases.
Gateway Placement
A type of ad placement on the Amazon marketplace homepage, just below the fold.
Global SKU
An SKU that is a part of a shared inventory pool between different marketplaces.
Gated Brand
A restricted brand on Amazon. Sellers need to submit an authorization letter or invoice from the brand to sell its products on Amazon.
H
Hazmat
These are hazardous items, including flammable and non-flammable gases, solids, and liquids. You can only sell them through the Amazon Dangerous Goods Program.
Hijacking
A situation where an unethical seller attaches to a brand's listing and starts selling its products, causing the brand to lose the buy box.
Headline Search Ads
Headline Search ads (also called Sponsored Brand ads) are types of ads that allow brands to showcase their products on the top of the search results pages.
Backend keywords that boost product visibility in search and help drive more sales. 
I
ISBN (International Standard Book Number)
A 10 or 13-digit identity number assigned to individual books, ebooks, or audiobooks. You can use ISBNs to list products on Amazon.
Inventory
The stock of goods you have available to sell on Amazon.
Inventory Health
An Amazon-generated report that gives sellers a complete breakdown of their inventory, including stock in hand, total unsellable quality, inventory age, and more.
Inventory Performance Index (IPI)
A measure of how well sellers manage their inventory. The score combines 90 days of sales, costs, and inventory levels. If the IPI score is below a certain threshold, sellers are subjected to storage limits and selling restrictions.
IP (Intellectual Property)
Any intangible property such as name, image, or product design that is legally protected by law from unauthorized use.
Individual Seller
A seller selling on an Individual plan on Amazon.
K
Keywords
The words or phrases buyers use to search for products on Amazon.
L
Landing Cost
The final cost of acquiring a product. It includes manufacturing costs, freight charges, bank charges, etc.
Lightning Deals
Promotional deals on Amazon are available for a limited time. Sellers offer Lightning Deals to increase their product sales.
Long Tail Keyword
High intent search terms, typically three or more words long.
Launchpad
A support program designed for sellers with less than $5 million in sales. It provides up and coming brands with innovative resources to help them increase their visibility and reach on the Amazon marketplace.
Long Term Storage Fees (LTSF)
Charges accrued by FBA sellers that have a year-old inventory sitting in Amazon's fulfillment centers.
Listing
Product information page on Amazon.
Listing Optimization
The process of improving product detail pages to help them rank higher in search for relevant keywords.
Lost Buy Box (LBB)
A situation where a seller loses the buy box to another seller because of a higher price, fewer reviews, or an out-of-stock inventory.
M
MAP (Minimum Advertised Price)
The minimum price at which resellers can sell a product on Amazon.
Manufacturer Fulfilment Network (MFN)
Another name for FBM.
Manual Campaign
An ad campaign where you select specific keywords to target.
MSRP (Manufacturer's Suggested Retail Price)
The list price of an item as recommended by the manufacturer.
MCI (Multi-Country Inventory)
A fulfillment option that allows sellers to send their inventory to FBA in multiple countries of their choice.
Match Type
Keyword targeting settings that allow you to optimize your ads to show against eligible search terms only.
Minimum Order Quantity (MOQ)
The minimum number of units you must purchase to place a product order with a manufacturer.
Marketplace
The Amazon marketplace provides a platform to merchants to sell new or used items. Currently, there are 18 marketplaces on Amazon. The US is the largest Amazon marketplace.
Marketplace Facilitator Law
Legislation that obligates Amazon to collect and remit sales tax on behalf of the sellers. However, not all states follow marketplace facilitator laws.
N
Net Profit
The profit remaining after subtracting all working expenses.
Negative Keywords
An option on Amazon that lets you exclude specific keywords from your ad campaigns.
O
Online Arbitrage (OA)
A business model in which you buy low-priced items from other online retail sites and resell them for a profit on Amazon.
OOS
The acronym for Out of Stock.
Order Defect Rate (ODR)
A performance metric used to analyze a seller's services based on their number of negative reviews, A-to-Z Guarantee Claims and returned or refunded orders.
P
Pan EU
Pan EU is a customized Fulfillment by Amazon service that enables sellers to sell seamlessly across various Amazon European marketplaces. Sellers ship their goods to an Amazon fulfillment center located in the European Union. Amazon then distributes these goods throughout other European nations depending on their perceived sales potential, resulting in extra revenue for the sellers.
PL (Private Label)
A business model in which a seller sources a product from a manufacturer or a supplier and labels and sells it under their brand name.
PPC (Pay-Per-Click)
An advertising model where sellers pay a fee to Amazon every time a customer clicks on one of their ads.
Parent Listing
A placeholder listing on Amazon that showcases different variations of a product.
Product Detail Page
Another name for product listing.
Product Hunting
The process of finding viable products to sell on Amazon.
PPV (Product Price Variance)
The difference between the standard price of an item and its actual purchase price.
Professional Seller
A seller who is selling on a Professional plan.
Page Views
The total number of visits on a listing in a given period.
Q
Q1
First-quarter of a financial year; goes from January to March
Q2
Second-quarter of a financial year; goes from April to June
Q3
Third-quarter of a financial year; goes from July to September
Q4
Fourth-quarter of a financial year; goes from October to December
R
Retail Arbitrage (RA)
A business model in which you buy clearance items from physical retail stores and resell them for a profit on Amazon.
Referral Fee
A fee charged by Amazon every time you make a sale. It is calculated as a percentage of the selling price and can vary anywhere between 8% and 45% depending on your product category.
Revenue
Total income generated from the sale of products.
RFQ (Request for Quote)
The process where you ask for quotations from different manufacturers before placing an order.
Return on Investment
The measure of how profitable your investment has been over a given period.
Repricing Software
A pricing tool that automatically adjusts product prices to help sellers win the buy box.
Return on Ad Spend (RoAS)
RoAS is the ratio of how much money you generate in sales through ads for every dollar you spend on an ad campaign. It is the opposite of ACoS.
Returns
Returns are orders that are sent back by customers.
Return Rate
It is the ratio of the number of returned orders to the total number of orders shipped.
Rating
An indicator of how popular a product is on Amazon. It is measured on a scale of 1 to 5 stars, with a 1-star rating being the lowest.
Reviews
Feedback on the product left by customers.
Replenishable Items
Consumable items that constantly sell on Amazon.
S
Sample
A test article ordered from the supplier to inspect for quality and compatibility.
Seller Central
A web interface designed for third-party (3P) sellers allows them to manage and sell their products on Amazon.
Seller Feedback
Amazon customers can leave performance feedback for sellers, called Seller Feedback.Do not confuse these with reviews.
SEO (Search Engine Optimization)
The process of improving your listing's performance in search.
Seller Fulfilled Prime (SFP)
An Amazon-managed program that allows FBM sellers to serve Amazon Prime members.
SKU (Stock Keeping Unit)
A unique identifier code that a seller assigns to their product when creating a listing on Amazon.
Sponsored Ad
An advertising solution provided by Amazon that allows sellers to promote their products on a pay-per-click basis.
Sponsored Brands
Another name for Headline Search Ads.
Sponsored Products
A popular ad type that uses keyword targeting to promote products.
Sponsored Brand Video Ads
A recently launched feature on Amazon allows brand owners to showcase their products using compelling visuals to impact the customers and ultimately boost conversions.
Search Volume
The average number of times a keyword searched for on Amazon. It is usually calculated for 30 days.
SnL (Small and Light)
A program that allows sellers to sell small and lightweight items on Amazon using FBA.
Sessions
Unique visits to your product detail pages during a given time period.
Shipping Plan
An inventory management proposal containing details of the items to be shipped to Amazon.
T
Third-Party Sellers (3P)
Individuals or businesses that sell new or used products directly to customers on Amazon.
TOS (Terms of Service)
A set of rules specified by Amazon that sellers must comply with when selling products on Amazon.
Third-Party Logistics Company (3PL)
A company that assists sellers in handling their fulfillment operations.
U
Unverified Reviews
Reviews left by customers who purchase a product at a discounted price or buy it from outside Amazon.
UPC (Universal Product Code)
A 12-digit universal, standardized barcode used for identifying products in the global supply chain.
Unit Session %
The number of units sold of an ASIN divided by the number of sessions that ASIN received in a given timeframe.
V
Vendor Central
An invite-only web interface designed for vendors to facilitate them manage and sell their products on Amazon.
Vendor
These are first-party (1P) sellers that sell their products in bulk to Amazon, which then relists those products as a distributor and sells them under its brand name.
VA (Virtual Assistant)
Amazon VA is a person who remotely assists you in running your Amazon business. You can hire them for the long term, part-time, or for a specific project. VAs can help you with many different tasks, including product hunting, product sourcing, listing creation, launching, and ranking, or daily account management.
Verified Reviews
Reviews generated in response to legitimate purchases made on Amazon.com.
Variable Closing Fee
The Variable Closing Fee is associated with media products, including books, music, video, DVDs, software, video game consoles, video game accessories, and computer video games.
Vine
The Vine is a product review program managed by Amazon, which helps sellers solicit reviews from best-ranked reviewers on Amazon for their new or pre-released products.
VAT (Value Added Tax)
An indirect consumption tax levied on the sales of goods and services. Almost all industrialized countries, except the US, collect VAT from sellers.
Variations
Variations on Amazon are sets of related products. These products share the same attributes and functions but may have different designs, colors, sizes, etc.
W
Wholesale
A business model where you buy products in bulk from brands (or their authorized suppliers) and sell on Amazon.
White Label
Similar to Private Label manufacturing but with limited customization scope.
Warehouse Deals
Amazon Warehouse Deals, or simply Warehouse Deals, is a catalog of assorted products on Amazon.com that offers special discount deals to customers on used, refurbished, returned, damaged, and open box items.
Conclusion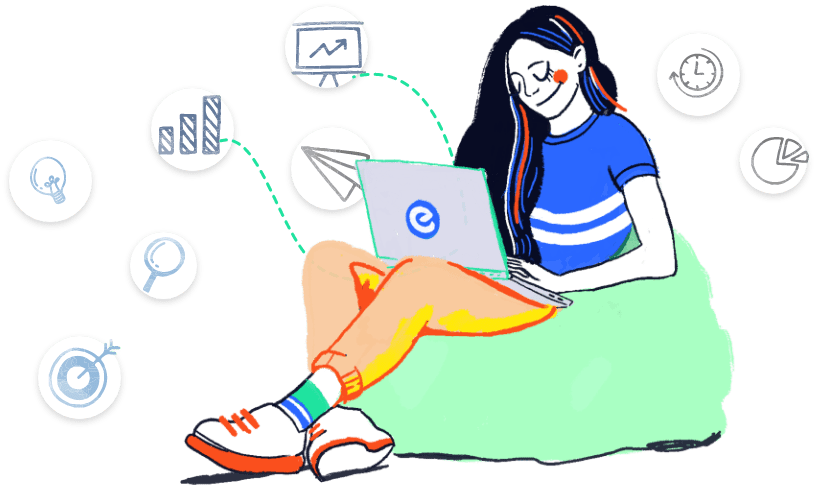 Hope you found this dictionary helpful. If you want to increase your sales, it's time to meet with Eva. Eva is a platform with lots of features to help improve your eCommerce business.
TRY EVA NOW, FREE FOR 15 DAYS!
Getting Started With Eva Is Easy
Ready To Grow?
Start A Free Trial
Create an Eva account in seconds & link your Amazon account. Get a complimentary onboarding call to properly configure & dial in your settings or do-it-yourself using our help library containing 150+ articles and videos.
Have Questions?
We Got You
Need a little more guidance? Connecting with one of our experienced consultants is the best place to start.