Which is better for your business: Amazon FBA vs Dropshipping? In this blog post, we'll break down the pros and cons of each and introduce an alternative to both so you can make the best decision for your company. Stay tuned!
What is Amazon Dropshipping
Amazon dropshipping is a business model in which eCommerce entrepreneurs sell products without carrying any inventory. When a store owner receives an order from a customer, they simply contact the supplier, who will then ship the products directly to the customer's doorstep. Amazon dropshipping is an attractive business model for many people because it's relatively easy to set up and manage, and it doesn't require a large up-front investment. However, there are also some downsides to Amazon dropshipping, such as the fact that you have less control over your product quality and inventory levels.
How Can You Start Dropshipping on Amazon?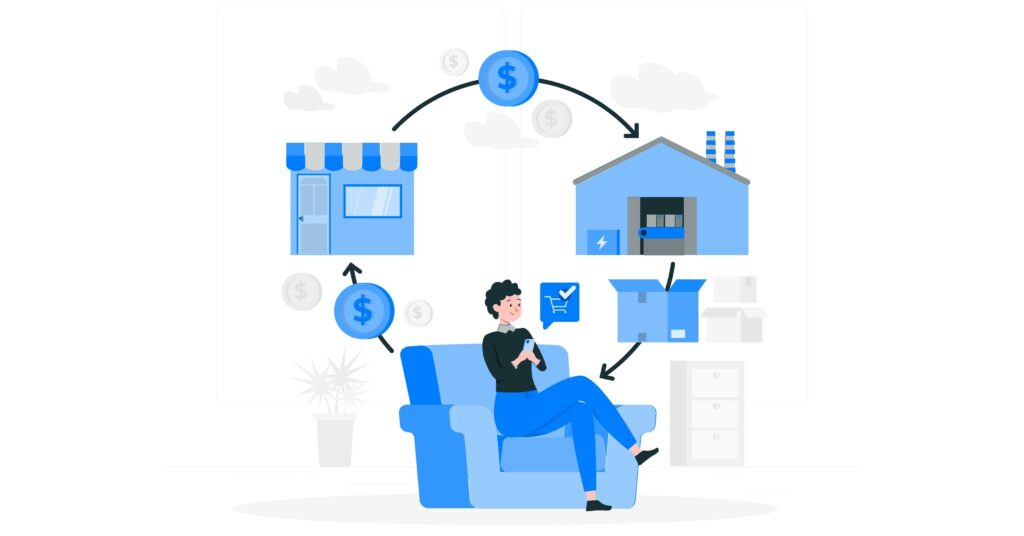 Amazon dropshipping is a trending way to get started in eCommerce. It's a relatively simple process: you find a supplier who will ship products direct to your customers, and you list the items on Amazon. When an order comes in, you simply place the order with the supplier and they take care of the rest. Dropshipping has a few advantages over FBA:
Amazon is a trusted platform with millions of active users. This gives you a built-in audience for your products.
Amazon has excellent fulfillment capabilities. This means that your orders will be processed quickly and efficiently. You can often take advantage of Amazon's Prime shipping program.
Amazon takes care of all the payment processing, so you don't have to worry about setting up a merchant account or dealing with chargebacks.
Dropshipping on Amazon is a great way to get started in eCommerce, and it's a platform that can scale your business.
See Also: Best Way To List The Same Item on Amazon FBM And FBA
What is Amazon FBA?
Amazon FBA is a fulfillment service that allows Amazon to store, pick, pack and deliver your products. Amazon will also provide customer service for your products. When you join Amazon FBA, you will be able to use Amazon's world-class logistics network to deliver your products to customers all over the world. Amazon FBA is a great way to scale your business and reach more customers.
Amazon FBA is a service that offers many advantages for businesses, including access to Amazon's world-class logistics network, order fulfillment, customer service, and much more. If you are looking for a way to take your business to the next level, Amazon FBA is a great option to consider.
How Can You Start Selling with Amazon FBA?
Amazon FBA, or Amazon's fulfillment program, allows you to store your products in Amazon's fulfillment centers. When a customer orders one of your products, Amazon will pick, pack, and ship it for you. Amazon will also handle customer service and returns for you.
That means you can focus on growing your business while Amazon takes care of the details. All you need to do is send your products to Amazon's fulfillment centers, and they'll do the rest. It's that simple! Amazon FBA is a powerful tool that can help you reach more customers and scale your business. So if you're looking to take your business to the next level, Amazon FBA is the way to go.
Related: Is Amazon Dropshipping dead?
The Pros Dropshipping on Amazon
Dropshipping Requires Less Investment.
Dropshipping does not require a significant investment to start a business. It's pocket-friendly, and you don't have to make a full investment. This is an advantage for entrepreneurs who are unwilling to invest vast amounts of capital.
Dropshipping Is Easier to Manage.
If the customer places an order by drop shipping, the same order must be placed with the supplier. Dropshipping suppliers handle everything from packaging to shipping to returns. Minimal risk
As a drop shipping seller, you get the difference between what the customer pays and the price charged by your supplier. In other words, buy at wholesale prices and sell at retail prices. The difference is margin, so you will rarely lose money if your transaction goes wrong. Maintaining your e-commerce store is all you carry.
Read More: How to Find the Best Amazon Repricer for Dropshippers
You Can Have a Diverse Range of Products by Dropshipping
Dropshipping allows you to diversify your product range with less investment than if you were to maintain your own inventory.
Dropshipping Is Time-Saving
In any product-oriented business, you need to put time and effort into product packaging, shipping, and managing your inventory. However, with the dropshipping model, you will save precious time.
You Can Operate Dropshipping from Anywhere.
Another potential benefit of dropshipping is that you don't have to be in a particular city or country to operate your business. You need to maintain proper communication and operations among your customers and suppliers.
The Cons of Dropshipping on Amazon
Dropshipping Brings You Less Profit Margin.
We have already established that dropshipping doesn't require huge investments. However, the return is also relatively lower than other models such as FBA. You are not the only one selling the product, so you cannot afford to raise the product's price. Therefore, customers often look for suppliers that offer lower prices. If the market is highly competitive, it isn't easy to get higher profits.
Dropshipping Is Associated with Many Customer Service Issues
Dropshipping gives you more control over your product. Still, the situation can get out of control when dealing with customer complaints. You have to rely on your supplier to get things done. Therefore, it may not be possible to address customer concerns effectively without strong support.
You Barely Can Work on Promotions and PPC Campaigns
Due to low-profit margins and not buying products in bulk, you may not be able to offer amazing discounts or offers to your products or run PPC campaigns. Still, you can bundle your products and sell them in your online shop.
The Competition among Dropshippers on Amazon Is Intense
The dropshipping competition is pretty fierce. Many Amazon sellers are trying to sell using the same business model. Some sellers even try to put their profits at risk when trying to sell a product.
You'll Have Limited Product Knowledge.
The supplier may not provide all the product details you need. Therefore, it may be difficult to answer inquiries about products from customers.
See Also: Is Dropshipping on Amazon Dead? Absolutely Not!
Advantages and Disadvantages of Amazon FBA
When considering Amazon FBA, weighing the pros and cons is essential. Here's a recap of why Amazon can be the right choice for you:
Benefits of Amazon FBA
Easy Shipping and Logistics: Amazon takes care of the entire process. This is important when starting a bulk order.
Reduce shipping costs: Amazon FBA allows you to reduce shipping costs and increase your bottom line.
Customer Service Management: ​​Amazon handles all customer service tasks, eliminating the hassle of hiring a virtual assistant or doing all customer service yourself.
Disadvantages of Amazon FBA
Cost: There is a high initial cost to purchase all products and ship them to your FBA inventory. Before you start, familiarize yourself with Amazon FBA pricing.
More Returns: Amazon FBA usually has more returns than dropshipping. Long-term storage fee-If the item does not sell, you will have to pay Amazon a long-term storage fee. Processing customer returns can have a negative effect on your bottom line.
What Is the Different Between Dropshipping and Amazon FBA?
To choose the right Amazon sales strategy, you need to know the main differences between these two options. The differences between dropshipping and Amazon fulfillment are as follows:
Dropshipping is a low-cost, low-risk strategy. With Amazon dropshipping, you don't have to deal with shipping large quantities of goods to Amazon. Just select a trusted supplier and ship the product when the customer places an order.
Amazon FBA provides a larger customer base. You can use FBA fulfillment to access a far more extensive customer base. First of all, this means you can grow your business faster than dropshipping.
You can customize the product page with dropshipping. Dropshippers can direct customers directly to Amazon pages. But, Amazon FBA sellers must stick to the default Amazon sales pages list.
See Also: How 3PL Logistics Help Amazon Sellers with Fulfillment?
3PL Logistics, the Alternative to Both!
Besides dropshipping and Amazon FBA, there are other options you can consider to meet your warehousing and fulfillment needs. This option is using Third-party logistics that can perfectly meet all your needs.
How does it work? You can use one provider to ship orders from Amazon, Walmart, WooCommerce, or Shopify stores and all sales platforms. So why do you need to use 3PL services? One of the challenges of both dropshipping and Amazon fulfillment is the lack of control over fulfillment.
With 3PL logistics, you can procure products in bulk, stock them, and ask your partners to do the work. You can also specify fulfillment conditions. For example, you can offer the option of a same-day fulfillment service to ship your order quickly.
See Also: Dropshipping Private Label Products
Conclusion
So, what's the verdict? Which won the battle of Amazon FBA vs dropshipping? The answer is—it depends. Both Amazon FBA and dropshipping have their own unique advantages and disadvantages, so you'll need to weigh the pros and cons of each approach and decide which one will work best for you.
With that said, we highly recommend starting a free trial of Eva today to see how our powerful tools can help you make maximized profits with your Amazon store.
Getting Started With Eva Is Easy
Ready To Grow?
Start A Free Trial
Create an Eva account in seconds & link your Amazon account. Get a complimentary onboarding call to properly configure & dial in your settings or do-it-yourself using our help library containing 150+ articles and videos.
Have Questions?
We Got You
Need a little more guidance? Connecting with one of our experienced Amazon consultants is the best place to start.