Amazon Prime is a service offered by Amazon that gives customers access to free two-day shipping, early access to specific deals, and unlimited streaming of movies and TV shows. Sounds great so far, right? But is it worth the $99 annual fee? In this post, we'll look at what benefits Amazon Prime has to offer and see if it's worth the price.
If you buy from Amazon quite regularly, it's essential to know about all of the services Amazon offers because they can impact your bottom line. In addition to Prime, Amazon also offers Kindle Unlimited (a subscription service that lets you read as many books as you want), Prime Video (a streaming service with thousands of movies and TV shows), and so much more!
What is Amazon Prime?
Amazon Prime is an exclusive subscription type from the retail giant. Amazon Prime gives you access to exclusive shopping and entertainment services, discounts, and more.
What are the benefits of Amazon Prime?
The significant advantage of Amazon Prime is the free two-day shipping, which is available for millions of items on Amazon. In some cities, customers can even get same-day delivery on Prime orders. However, Amazon does offer free standard shipping for non-Prime customers on qualifying orders of $25 or more, which takes 5-8 business days for the orders to be delivered.
But just as this company has expanded from a simple bookstore to a har-pie empire, Amazon Prime has extended its benefits to include:
Prime Now Shopping
Prime Now limits the free same-day delivery window to at least two hours on some items, including Whole Foods grocery, but it's only available in metro areas.
Whole Foods Deals
Prime members get an additional 10% off eligible sale items at Whole Foods Market, stores, and online.
Unlimited Movie and TV Streaming
Amazon Prime members get the chance to stream thousands of TV shows and movies for free using Prime Video. They can also subscribe to channels such as HBO and Showtime for an additional cost.
Unlimited Books
You can choose from over a thousand fantastic books on Amazon shelves to read for free. Amazon Prime is available on Kindle and Fire tablets, and all iOS and Android devices can also use it with the Kindle app.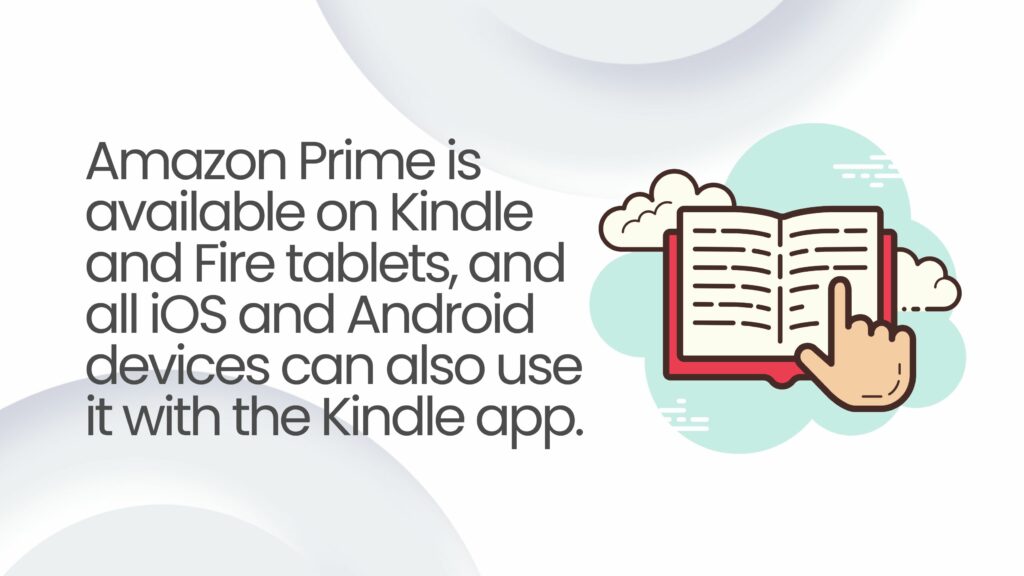 Unlimited Music Streaming
Amazon Prime members enjoy listening to over 2 million songs without the trouble of any ads with Amazon Music Prime. They can also get a discounted subscription to Amazon Music Unlimited with over 70 million songs.
Read More: How to Sell Digital Products on Amazon
Free Games
With Prime Gaming, you can access free PC games and in-game content and a monthly Twitch channel subscription.
Prime Day and Prime Early Access
Prime members get exclusive benefits when shopping for annual Prime Day deals. You'll get access to Lightning Deals 30 minutes earlier than non-Prime members during the rest of the year.
Free Unlimited Photo Storage with Amazon Photos
Amazon Prime also gives you unlimited, full-resolution photo storage and 5GB of video storage. In addition, your videos and photos will be kept safe in a cloud of the Amazon Photos app to be accessible from both your PC and mobile device.
Amazon family
Amazon Prime members have access to Amazon's first line of consumer-everyday items, such as baby wipes. Free for all Prime members, Amazon offers family-oriented coupons and deals, including up to 20% off diapers when you save five subscriptions and subscriptions per month and a 15% Baby Registry full discount.
How much should you pay for an Amazon Prime membership?
The price of an Amazon Prime membership depends on the plan you choose, but you can try it for free for 30 days. Here are the details of the payment plans and what they include:
Prime Video: $8.99 per month. This subscription limits your benefits to unlimited TV shows and movie streaming. It will cost you about $108 per year.
Prime: $12.99 per month. If you want the full prime benefit but prefer to spread out your payments, you'll pay about $155 per year. If you receive eligible government support, you can get a Prime membership for $5.99 per month.
Prime: $119 per year. Those who pay the annual lump sum for full membership will spend less in the long run.
Prime Student: Students with a validated email address get a free six-month trial of Amazon's Prime Student plan. They can also get a discounted membership fee of $59 per year (or $6.49 per month).
Note: Amazon keeps your credit card information on file when you sign up, so log in to your account if you decide you don't want to subscribe after your free trial ends, and then cancel it. Otherwise, you will have to pay a subscription fee.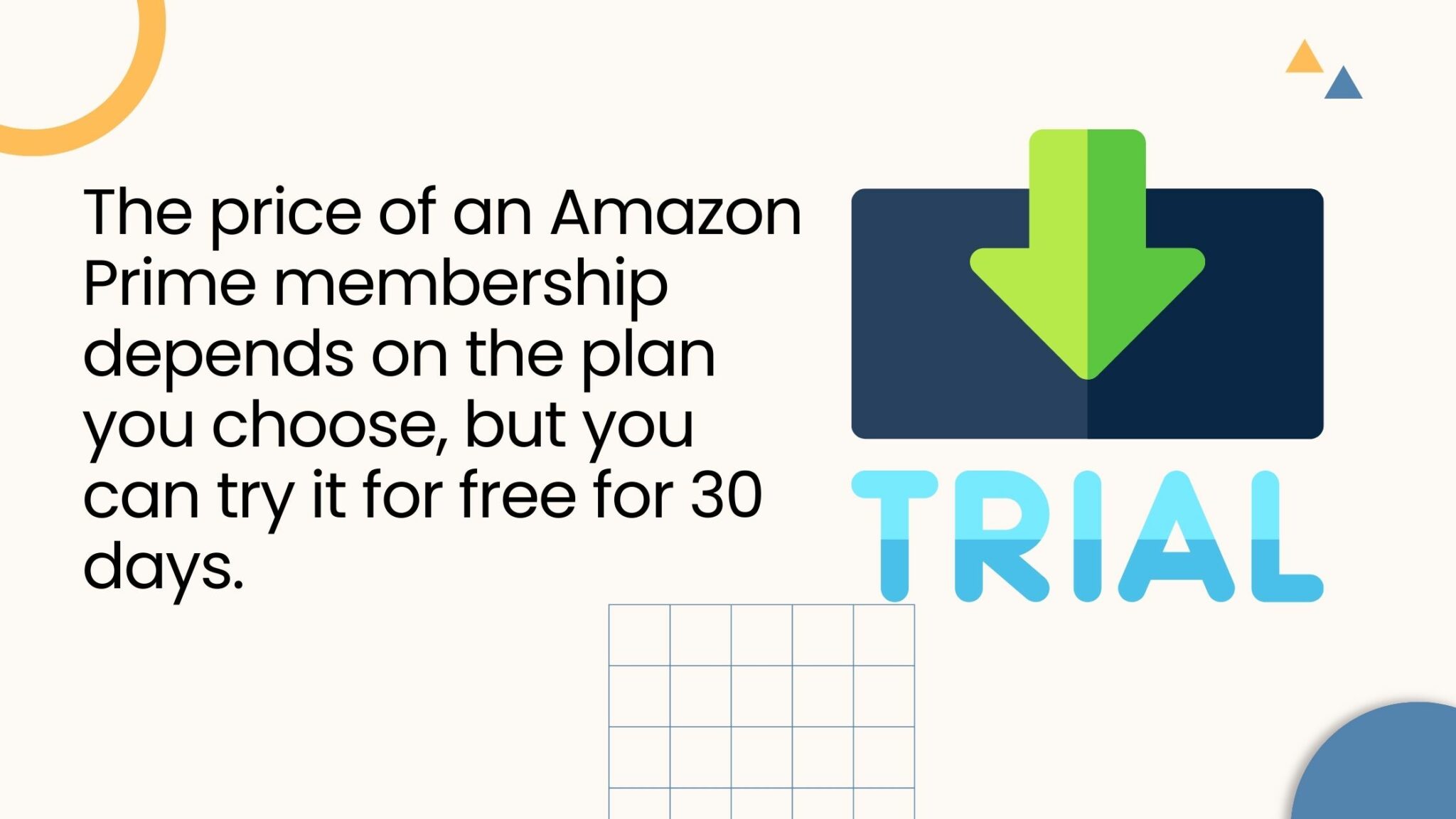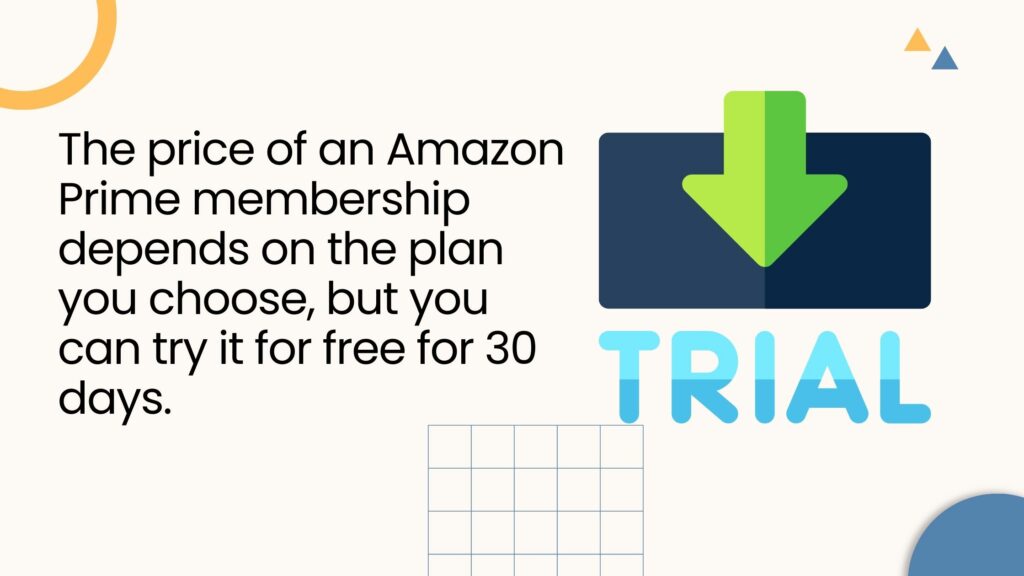 Is Amazon Prime Worth It?
Whether the benefits of an Amazon Prime membership justify the price depends on which features you like and how much you use them. Let's evaluate two of Prime's biggest features: shipping and streaming.
Shipping: If you paid more than $119 in shipping charges last year, then you definitely know it's worth it!
Streaming entertainment: Amazon Prime is way more cost-effective than both the commercial-free Hulu plan and the standard Netflix plan. In addition, Prime includes Amazon Music Prime, which is about the same price as ad-free subscriptions to Spotify and Apple Music. If the selection of videos and music is enough to make you consider dropping a subscription to other services, you'll reimburse the cost of Amazon Prime.
There are other considerations to consider, such as having your items shipped in days instead of weeks or not going to the store to buy essentials like paper towels.
Don't forget that you can share your shipping benefits with another person. If you split the cost with your sibling, you can effectively cut the cost down to less than $60 a year—a pretty amazing deal. Free two-day shipping for less than $5 per month suits most buyers.
The best way to find out if an Amazon Prime membership is worthwhile is: Sign up for a free trial. Then, you can decide whether you'd like to pay for the service or not.
Conclusion
So, is Amazon Prime worth the price? In our opinion, yes! The free two-day shipping is a huge benefit, especially for busy business people. And the other perks, such as unlimited streaming and early access to deals, are just icing on the cake. If you're not already an Amazon Prime member, we highly recommend signing up soon. Want to find out what benefits it has for your Amazon business? That's where Eva comes in. We'd love to help you with a free consultation anytime!