Amazon business in Europe – Checklist for Brexit 2021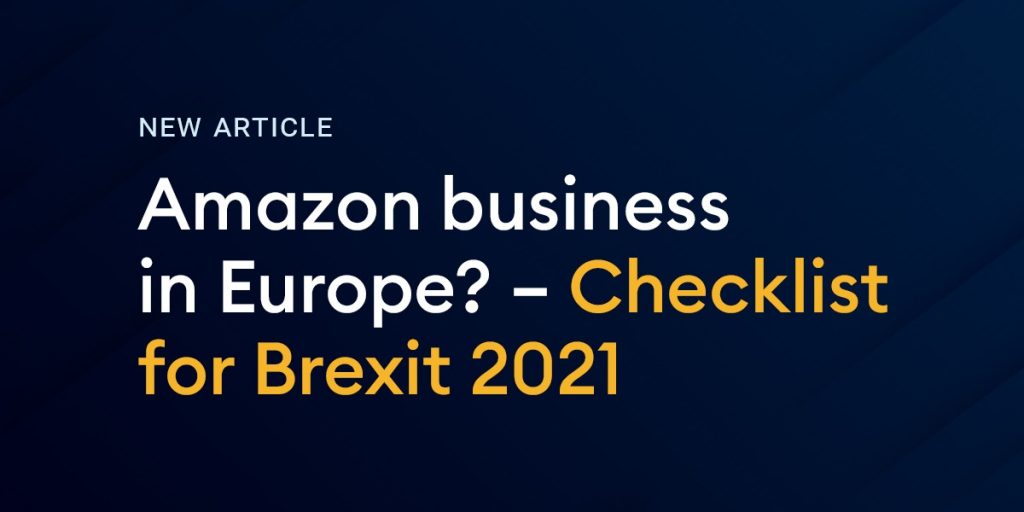 Year 2021 is coming with new challenges and opportunities. Prepare your business with our checklist for Brexit.Amazon sellers are facing new challenges as Brexit is finally here. At the beginning of 2021, the UK will formally leave the European Union (EU). Naturally, this affects the Amazon marketplaces across Europe and beyond.
Let's take a look at what an Amazon seller should keep in mind when entering the new year.
Amazon Seller's checklist for Brexit
Mark the date Starting from 1 January 2021, the recently accepted EU-UK trade and cooperation agreement applies. Meaning, the transformation period is over and the UK no longer belongs to the EU's Single Market and Customs Union.
Check your warehouse location Amazon UK is no longer part of EFN (The European Fulfilment Network). In other words, it means changes in jurisdictions and more restrictions when shipping between the EU and the UK borders. Check that storage and shipping from the warehouses are done correctly under the new legislation. Keep in mind that the changes also affect the required VAT numbers.
Remember UK VAT collection responsibility Under the new UK legislation, the UK VAT collection changes. Amazon manages the VAT collection if the goods are ordered through the Amazon storefront. This is the case if your business delivers goods from the UK but are not based there or if the value of goods is under £135 when delivered from abroad.
Keep informed Remember to check Amazon Seller Central for more detailed information on Brexit and how it affects Amazon business in the UK and worldwide. Additionally, many Amazon seller communities and groups provide help and discussions related to other sellers' experiences.
Final Thoughts
Brexit has a significant impact on Amazon sellers around the globe, but there is no need to panic. Preparing yourself for 2021 with the checklist will guide your business through the changes that Brexit brings. Additionally, seeking information and turning to experts might help you to turn these challenges into opportunities.
Was this article helpful?