Amazon Prime Day: Essential FAQs Answered! [+Tips on Hunting Deals]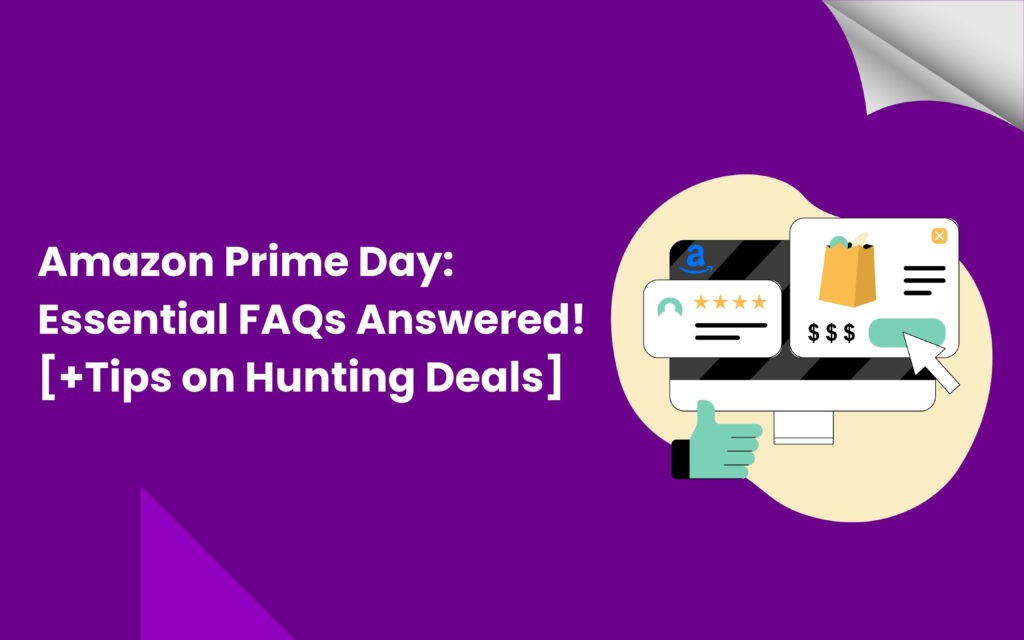 "Is Amazon Prime Day really worth it?", "What are the best tips for offering irresistible deals on Prime day?" and so many more questions you might have. This blog has gathered some of the most common questions about Amazon Prime Day. We answer all your essential FAQs and provide some top tips on how to make the most out of this exclusive shopping event. So read on to find out all you need to know before Prime Day 2022!
What is Prime Day?
Amazon Prime Day is a two-day online shopping event that takes place every summer, during which Amazon Prime members can enjoy exclusive deals and discounts on a wide range of products. Over the years, Prime Day has become one of the most anticipated shopping events of the year. Now Amazon prime day takes place in over 18 countries around the world. So if you're an Amazon seller, be sure to take advantage of this great shopping event to maximize your profits, sales, and brand visibility!
What is on sale on Amazon Prime Day?
Whether you're looking for a new television, a new kitchen appliance, or just some new clothing, there are several great bargains to be found. On this prime day, the items below have been projected to be the hottest deals you can get:
–The Amazon Echo Dot will be on sale for just $24.99. This is an incredible price for this popular device, which allows you to control your smart home devices and access Alexa voice control.
–The Fire TV Stick with Alexa Voice Remote will be on sale for just $29.99. This is an excellent deal on a powerful streaming device that lets you access all your favorite content from Netflix, Hulu, Amazon Prime Video, and more.
–The Philips Hue White A19 LED Smart Bulb Starter Kit will be on sale for just $79.99. This kit includes two Philips Hue white LED bulbs and a bridge that lets you control them with your smartphone.
How to redeem Amazon Prime day credit?
Amazon Prime Day is a great opportunity to save on Amazon's massive selection of products, but it's also a great time to rack up credit card points and miles. If you have a rewards credit card, you can use it to earn points or miles on your Amazon Prime Day purchases. Here's how to do it:
First, make sure you're signed up for Amazon Prime. If you're not already a Prime member, you can sign up for a free 30-day trial. Once you're a member, you'll be able to start shopping on Amazon Prime Day.
To maximize your rewards, look for deals that offer bonus points or miles. For example, some cards offer 5x points on Amazon purchases, so if you find a deal that pays out 10x points, you'll earn 5x the usual points.
Remember, Amazon Prime Day only lasts for 48 hours, so don't hesitate to grab the best deals! So when it comes to redeeming your rewards, there's no need to wait. You can redeem your points as soon as the transaction.
What are the dates for Amazon Prime Day?
Amazon Prime Day is the biggest eCommerce shopping event of the year, and it's coming up soon! This year, Amazon Prime Day will be held on July 18-19, 2022. So mark these dates on your calendars and get ready to take advantage of this opportunity and maximize sales! Amazon Prime Day is a very good time for prime members to stock up on all their favorite items, from electronics to clothes to books and more. And by offering Amazon prime day deals, you can attract so many new paying customers to your eCommerce store, so don't miss out on Amazon Prime Day 2022!
When does Amazon Prime Day end?
Amazon Prime Day is a two-day sales event full of time-limited deals. Amazon Prime Day 2022 will end on July 19th, 2022. Until the event is over, Prime members can enjoy exclusive discounts on items like Amazon devices, home goods, fashion, etc. Plus, Amazon sellers also offer tempting deals on this day. So whether you're a Prime member looking for a new Amazon device or you're an Amazon seller looking forward to scaling your business, Amazon Prime Day is the perfect time to shop.
How long is Amazon Prime Day?
Amazon Prime Day is a special two-day event that lasts for 48 hours. During that time, Prime members can enjoy amazing deals and discounts on various items. Amazon Prime members can start shopping at midnight PT on July 18th, and the deals will last for 48 hours. So with Amazon Prime Day around the corner, now is the perfect time to plan for your advertising campaigns and Prime day deal from now. Amazon advertising gives you the opportunity to target the highest motivated audience for each of your PPC campaigns to convert them from browsing users to loyal and happy customers.
How do I maximize my earnings?
Everybody can use Amazon Prime Day to snag amazing deals on products they love. And it's also a great way to make some extra money! Here are a few tips to help you maximize your earnings on Amazon Prime Day:
1. Check the prices of the items you're interested in purchasing beforehand. This will help Prime members avoid paying more than they have to.
2. Coupons, lightning deals, and promo codes to help them save even more money.
3. Amazon's "Subscribe & Save" feature to get additional discounts on some items.
4. Paying attention to the shipping costs of the items. Customers will be motivated to buy more from you if you offer cheaper shipment costs on multiple shopping costs.
5. Prime members can take advantage of Prime Pantry and Prime Now to get their purchases delivered right to their door. As a seller, make sure your fulfillment infrastructure is ready to process that delivery time.
By following these quick tips, your customers can save big on your Amazon Prime Day deal, and you can enjoy maximized sales and profits — a win-win for everybody.
Is Amazon Prime Day worth it for sellers too?
Absolutely Yes! Because Amazon is offering free shipping on all orders over $25 and giving away a free one-day shipping trial to all customers, more people are likely to buy products on Amazon during this time. This is an excellent opportunity for sellers, whether Amazon private labels or resellers, to increase their sales and profits. In addition, Amazon is also offering discounts on certain items, so this is another chance for sellers to save money on their inventory. Overall, amazon prime day is definitely worth it for sellers.
Where can I find out more about NEW rewards to promote on Prime Day?
As we get closer to Amazon Prime Day, there are bound to be more and more deals and rewards available to promote. So where can you go to find out the latest information?
The best place to start is the Amazon Prime website itself. Here you can find a dedicated section with all the latest deals and rewards that will be available on Prime Day. That is an excellent way to get an overview of what will be on offer, and it's also worth bookmarking the page so you can easily check back for updates.
Another helpful source of information is social media. Amazon will undoubtedly be promoting Prime Day heavily on its own channels. And many Prime members follow relevant hashtags (such as #PrimeDay or #AmazonPrimeDay) to find the best deals. This is very useful for your Amazon business to promote your deals on social media with these hashtags and keep an eye on your competitors' accounts to see what other hashtags they're using so you wouldn't miss on motivated customers on social media.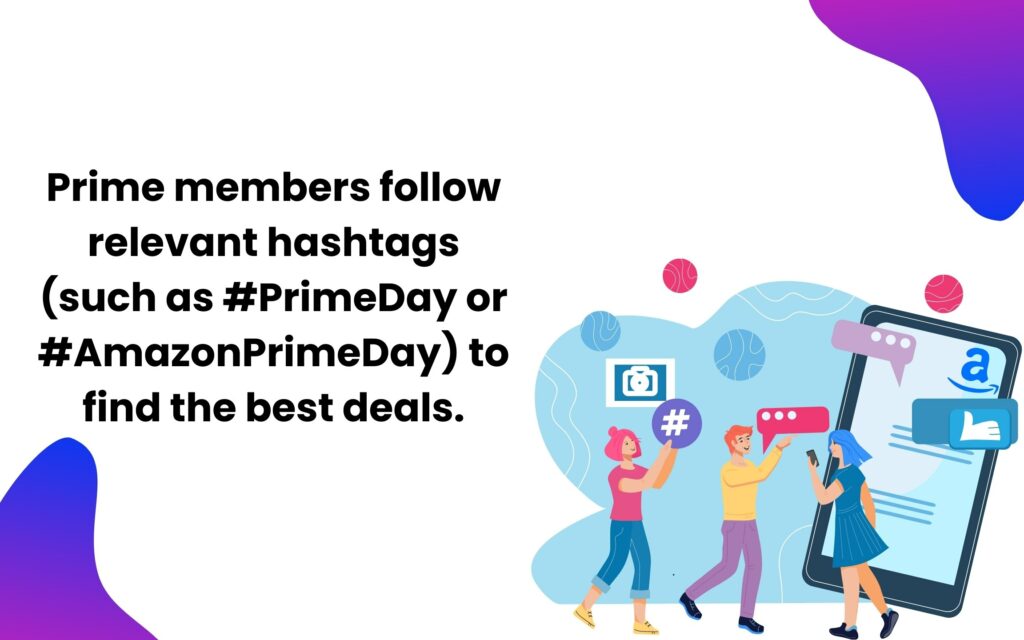 Can I use Amazon Advertising for Amazon Prime Day?
Amazon Prime Day is a good chance for sellers to promote products and services to Amazon's huge customer base. And the best method to do that is Amazon Advertising. Mainly Sponsored Product ads allow you to target highly-motivated potential shoppers both on and off Amazon.com. So whether you want to attract new customers or drive more sales from existing customers, Amazon Advertising can help you reach your goals. And best of all, you can use Amazon PPC campaigns to specifically target Amazon Prime Day shoppers. So if you'd like to leverage the biggest shopping day of the year, be sure to invest in Amazon ads today.
Do I receive revenue for sales made through voice shopping on Alexa devices?
If you have an Alexa device, you may be wondering if you can make money from voice shopping. The short answer is yes! You can receive revenue for sales made through voice shopping on Alexa devices. Here's how it works:
Amazon Alexa is a cloud-based voice assistant that powers Alexa-enabled devices. Alexa provides a set of skills that enable customers to interact with technology more naturally and intuitively. Voice shopping is one of the many skills that Alexa offers. With voice shopping, customers can use their voice to shop for products on Amazon.com.
When you enable voice shopping on your Alexa device, you'll be able to sell products through Amazon. Alexa will take care of the rest, including adding the items to your customer's cart and processing payment. So, next time you're asked if you want to enable voice shopping, remember that it could be great to generate extra income!
How do I promote my business on Amazon Prime Day?
There are a few different ways to promote your amazon business on Prime Day. First, make sure that your listings are SEO-optimized for search so that potential customers can easily find your products when they type the search terms. You can also create special offers and discounts for Prime Day and use Amazon advertising tools like Sponsored Products and lightning deals to reach even more shoppers. By taking advantage of Prime Day, you can boost the profitability and visibility of your Amazon business.
How Eva can help you during Amazon Prime days?
If you want to set your Amazon store to drive maximum visibility, conversion rates, and profit on this prime day, get Eva has an all-in-one solution for you. That includes:
To learn more about our All-In-One solution, please book a demo with our Amazon experts so we could tell you everything in a real-time conversation.