Amazon Reimbursement: Why Does It Refund without Return?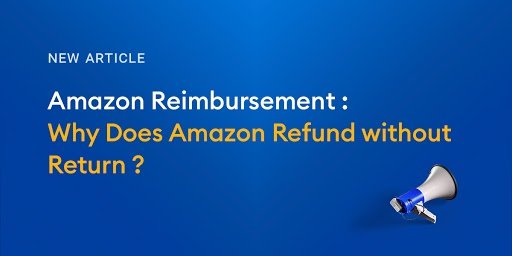 Amazon is the world's largest e-commerce site and one of the most valuable companies. In this article, we will focus on an issue closely related to those who sell on Amazon: Reimbursement Policy and the question of why Amazon refunds without return?
The world's most popular online commerce site, Amazon, where millions of users shop every day, is a platform that cares about its sellers and customers. Amazon has been the most attractive platform for years, with many advantages that benefit small businesses. Of course, one of the things that makes Amazon so attractive for sellers is Amazon FBA and the convenience it brings with it, such as refunds, logistics support, etc.
Amazon FBA
Fulfilled by Amazon, or Amazon FBA in short, is an important initiative that makes e-commerce management even more practical than it is. The FBA system, developed by the world's largest e-commerce site Amazon, provides excellent convenience for sellers and buyers. Thanks to Amazon FBA, you can send the products you produce or buy from other countries to Amazon's warehouse and sell them here. This will save you from the hassle of storing products, and it is an advantage that Amazon handles your cargo operations. 
Of course, in some cases, it is possible to encounter problems. For example, various issues such as product return processes or damaged shipping may bother you. But we have good news for you. Amazon's primary policy is to protect the seller and the customer, and in some cases, Amazon offers you a refund without return!
Refund Without Return
In the case of returns and refunds, a lot depends on the product and the seller. Some products can be refunded without needing a return, as returning them would be prohibitively expensive given the low cost of the product because no one wants the extra logistical cost, just like Amazon does! 
Also, Amazon often provides a credit (refund) if your return is received by a specific date. In this case, they rely on you to return the product. Policies like these also help the company retain its customers and build a more positive reputation. In an environment of mutual trust created by leaving commercial concerns aside, both the profit margins increase, and the trust bonds between sellers and Amazon remain healthy.
However, the energy and time you will spend on this type of reimbursement can sometimes tire you out, or the actions taken without following the proper steps can bore you. You are lucky at this point because you have Eva Guru! Eva Guru provides you with the most accurate service and enables you to take the most intelligent steps in light of its vast system data and artificial intelligence-supported outstanding technology.
In what situations can Amazon provide refunds?
-Errors in Incoming Shipments to Amazon warehouse
By joining the Amazon FBA program, you will be tasked with shipping your products from your destination to Amazon's fulfillment centers. On your part, you expect them to be correctly received and stored by Amazon's staff at the warehouse. However, there are a few errors that can occur.
Damaged or lost items – When shipping your items to the warehouse, an incoming courier may lose, misplace or damage your items. Amazon FBA team may not be able to receive items due to courier negligence. Another cause may be that the Amazon FBA team is unable to scan all volumes. The Amazon FBA team is responsible for managing your inventories, so if they encounter any of these, they owe you a refund. The refund amount is usually the average selling price of the product.
See Also: 10 Amazon FBA Errors You Can Get Reimbursement For
-Items lost or damaged in Amazon's warehouse.
After receiving the products from the seller, Amazon will store these products and retrieve them when an order is received. However, there are instances where a product may be lost. The item may have been placed in another seller's stock or moved. Whatever the case, when you lose an item, it will affect your business.
Without an inventory, you cannot sell items or keep stocking when you have misplaced items. Due to the number of items stored, packaged, and shipped by Amazon, it was common for items to be lost or lost. Therefore, you will be reimbursed for each lost unit.
-Damaged product during shipment to customers or when returning to the warehouse
When Amazon employees collect and pack your orders, they do so quickly and efficiently. We can't blame them because hundreds of orders are fulfilled every day. However, because Amazon employees have to act quickly, sometimes they cannot prevent accidents or losses.
These accidents can damage your belongings. Therefore, you may be required to issue a refund. Another example would be the shipper negligently handling the package during shipping to the customer or when a customer returns the box to the warehouse. Regardless, it should be disclosed under the Damaged Inventory report and included in the reimbursement policy.
Amazon Reimbursement With Eva
Getting your money back from Amazon can be a time-consuming and complicated process at times. Fortunately, there is a far faster way to do it. All you have to do now is join forces with Eva! Amazon Reimbursement heavily influences your margins. Our team is in charge of your cases to ensure that you receive all of your reimbursements quickly, efficiently, and transparently. 
With Eva, you save your income. Thanks to the monthly monitor improvement, you can spot inconsistencies and explore your affected listings. By using Eva, you minimize refund cancellations. With a well-trained service team, you can get 24/7 live and email support and ensure you meet amazon terms of service compliance. Also, you work analytics with Eva. You can get the most detailed view of refunded items, sales, and inventory.
Moreover, using Eva is very fast and easy. It is easy to use and also instantly shows you the current FBA fees. One of the most important features is that artificial intelligence is supported; this provides 50% faster service. You can benefit from the maximum service provided thanks to the millions of products and billions of transactions in the database.
So, What's Covered by Eva on its Amazon Reimbursement Service? 
-Lost in Warehouse
-Lost Inbound
-Items Damaged in Warehouse
-Damaged Inbound Items
-Customer Return Issues
-Customer Service Issues
-Inventory Damage in FBA Warehouse
-Customer Returns Damaged by Amazon
-Inventory Damage in Warehouse Transfer
-Order Discrepancies
-Shipment Discrepancies
-FBA Fee Overcharges & Reductions
-Lost / Damaged Shipment from Carrier
-Inventory Destroyed Without Permission
-Reimbursement of unpaid Reimbursements
-Returns Posted after Amazon's Return Deadline
To increase your sales and visibility, contact us online today to learn more about our Amazon Reimbursement services, or start your 15-day free Eva Guru trial now!
Was this article helpful?