How Amazon Reimbursement Works and Why Sellers Need It?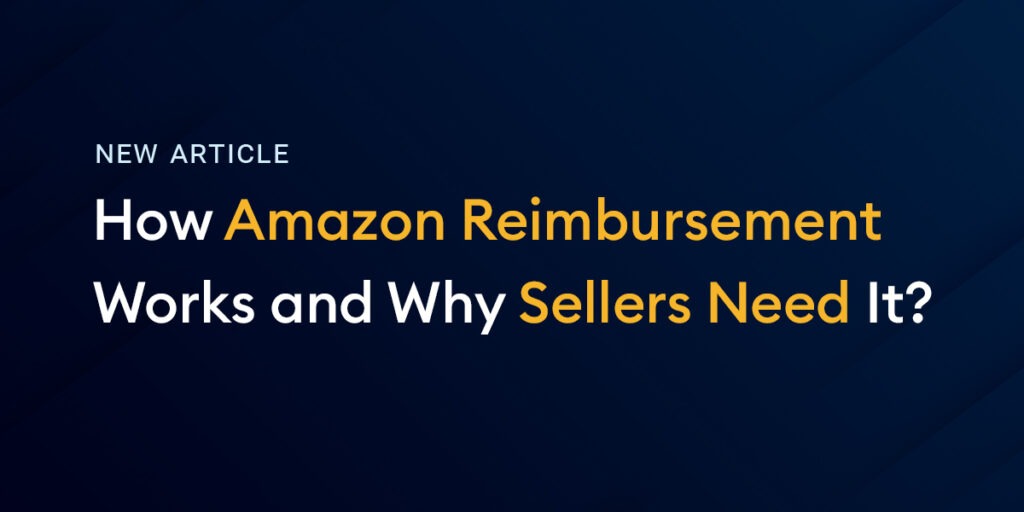 If you have only just started selling on Amazon, FBA should probably be your preferred fulfillment method. While the FBA Amazon reimbursement option has plenty of advantages for your online business, you can only realize these advantages with a full understanding of how it works – which is what this blog is all about.
Amazon Reimbursement – How Does it Work?
Reimbursements can be highly frustrating for an Amazon seller since, most times, they usually mean that money is going to be lost. However, sellers need to accept that this risk comes as part of the package – it is unwise to assume that all your customers will be completely satisfied with all of your products. Also, you cannot do much to change things once your products are with Amazon or out for shipping.
So, instead of feeling bad about the possible reimbursements you might have to endure, it is essential to understand how these reimbursements work and are categorized.
Essentially, if you decide to go with FBA, you let Amazon process and ship orders for you. Hence, if there are any reimbursements, they are owed to you, and below are some of the primary categories that these reimbursements are assigned:
1) Inbound shipment problems:
Since your inventory will be delivered straight to Amazon's warehouse, some inbound shipping issues are inevitable. For instance, you might have some missing units if Amazon was unable to scan your entire inventory units. Or some of the units were lost or damaged during the transition to the FBA warehouse.
Often, certain items are deducted upon the closure of the shipment. This is a common scenario and occurs when Amazon correctly receives the units, but certain items are deducted for certain reasons.
The good thing with Amazon is that it takes steps to shield its sellers. So, once you have transported the goods to Amazon and received clearance, it will reimburse you for any discrepancy related to the number of units.
2) Lost inventory:
This is another common reason for FBA reimbursements. Since Amazon deals with inventory from many different sellers, some of your items may get mixed up with those of other sellers. Many FBA sellers experience this scenario.
3) Damaged inventory:
You cannot be certain that all your inventory will remain damage-free in Amazon's warehouse. Sometimes, items get damaged while employees are fulfilling orders. Other times, this damage occurs when the products are in shipment.
In such situations, you can use the Seller Central platform to obtain a Damaged Inventory Report. Unfortunately, there are cases where the damage is not spotted, and customers end up receiving defective goods.
There are numerous possible reasons why Amazon might cause inventory damage. Most of the time, this damage occurs due to warehouse problems or when goods are being conveyed from customer returns.
Ideally, for any good that is deemed defective or damaged, Amazon should be reimbursing you. However, there are cases where this reimbursement is not credited. In such situations, you need to remain proactive about the FBA reimbursement – if you are not, you might get nothing in return.
4) Customer returns:
Amazon handles numerous customer returns daily; making customer returns the most common reason for reimbursement issues. Below are some of the common reasons that Amazon might credit to you:
Restocking fee:
For certain issues, Amazon takes a 20% restocking charge from its customers, which it initially deducts from the seller's account. Sometimes, Amazon fails to refund that charge back to you after the restock.
The refund amount was greater than the actual price:
If a customer refunds the wrong price, it is also deducted from the seller's account. It might also be that the customer refunded more units than they returned.
The refund was received, but the product was not returned:
If Amazon has issued a refund but has not received the product from the customer, this loss is also charged to you.
Buyer received the replacement but failed to return the original product:
If a customer agrees to receive a replacement product in exchange for a faulty one, the replacement is shipped to the customer, and the customer is required to return the rejected item to Amazon. However, there are cases when customers fail to do this.
Returned items are unsellable:
A returned product almost always contains some sort of defect or fault. These products are considered unsellable and should therefore be qualified for Amazon reimbursement.
Returned products were not added back to the inventory:
Sometimes, the warehouse does receive the returned products but, for some reason, fails to make them a part of the inventory.
5) FBA fee error:
There are several types of fees associated with Amazon FBA, which include:
Commission fee.
Storage fee.
Shipping fee.
These fees will be based upon your selling niche and the amount of time that your products spend inside the Amazon warehouse. Other variables that determine the precise fee are the product size and the season in which it is stored. These different fees might also be causing your reimbursement fee mix-ups. If you think that that is the case, you should ensure that all the charges add up and that there are no discrepancies.
6) Order quantity errors:
Order processing issues are also very common with Amazon FBA. An example of such an issue would be when a customer who has just ordered a single unit is sent multiple items – and the customer simply decides to keep that extra unit rather than return it.
While this might not mean much to the customer, it has big implications for you, as you now have one unaccounted-for item in your inventory. Moreover, such errors are often not automatically detected by Amazon. So, you will be required to identify this discrepancy and notify Amazon about it.
See Also: 10 Amazon FBA Errors You Can Get Reimbursement For
Benefits of Amazon Reimbursement:
Although it is not possible for us to cover a comprehensive list of FBA benefits (it would take up a lot more time and space), below are some of the primary advantages associated with Amazon reimbursement:
1) Easy logistics and shipping:
It is essential to track your listings, ensure that Amazon has sufficient stock, and leave the fulfillment to Amazon. Paying a nominal fee rids you of a huge burden.
2) Discounts on shipping rates:
Since you are collaborating with a fulfillment giant like Amazon, you will be able to enjoy lower shipping costs via the FBA platform. Hence, although you will be making the fee payments, those payments will be much lower when you take the shipping savings into account – and certainly cheaper than if you were handling your fulfillment and shipping in-house.
3) Management of customer service:
FBA sellers can benefit from Amazon's own customer services. Sellers can use the FBA platform for their customer service requirements, and since you will be offering all your services through a single platform, they will be much easier for you to manage.
4) Quick deliveries:
FBA products automatically receive Prime badges, which qualifies them for Prime free shipping and shipping times. And what's more, sellers need not pay an extra charge or premium to enjoy these benefits since the service accompanies them.
5) Extra storage space:
Not going for FBA means that you will have to either buy or rent a warehouse to store your inventory – and even then, you will likely be unable to manage and move your inventory on the kind of scale that FBA does. Thanks to Fulfillment by Amazon, you can now use as much storage space as you want since Amazon owns numerous warehouses throughout the country which are capable of holding a massive quantity of goods.
6) Omnichannel Fulfillment:
With the FBA, you cannot only use the Amazon platform to sell to selected or targeted customers but also benefit from multi-channel solutions for fulfillment. For instance, Amazon's Multi-Channel Fulfillment (MCF) service lets you sell to other channels and platforms (such as eBay and BigCommerce) while still being fulfilled by Amazon.
Amazon Reimbursement – How Can You Claim It?
There are multiple ways to claim your reimbursements. Those are:
1) D-I-Y:
This is the most time-consuming method, not to mention that it might get too complicated, or you might end up getting something wrong – all of which might end up costing you more in the long run.
2)  Amazon tools for FBA reimbursement:
There are some automated service tools designed for reimbursements. Usually, these tools are the most straightforward way to make reimbursement claims. The downside is that these tools are not exactly inexpensive.
These tools can be quite different from each other in terms of functionality. For instance, while few of them address data analysis but do not deal with claims, others will manage the complete reimbursement process.
Some factors that you should take into account before deciding to get a reimbursement tool (and the type) are:
Your budget.
The amount of time you will have to spend.
The reliability level of the tool and service.
Most tools are based on commission, meaning they will take a proportion of the value of your total claims. Others, however, might involve an upfront payment.
3) Virtual Assistant:
Lastly, you can consider hiring a Virtual Assistant (VA) to perform the job for you. You can outsource every bit of work, ranging from report downloading to placing claims on the Seller Central platform.
The main advantage of outsourcing is that the (VA) will handle every repetitive task. Additionally, you will be at the discretion of choosing the jobs that you want to outsource. For instance, if you are uncomfortable allowing your VA to access your seller central account, you can always submit the cases by yourself and have the VA only perform the data analysis on the claims.
See Also: The Complete Guide to Amazon FBA Reimbursement [2022 Updated]
Conclusion
Eva connects the most important aspects of your Amazon business into a single intuitive dashboard. AI-Powered price management, reimbursements, and analytics. With Eva, you can focus on what's important: growing your business and enjoying your freedom.
Using the AI advantage, Eva can find all your reimbursements, and then our expert team follows up on your cases to ensure you get maximum refunds. Visit our website Eva to learn more or schedule a demo to meet with us.
Was this article helpful?