How Amazon Third-Party Logistics Could Change the eCommerce Landscape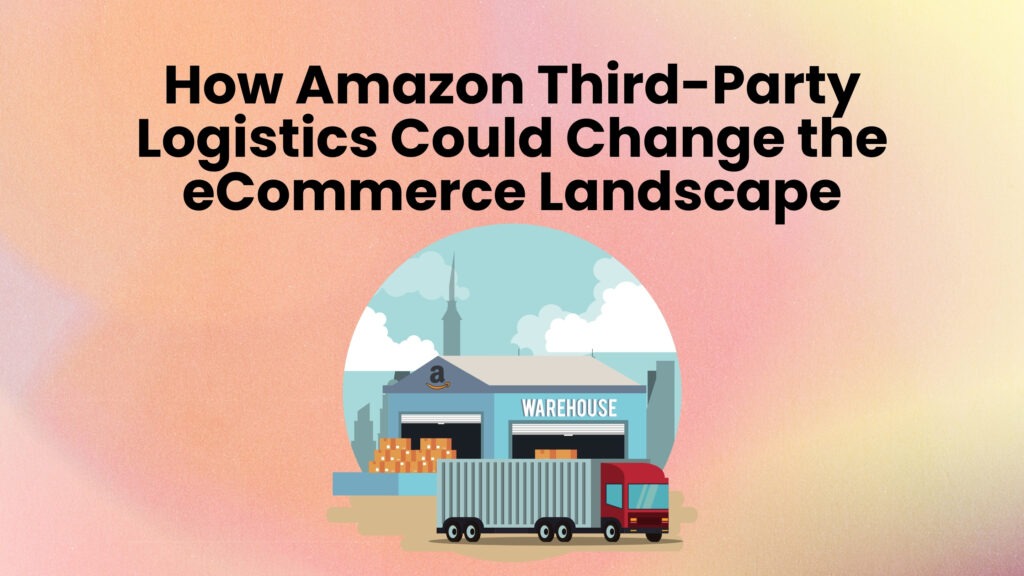 Shipping and logistics can be a major pain while growing your Amazon business. You have to worry about packing your products correctly, calculating shipping costs, and ensuring that your items arrive on time while keeping your margins as high as possible. Furthermore, the challenges multiply when your sales velocity increases.  But what if there was a way to outsource all of that hassle to someone else? Yes! Working with third-party logistics. 3PL providers offer storage, packing, shipping, and returns management for businesses of all sizes to help them focus on what really matters instead of trying just to maintain their current position. In this blog post, we'll take a closer look at how 3PL could change the landscape for your eCommerce business.
What are third-party logistics, and how do they work?
Third-party logistics (3PL) is a set of services that allow Amazon sellers to outsource their shipping and fulfillment operations to other companies. This takes a massive load of complex and time-consuming work off their plate to focus on growing their Amazon brands, such as innovative marketing strategies and product launches.
All 3PL companies share one common goal: to help sellers save time and money on their shipping and fulfillment operations. In addition, by outsourcing these operations to other companies, you can improve the customer experience by ensuring that orders are fulfilled quickly and efficiently. Overall, Third-Party Logistics providers play an essential role in scaling an Amazon business.
When does an Amazon business need to work with a 3PL company?
There are a few instances when an Amazon business will definitely need to partner with a 3PL company:
Suppose the business is experiencing high growth and is struggling to keep up with the limited capacity of FBM or FBA fulfillment. In that case, a 3PL can be invaluable in helping to scale operations and serve more customers.
If the business sells large or heavy products, a 3PL can provide the necessary warehousing and shipping infrastructure.
Suppose the business is based in a location that is not well-served by transportation options. In that case, a 3PL can help get products to customers in a timely and efficient manner.
Sometimes a business collaborates with a vendor that usually accepts bulk orders that exceed FBA warehousing limitations. In that case, a 3PL warehouse is a perfect solution to store the excess inventory.
How can Third-Party Logistics help your Amazon business scale up?
For any business, the key to success is often scalability. The ability to meet increasing demands without sacrificing quality or efficiency is what separates successful businesses on Amazon from those that stagnate or fail. Amazon businesses of any size, especially small-sized ones, can scale up their operations by working with a third-party logistics (3PL) company to get over the limited capacity of Amazon FBA warehouses.
3PL companies provide the necessary resources and expertise to help businesses expand their selling capability and grow their customer base. By working with Third-Party Logistics, your Amazon business can gain the scale they need to succeed in today's expanding marketplace.
What are the possible challenges of working with a 3PL company?
While there are many benefits to using a third-party logistics provider (3PL), there are also some potential drawbacks to consider.
First, it is essential to note that not all 3PLs do not provide the same services. Some 3PL companies, like Eva, have extensive experience managing eCommerce fulfillment and can offer a comprehensive suite of services, including prep & packaging, receiving, shipment, and most importantly, returns management. However, there are also smaller 3PLs that may not have the same level of experience or resources. As a result, you need to do extensive research to find a 3PL that is a good fit for your business needs and check their reviews.
Second, using a Third-Party Logistics can also be expensive in some cases. While the cost will vary depending on the provider and the services you require, it is important to check the pricing of a 3PL provider to see if the collaboration is worth it or not.
Finally, it is also worth noting that there can be some challenges in communication and coordination between you and your 3PL. This is why it is important to choose a 3PL that you can trust and has a good track record of communication and coordination.
As a verified Amazon partner, Eva has the authenticity and expertise to help your business expand to the beyond with hassle-free, simplified, and ideally efficient 3PL logistics.
How to find the right 3PL service for your Amazon business?
As a business owner, you know that time is money. And when it comes to fulfilling orders, you need a partner that can help you save both. That's where a 3PL service comes in. It can take on storing, packing, shipping, and returns management, allowing you to focus on what truly matters for your business growth. But with so many 3PLs to choose from, how do you know which one is right for you? There are a few things to consider when choosing Third-Party Logistics. 
First, think about your shipping needs. Can they handle returned items? Can they take care of same-day shipping? Once you know what kind of shipping capabilities they provide, you can narrow down your options.
Another important factor to consider is storage. Some 3PLs like Eva offer climate-controlled storage, which can be vital if you're selling temperature-sensitive products. You'll also want to consider the size and location of the 3PL warehouse. If you're selling large or bulky items, you'll need a partner with plenty of storage space.
Finally, expertise is the most important factor that can make or break your collaboration with a 3PL company. It would be best if you had a team of experts that know all the ins and outs of Amazon protocols and standards to minimize the risks and boost the efficiency of your fulfillment process.
Conclusion
If you're feeling overwhelmed by the logistics of shipping and fulfillment, it may be time to consider working with a third-party logistics provider. Eva's Third-Party Logistics service can take care of receiving, packing, shipping, returns management, and so much more, freeing up your time to focus on growing your business. Connect with the head of our 3PL warehouse today to discuss how we can help scale your Amazon business!
Was this article helpful?