If you're an Amazon FBA seller, you most probably have had to deal with a lost and damaged inventory. The reimbursement process is a true nightmare and time-sink that most people simply ignore it. But with Eva's FBA Reimbursement service, you recover 3% of your monthly revenue, and it's the perfect way to keep your profitability on the right track. Keep reading to find out more!
What is Amazon Reimbursement? How does it work?
When Amazon reimburses you, they pay back the cost of damaged or lost goods in their fulfillment center. Amazon will also pay you back for how much it costs you to ship the item to them.
First, you'll need to list everything that was lost or broken. Then you will need to figure out how much each item costs. After you've done this, you'll need to get in touch with Amazon and tell them what happened. Amazon will then examine your claim and decide whether or not they will pay you back for the items. If your claim is accepted, they will send you a check for the amount you are owed. Remember that getting your money back from Amazon can take up to two weeks, so be patient.
Also, Amazon might not approve all claims, so you need to make sure you have all the proof you need before you send in your claim.
Amazon Owes You Big Time!
If you're an Amazon seller, you know that figuring out reimbursements can be a real pain. It's time-consuming and seems like Amazon owes you way more than they actually do. But if you're willing to do the work, claiming FBA reimbursement cases can recover up to 3% of your monthly revenue on average!
That's because Amazon often owes sellers more money than they realize. So if you're looking to get back some of the money that Amazon owes you, be sure to claim your FBA reimbursement cases. It'll take some time, but it's definitely worth it in the end. Thanks for reading!
– reimbursements: these may be low on your priority list, but we leave no money left on the table for Amazon to take from you. We only charge a 13% recovery fee on all successful claims, one of the lowest rates in the industry!
What Kinds of Amazon FBA Reimbursements Are There?
You can ask Amazon to pay you back for lost or damaged items. The most common things that cause FBA inventory to be lost or damaged are related to the following parts of the FBA process.
1. Lost and Damaged Inventory During the Shipment
Your inventory may go missing, and sometimes it's hard to figure out why. For example, the inbound courier who takes your package from your location to one of Amazon's fulfillment centers could accidentally damage or lose your items. In other cases, the team at the warehouse only checks in half of the items you sent.
Amazon will sometimes destroy your items without your permission or knowledge. Usually, they do this when they think the item is badly broken and can't be sold, but if you claim and Amazon reimbursement case, they will pay you back.
2. Customers Returns
Amazon does everything it can to keep its customers safe and always looks for ways to improve the customer experience.
This customer obsession sometimes hurts FBA sellers in many different ways. Usually, the returned orders are unfulfillable and you can't put them on the shelf again.
In other situations, the customer may only return an empty box. But customers aren't always to blame when things go wrong with returns. Sometimes, Amazon employees forget to add the item you returned to your stock.
Discover how reimbursements can add revenue back into your business with our easy-to-follow guide.
3. Incorrect FBA Fees
To make sure you're not overpaying for anything, you should keep an eye on two main things: the product category and the product size. Amazon will charge you a referral fee that varies by product category. But you can get your money back if Amazon puts your items in the wrong category and charges you the wrong referral fees.
Incorrectly measured items are another reason why fees are too high. When Amazon gets your goods, they use Cubiscan to figure out how big and heavy they are. Even though this machine is mostly accurate, a package that bulges oddly could cause it to make a mistake that puts your item in a bigger size category. If Amazon thinks a normal-sized item is too big, it can affect your FBA fees.
Never Loose Track of Your Reimbursement Cases With Eva!
Eva gives you one platform to manage everything! And Amazon reimbursement is one of its strongest arms.
Just open your Eva account, and go to the "Reimbursement section.
On top of the page, you can see your total reimbursed amount plus the potential financial recovery that our AI system has detected for your Amazon store.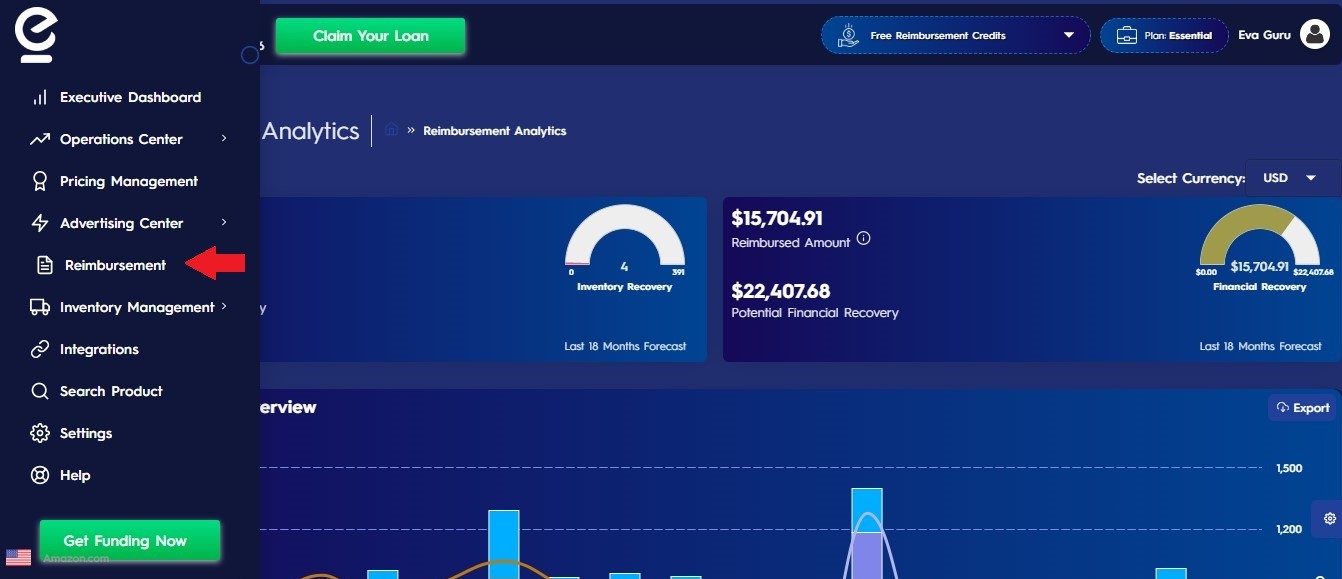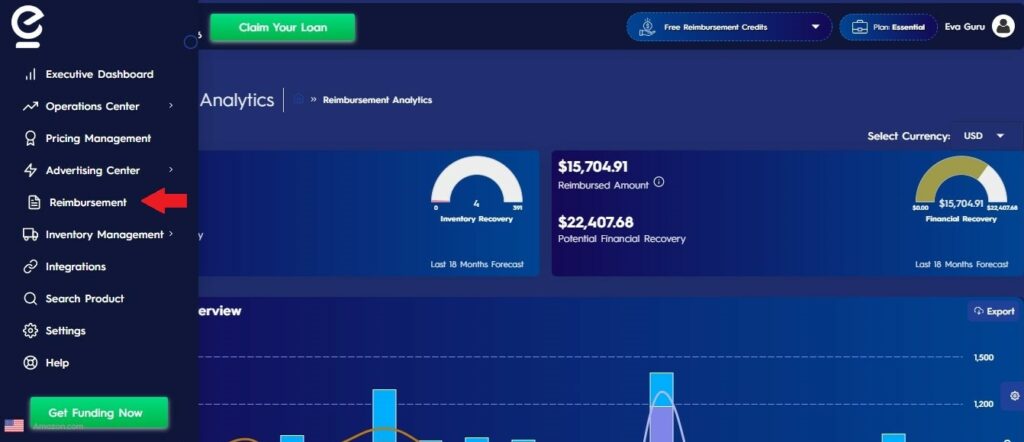 Scrolling down, you get to see a color-coded chart of the whole Amazon reimbursement process in full detail.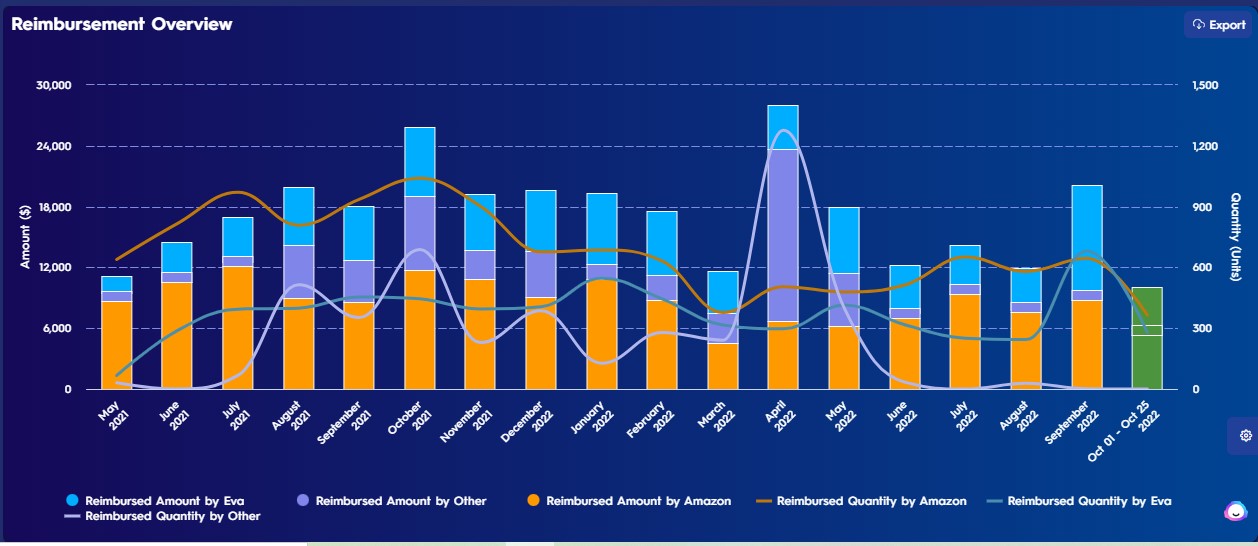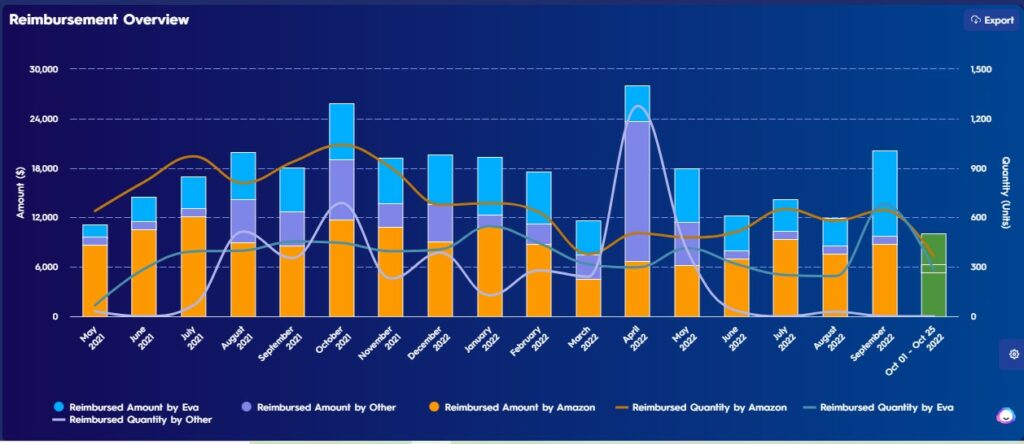 You also have access to a pie chart to find out which part in the fulfillment process is causing more reimbursement cases.


Eva also gives you a fully detailed overview of all the reimbursement cases in the last 18 month. You can get spreadsheet export from all the chart to use in your own presentations.




No Money Left on Amazon's Table with Eva!
Amazon is a wonderful place to do business. You can sell just about anything, and there are always plenty of customers looking for what you offer. However, one downside to Amazon's convenient platform is the refund process. Amazon FBA reimbursement can be way more time-consuming and complicated than you expect.
Thankfully, there's a solution: Eva.!We have an in-house team of experts who specialize in fast getting your money back from Amazon. We work on your behalf with an AI-powered case detector, claim and follow up on all reimbursement cases, so you can save all the efforts, time, and money to focus on your business. And our success rate is over 90%, so you can be confident that we'll get your money back.
Here's a list of what cases we cover at Eva:
| | | | |
| --- | --- | --- | --- |
| Lost in Warehouse | Customer Return Issues | Inventory Damage in Warehouse Transfer | Lost / Damaged Shipment from Carrier |
| Lost Inbound | Customer Service Issues | Order Discrepancies | Inventory Destroyed Without Permission |
| Items Damaged in the Warehouse | Inventory Damage in FBA Warehouse | Shipment Discrepancies | Reimbursement of unpaid Reimbursements |
| Damaged Inbound Items | Customer Returns Damaged by Amazon | FBA Fee Overcharges & Reductions | Returns Posted after Amazon's Return Deadline |
The best part? We only charge 13% of the recovered money, which is the lowest rate in the industry. So why wait? Get a Free Consultation today and let Eva take care of your Amazon refunds while you sit back and relax.
Getting Started With Eva Is Easy
Ready To Grow?
Start A Free Trial
Create an Eva account in seconds & link your Amazon account. Get a complimentary onboarding call to properly configure & dial in your settings or do-it-yourself using our help library containing 150+ articles and videos.
Have Questions?
We Got You
Need a little more guidance? Connecting with one of our experienced Amazon consultants is the best place to start.