Are you thinking of starting a private label FBA business? If so, you're in good company. Millions of people have turned to Amazon to start their own businesses, and with good reason—it's a great way to make money. But it's not easy, and there's a lot of work involved. So what are the steps you need to take to make your business a success? Keep reading for 4 essential tips. 💡
What is an Amazon FBA Private Label Business?
An FBA private label business is a bit like having a secret weapon. By private labeling a product, you can create a unique brand that will help you stand out from the competition. And because you control the supply process, you can ensure that your products are of the highest quality.
Private labeling offers many benefits, but there are a few things to keep in mind before diving in. First, research your market carefully to make sure there's enough demand for your product. Second, find a reliable manufacturer who can produce high-quality goods at a competitive price. And finally, be prepared to invest time and money in marketing your Amazon brand. But if you're willing to put in the work, private labeling can be a great way to build a successful business on Amazon.
Is Amazon Private Label Profitable?
The answer is "Yes" Private label products often have higher margins than products that are simply reselling other brands' products, but they also require more up-front investment. 💰
See Also: Amazon Private Label, All You Need to Know to Run Your Business Perfectly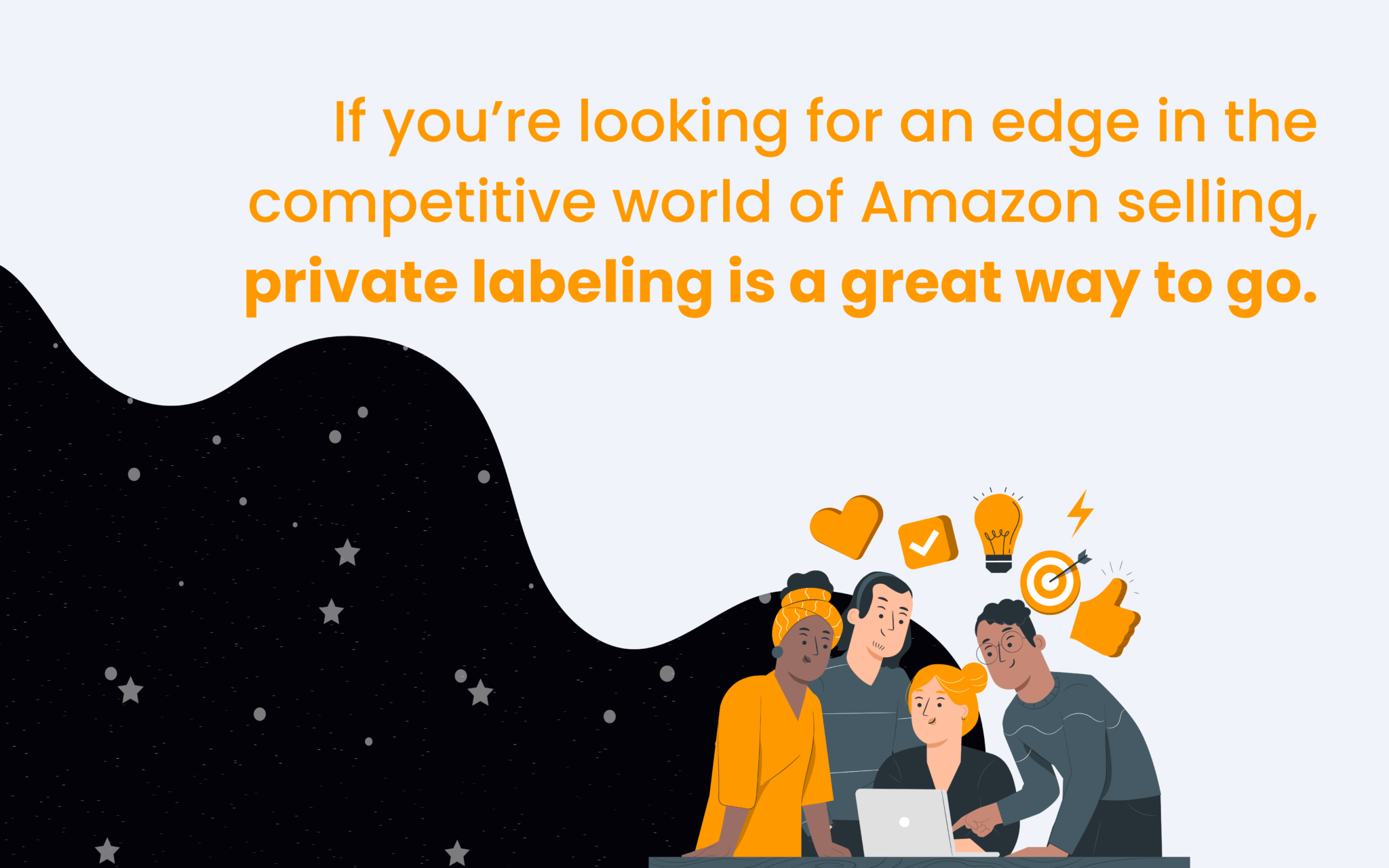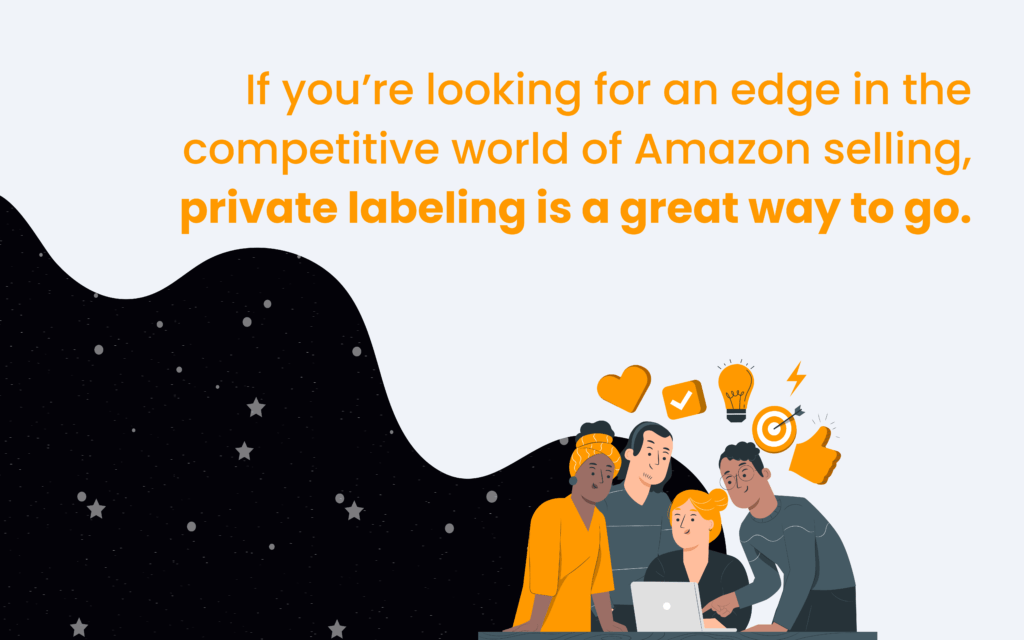 1. Choose a Product
When it comes to starting an FBA private label business, the first priority that shapes your business is to find products in high demand that will be profitable for you to sell. There are a few different ways you can go about finding such products.
One option is to look for hot-selling items on Amazon. You can use Amazon's Best Sellers list to see what items are selling well. Remember that not all of these items will be good candidates for private labeling, but they can give you a starting point for your research. 🔎
See Also: What is Amazon Brand Registry?
Use Helium10 to Find the Most Profitable Product Listing
Another option is to use a tool like Helium 10, which can help you find products that are most likely to be successful on Amazon. It also provides data on estimated monthly sales volume and average selling price to determine whether or not a product is worth private labeling.
Once you've found a few potential products, it's important to do further research to ensure that they're indeed good candidates for private labeling. This includes checking things like the competition level and Amazon's guidelines for private label products. By taking the time to do this research upfront, you'll increase your chances of success with your FBA private label business.
How to Find What Label Products for Private Labeling?
If you don't manufacture the product on your own, then find a white-label vendor that is relatively simple to source. To find out a proper list of such manufacturers, Alibaba.com is a good place to start checking. Look for the ones that offer competitive prices and minimum order quantities that fit your budget.
Finally, you'll want to make sure the product is profitable. You'll need to calculate your estimated monthly sales, cost of goods sold (COGS), and shipping costs.
See Also: White Label vs Private Label
What Makes a Product Suitable for Your FBA Private Label Business?
Creating a successful private label business relies on choosing products that you can market according to your brand persona.
Some products are more accessible to the market than others. Here's what I recommend to my subscribers:
Small products. They're cheaper to store and ship for your manufacturer, so you can either pass the savings to your shoppers or profit from the markup.
Lightweight products. Anything under 3 pounds.
Priced between $15 and $50. That's the sweet spot before consumers think twice about spending so much money.
Products that trend on Google. For me, they need a minimum of 1,000 searches per month, but without too many competitors — if two or three small sites still rank on the first page, the "big fish" haven't caught on yet, so add it to your store.
Niche influencers are present. This is a sure sign that you can have a product niche you can build a brand around.
For a successful FBA private label, you want to ensure over 5,000 searches on Amazon every month, but with only low or medium competition. You also want to make sure it's a niche you understand: can you make a shortlist of famous influencers and bloggers off the top of your head?
2. Research your Competition
If you're in the business of private labeling, competitive research will be very crucial for your business growth — even more important than if you were a reseller on Amazon.
The most common pitfall for Amazon private labels is that they assume they're unrivaled since they're unique and always own the buy box.
But in fact, many similar products to yours with different ASINs appear on the search results page and grab customers' attention. Having a different ASIN makes tracking them more complex for private-labeled products, but Dynamic pricing will do that just perfectly. But by understanding your competition and using pricing tools like dynamic pricing, you can stay one step ahead and keep your FBA private label business thriving.


3. Source a Supplier for Your Product
Private label FBA businesses are becoming increasingly popular on Amazon. If you're thinking about starting a private label FBA business, one of the critical decisions you'll need to make is how to source your product. There are a few different options available to you, and the best option for you will depend on your specific business needs.
One popular option is to source your product from Alibaba. Alibaba is a huge online marketplace that connects suppliers with buyers. You can search for suppliers that offer the type of product you're looking for and then request quotes from them. Once you've found a supplier you're happy with, you can place an order with them and have your product shipped directly to your FBA fulfillment center. 📦
Another option is to source your product from a company specializing in sourcing for private label businesses on Amazon. These companies usually have relationships with white-label manufacturers to get products made at a lower cost. They also often offer other services such as product photography and packaging design. This can be a great option if you're looking for a turnkey solution for your FBA private label business.
Whichever option you choose, do your research and select a reputable supplier who can provide you with high-quality and profitable products to sell on Amazon.
4. Go with a Pricing Strategy That Is Competitive and Profitable
When it comes to running a successful eCommerce business, one of the most important things you need to get right is pricing your products. If you want to sell private label products on Amazon, there are a few things you need to keep in mind to price your products competitively and maximize your profits.
Precisely Calculate All Your Costs.
The first thing you need to do is figure out your costs. This includes the cost of goods, shipping, and any other associated costs. Once you have your costs figured out, you need to add a margin for profit. This profit margin will vary depending on the type of product you are selling and the competition in your niche. Generally speaking, a profit margin of around 20-30% is recommended for fresh-starter businesses. 📊
Once you have your costs and margins figured out, you need to consider the different Amazon fees that will apply to your product. These include the referral fee, variable closing fee, and FBA fees. When pricing your product, make sure to factor in all of these fees so that you don't end up losing money when all is said and done.
Constantly Monitor Your Competitors.
It's important to keep an eye on the competition when pricing your products. Check out what other sellers are charging for similar products. That's because selling private labeled products on Amazon is intensely competitive. 👀
The good news is that there is a smart tool that takes the best care of the factors mentioned above and more! Dynamic pricing is exclusively designed for private label brands on Amazon.
It automatically calculates all the Amazon fees and your cost to help you generate the minimum price with just one click!
This AI-powered tool is perfectly designed to keep you profitable and competitive in any given circumstance by considering your Sales Velocity, Market Demand, Inventory Level, and Similar ASINs.
Dynamic pricing is also fully integrated with Eva's inventory management and Amazon PPC management to safeguard your business against stockouts and help you minimize TACoS as much as possible.
See Also: What is Amazon Virtual Assistant and How does it Help Your Business?
Conclusion
If you're looking for an edge in the competitive world of Amazon selling, FBA private label business is a great way to go. With a unique brand and products that are of the highest quality, you can set yourself up for success. And with Eva's Dynamic Pricing, making profits on Amazon is easier than ever for private labels. So what are you waiting for? Start your free trial today! 🎯