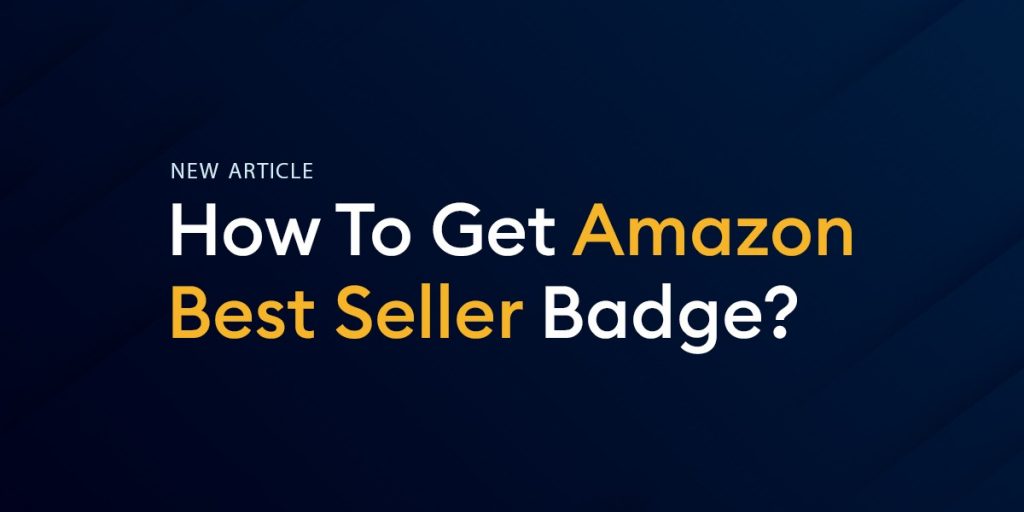 How To Get Amazon Best Seller Badge?
What's the most significant way to stand out from Amazon hundreds of thousands of products? Having the Amazon Best Seller Badge! This cute orange icon allows customers to see what's trending in the category they're purchasing, browsing, or searching and helps you sell better.
To become a top Amazon seller and get this teeny-tiny badge, you must first comprehend what an "Amazon Best Seller" is and how the badge process works. This article explains what Amazon Best Seller Badge is and how to get Amazon Best Seller Badge.
Let's go to work on getting you the desired "Amazon best seller badge!"
– What Is An Amazon Best Seller Badge?
The Amazon Best Seller badge is an orange mark next to the best-selling items in a category's listing and search results. This badge's goal is to inform customers about the most popular items. Products marked as "#1 Best Seller" are more likely to be perceived by online buyers, potentially resulting in significant purchases.
How To Get Amazon Best Seller Badge?
The Amazon #1 Best Seller badge indicates that a product has the most sales in that category. Amazon's algorithm (A10-updated version of A9) determines how products are ranked in search results. The top-selling status on Amazon is updated hourly by Amazon's algorithm. So, How Amazon's algorithm determines the best seller and how to get Amazon best seller status?
Amazon doesn't disclose the specific measures to bestow the Best Seller Badge, so we do not know precisely the standards or algorithm, but it is evident that sales history and sales velocity are the essential considerations while ranking the products. Amazon's algorithm looks at overall sales history to rate items inside categories and subcategories.
It's also worth noting that the challenge of becoming a #1 Best Seller differs based on the category in which your product is listed. There are too many Best Seller badges split across subcategories in the majority of the product categories.
While some categories are very competitive, some can quickly get Amazon Best Seller Badge.
As previously stated, getting the Amazon Best Seller badge is all about sales. Therefore, you must maintain high sales levels over time to become an Amazon Best Seller.
Let's look at a few strategies for increasing and maintaining long-term revenue.
1- Increase Sales Velocity
Amazon sellers need to increase their sales velocity. It means getting both profit and Best Seller Badge! There are some ways to increase sales velocity. 
Use an Amazon repricing strategy service like Eva; an Amazon Repricing tool helps you set the price more effectively and increase the number of sales. It means you increase the sales velocity and have more chances to get Amazon Best Seller Badge.
Coupons and Amazon Lightning Deals are mighty! These kinds of promotions help you get the first place on Amazon. These have been proven to boost sales if they are correctly used.
2- Maintain a Competitive Amazon Pricing Strategy
Keep an eye on your competitors and hold your prices competitive. You don't have to sell at the lowest price, but you must keep within a reasonable pricing range for customers.
If your product is more expensive than your competitors, be sure to explain why in your listing. Competitor prices draw more customers, which improves your ranking. This will increase your chances of becoming an Amazon Best Seller in the long run.
Using an Amazon repricer like Eva helps you monitor your competitors by having a competitor analytics dashboard, and it sets the optimum price for your products by scanning your competitor's prices. So if you want to maintain a competitive Amazon pricing strategy, take a look and meet the AI-Based dynamic pricing technology now!
3- Start an Amazon Advertising Strategy
Amazon PPC campaigns are an excellent strategy to increase sales. You can target keywords and even competing items with PPC ad campaigns, which can be done automatically or manually.
Hiring a professional Amazon PPC management Service allows you to get through this process quickly. They audit your store, build a strategy accordingly to accelerate the growth of your Amazon business, and improve your ACoS.
Whether you work with a professional or not, It's essential to establish a comprehensive Amazon advertising strategy. You'll be closer to getting the Amazon Best Seller Badge when you do this!
4- Create an Optimized Listing
Carry out rigorous Amazon keyword research considering SEO before creating your product listing, so you know precisely what search terms customers use when looking for your goods.
You should write a catchy product title, useful description, and bullet points using those keywords.
On Amazon, images are also quite essential. Paying a skilled graphic designer to assist you in creating beautiful designs is always a wise investment. Additionally, if you enroll in the ''Brand Registry'' program, having the A+ content to your listing can help you sell more.
Final Thoughts
The Amazon Best Seller badge quickly distinguishes your products from the competitors, potentially increasing sales.
What's more crucial, though, is laying a solid foundation for your goods on Amazon so that sales increase steadily and reliably over time.
The Amazon Best Seller badge is just a result of creating a good Amazon listing. So, Implement a well-thought-out promotion and run a campaign for the most sellable products on Amazon.
Related Posts: