Private Labels: Avoid Out of Stock on Amazon with Dynamic Pricing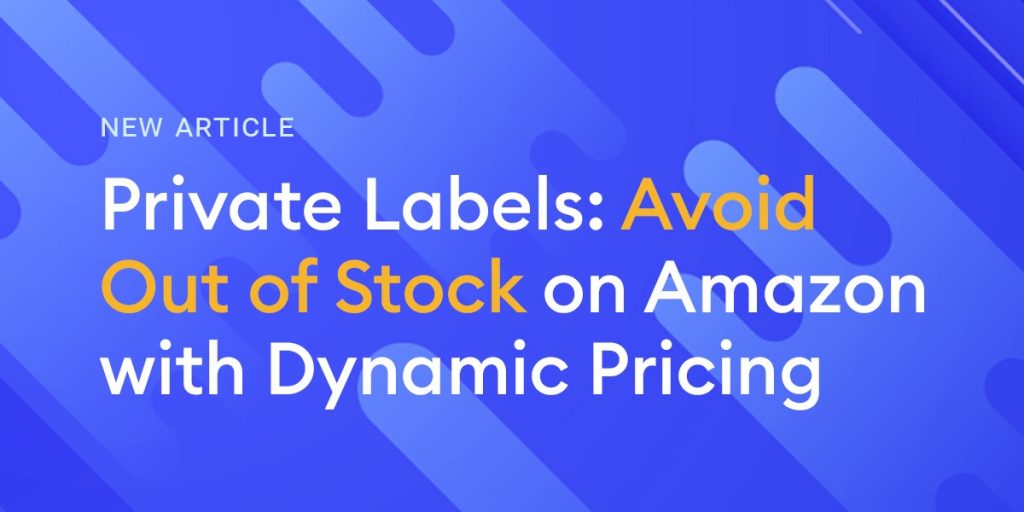 Running out of stock on Amazon is unfortunate for the customer and can cause serious harm for the Private Label sellers. Ensuring this does not happen, the seller must pay attention to their seller ranking and keywords on Amazon. Going out of stock on Amazon has a more negative impact on your rankings than you might think. Especially for Amazon FBA Private Label sellers, Amazon BSR and Keyword ranking are pivotal for placing on top of the search results and organically increasing sales.
The Amazon Best Sellers Rank (BSR) or "Amazon Sales Rank" is a number that ranks a specific product among competitors' listings. It's based on your historical sales data and changes hourly. You have probably heard of it and understand its significance to your Amazon business.
Each listing contains specific keywords, which Amazon arranges based on the sales. The A9 Algorithm is the system that Amazon uses to decide how products are ranked in search results. In other words, the products it considers the most relevant for a specific keyword are placed on top of the search results. The BSR also significantly impacts the product's Keyword ranking, which is the critical parameter for Amazon listings and the A9 Algorithm.
Let's take a look at how dynamic pricing optimizes your BSR and Keywords.
See Also: Definitive Guide to Amazon Pricing Strategies
Your Rankings Are on the Line if You Run Out of Stock on Amazon
Past studies show High to Medium inventory by itself does not significantly affect either BSR or Keyword rankings. Still, once the inventory is low, there is a risk of going out of stock on Amazon. This will substantially impact both rankings. Even after restocking, it takes a reasonable amount of time to get back to the same ranking for BSR and Keywords.
Amazon Sellers' nightmare will be completely running out of the product. No product means no sales. Your listing will also be ghosted by Amazon, making your product impossible to find. In turn, this can lead to a drastic drop in rankings when your listing goes live again. In short, avoid completely running out of the product!
See Also: Amaze of Dynamic Pricing for Your Private Label Business on Amazon
Consider Your Amazon Keywords
Picking the right keywords is crucial to success. Still, the keyword rankings depend on protecting inventory and minimizing the impact of stock-out risk. Due to high competition between automated keyword finding methods, once the keyword ranking is negative, regaining the position will take much longer than before.
Before October 2020, a seller needed only a handful of sales to bring the Keyword rankings back to normal. However, this is not the case anymore. Now, depending on the category, getting keyword rankings back after restocking the product takes 3 to 5 times longer.
It also may not make sense to continue running campaigns while inventory is at risk. Eva dynamic pricer considers ACOS, conversions, and impressions, but once inventory is at stake, it changes priorities. At that time, campaigns mean less, and it's time to focus on profits and restocking.
See Also: Amazon Inventory Management: Tips You Shouldn't Miss Out in 2022
Optimize Amazon Rankings with Dynamic Pricing
Eva will optimize the price to increase the profits when there is no stock-out risk. These actions are based on sales velocity and the impact of advertising (clicks, impressions, and ACOS). But as soon as the inventory levels are at dangerous levels, dynamic pricing will prioritize inventory as a decision mechanism comparing Keyword ranking and BSR. Eva checks the inbound shipments, backorder, and available items in real-time to ensure the pricing decisions are taken based on the out-of-the-stock risk.
Once you restock the items, Eva recommends not to change the title, listing, or images right away. As statistics show, your product keyword rankings will be restored faster without changing the branding parameters. It also makes sense to restart the Amazon PPC to sell more. If you utilize Eva dynamic pricer, your keyword ranking recovery time becomes much shorter, and you are back on the race faster.
As our case studies show, dynamic pricing notably impacts rankings and profits. It reduces the inventory impact on keyword and BSR ranking by 56%, while profits increase simultaneously by 31%. Having the best and only dynamic pricing solution that considers all correlations of marketing, inventory, and pricing data based on artificial intelligence will be vital to success.
Was this article helpful?