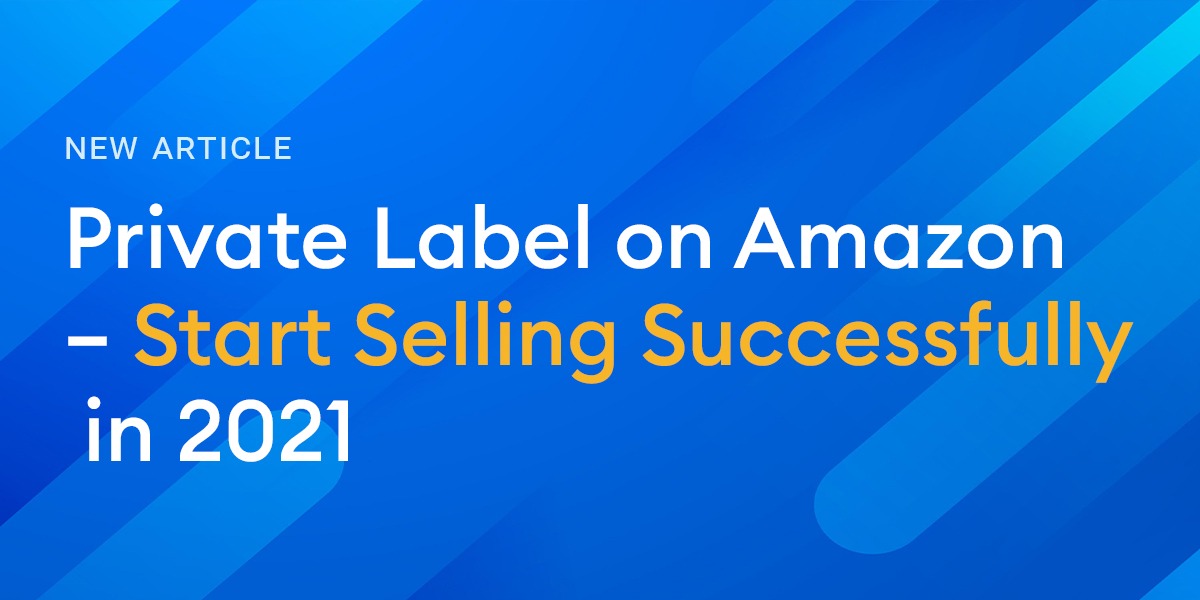 Amazon Private Label – Start Selling Successfully in 2021
Creating a Private Label on Amazon gives FBA sellers an incredible opportunity to create their own brand. This combines Amazon's logistics services' benefits while allowing sellers to possibly profit more from their unique brand.
In this article, we provide you insight and tips on creating a successful Private Label on Amazon.
What is Amazon Private Label?
Private label goods are created by a manufacturer that does not sell its products. These products are sold by another company that puts its own brands and packaging designs on the products. It is allowed to do only by making an agreement with the manufacturer.
Private label products do not only contain physical products. They can also include intangible products and services such as insurance or medical plans. Yet, most of the time, those who want to start their own business with private label products often turn to physical products as it is easy to enter such a market, and there is a physically greater demand.
How to Get Started with Private Labelling on Amazon?
Private Labelling on Amazon is an excellent business plan to boost profits. However, to avoid unnecessary costs and mistakes, there are a few things worth considering.
Play the Long Game
The significant difference is that you are creating a brand, not just selling products. The brand brings excellent value, and most likely, you receive more profits eventually. However, building the brand requires consistent effort, and the results are not immediate.
Create a Financial Plan
Establishing your own brand takes time but also money. It's essential to consider your financial situation and organize the funding for your new business plan.
When you have your private brand up and running, it's time to ensure its growth. Reinvesting a steady stream of revenue back to your business is a wise decision to ensure the future of your eCommerce career.
Run Tests Before You Dive in
If you already have experience in selling on Amazon, setting up your own product line is different. Instead of just paying from Amazon, the customers are explicitly buying the product under your brand name.
To figure out how the customer base reacts to your branded products, you need to test them first. Running a test drive makes sure there is enough demand for your branded product before launching it fully. One fast and super-efficient way to do this is to use Amazon Pay-Per-Click advertising (PPC), otherwise known as Amazon Sponsored Ads.
How to Sell Private Label Products?
We summarized the process of Private Label products on Amazon selling process into 5 steps. However, before you start, you should consider what you want to sell and which products are the most profitable.
Best Products to Sell as Private Label
How to find the best private label products to sell on Amazon?
There's no right answer, but typically there is a pattern that seems to repeat. The best type of product for private label tends to be general and the demand stays similar during the whole year. This means you should avoid seasonal items or complicated products with multiple color or size options, instructions, and warranties. The same goes for heavily regulated items such as certain food items, toys, and batteries that may require a lot of legal paperwork.
Categories worth considering:
Clothes and Accessories
Cosmetics
Skincare
Supplements
Phone accessories
Water bottles
However, don't let these categories dictate your choices. If you find another one that you think will be good, go for it. Let's assume you found your product. Now it is time to sell.
Selling Private Label Products on Amazon
Don't worryit is pretty easy, even when you are a newbie. Follow these 5 steps:
1- Research:
Building your own successful product line starts from an idea. Maybe you already have some ideas on your mind or you can start a brainstorming session to explore possible options. After you have the list of possible future hit products, it's time to determine their potential.
Research and find products with high demand / low competition. Follow the trends, 'Hot New Releases' column can give an idea. Keep an eye on the competitors. Especially focus on analyzing the keywords the competitors use. They may offer good deals to attract customers.
2- Supply:
Finding a good and reliable manufacturer is the essence of success for every private label. Both price and quality need to match to keep your profits high and customers satisfied.
You can find especially Chinese suppliers easily by using Alibaba.com, the first and largest supplier platform that comes to mind. In addition, since they have thousands of customers selling on Amazon, it is easy for you to agree. We suggest you reach out to at least 3 to 5 possible suppliers.
When you source for the products, there are a few points to keep in mind. First of all, you might need your products customized, and suppliers' capabilities to do this vary. Many suppliers announce their minimum quantity that needs to be ordered, which naturally affects your costs and logistics.
You need to consider how and in which location to store the items as well as how you want them to be shipped to you. This is a concern especially if you decide to sell through FBA on the US markets, where your storage fees and limitations are affected by IPI (Inventory Performance Index) Score.
Lastly, ask about the payment methods and terms. The safer option is to prefer Alibaba's supported payment methods, which protect you in case something doesn't go according to plans.
3- Product price:
Setting the right price for your branded product can be challenging. Especially if your brand is new, it may be harder to stand out from other generic products. In this case, your price needs to be competitive. However, this decreases your profit margin. What you can do as a seller is to unleash the power of dynamic pricing to your private label. Using an AI-based repricing tool, such as Eva, automatically optimizes the price and increases your profits.
4- Listing:
Now that the product and supplier are ready, it's time to build your Amazon listing page. In online shopping, people decide to buy products by looking at the page you created because they cannot see the products physically and touch them. That's why you should have a great product page. So pay close attention to images, titles, and product descriptions.
Images
Appealing high-quality images grab the attention of potential customers and give them a realistic idea of how the product looks. Amazon also has requirements for the images such as a white background, realistic colors, smooth edges, and the product with props should fill 85% or more of the image.
Title
The title should be between 100 to 150 characters. It's important that the title is clear, descriptive, and includes the relevant keywords to find your product. Since you are selling your own private label, make sure to mention the brand name.
Description
The description is one of the most important aspects of your listing because people reading it, are most likely going to purchase it. Therefore, make it clear and as informative as possible. The description area is also an opportunity to add important keywords.
5- Shipping:
Customers can be very meticulous when it comes to shipping and packaging. Therefore, you should choose the fastest option that is best for your business. Some sellers prefer to sell on Amazon but fulfill orders themselves from their home or warehouse. This method is known as fulfillment by merchant (FBM).
However, if you feel like not handling the order fulfillment yourself, Amazon got you covered. Fulfillment by Amazon (FBA) includes the storage in their fulfillment centers, shipment, and customer service. An easy solution for busy sellers with many SKUs, but the service comes with a price. Selling on Amazon has costs, and sellers preferring this fulfillment method should also consider additional FBA fees.
In fact, Amazon allows sellers to list the same item, both FBA and FBM. There are many benefits for FBA sellers also to take advantage of FBM, and vise versa.
If you want to benefit from both fulfillment options, there is a tool just for you. Eva Intelligent Repricer is the only software capable of listing simultaneously and allows you to manage them effortlessly.
Create Your Unique Brand
Brands are many things, and one of the most noticeable factors are the visual elements such as logo and colors. At best, these elements make a lasting impression and speak for your company, influencing the customers' decision to buy.
The second thing the customers notice when they receive your product is the packaging. Customizing the packaging is an excellent opportunity to stand out and maybe even be creative.
Final Thoughts
Bottom line, starting your own private label business requires extra effort but eventually pays itself back. When the brand grows and becomes more known, the profits tend to increase as well.
Amazon is a fantastic marketplace to reach out to millions of potential customers and test the markets. It may even become your primary platform for sales. However, despite selling your unique brand, your products still face competition from similar items. In this case, you may wonder how to stand out from the crowd and ensure your products sell.
Beat the Private Label Competition
One of the most critical factors in satisfying the customer and selling on Amazon is the price. Researches show that if the price is too low, users have doubts about the quality. On the other hand, if the price is too high, the expectation will be higher and challenging to meet. Furthermore, Amazon can deactivate that product if it is considered as high priced.
Eva is the perfect solution for you if you are struggling to find out the best pricing strategy. AI-based Repricer knows how to change prices competitively and offers the fastest way to do that. Our Intelligent Repricer utilizes Dynamic Pricing, which brings flexibility and adaptability to Amazon Sellers. You can quickly react to the changes, catalyze marketing efficiency, and monitor the competitive landscape.
Let Eva guide you on your journey to success. To learn more, click here and start your 15 days trial now.
Related Posts: