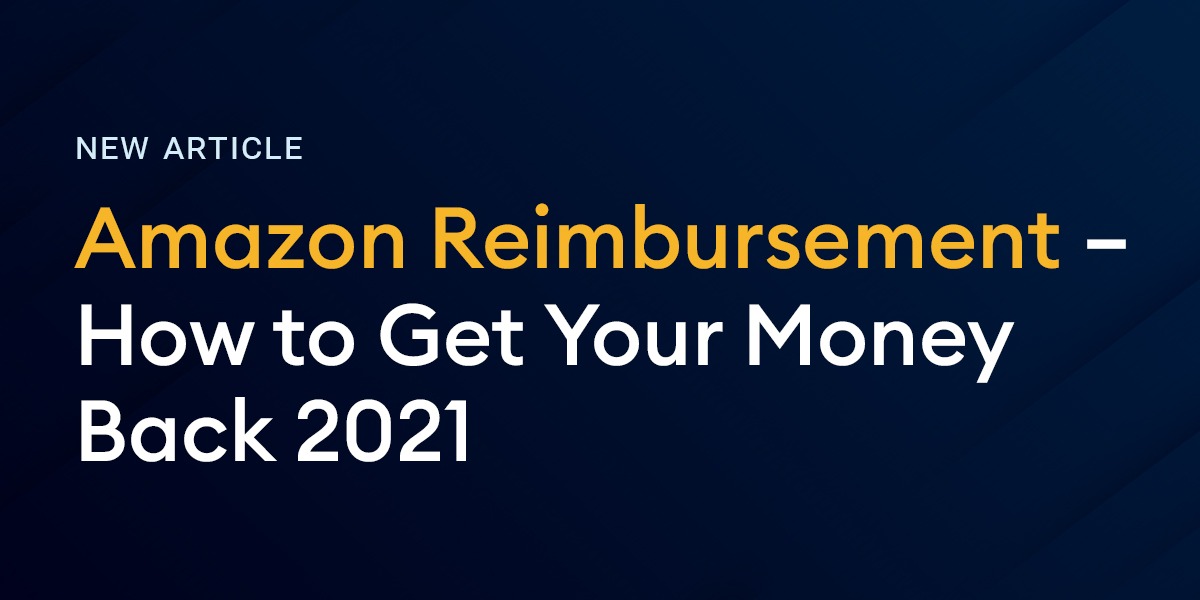 Amazon Reimbursement – How to Get Your Money Back 2021
Selling your products on FBA has many perks, and one of them is getting reimbursement from Amazon. In other words, if Amazon makes errors while handling your inventory, it owes you money back.
In a single day, Amazon processes hundreds of thousand orders through their fulfillment centers. Unfortunately, despite the best efforts when hundreds of machines and Amazon employees are added to the equation, mistakes are inevitable.
However, what most sellers do not realize is that they can recover revenue through Amazon reimbursements. Moreover, many sellers are surprised to find out how much money they miss out on these reimbursements. The thing is, Amazon does not automatically compensate for its mistakes. Sellers have to keep up with the reimbursements and apply for them manually. If you are not frequently monitoring your Seller Central Account, you are throwing away money.
This article teaches you more about Amazon reimbursement claims and covers an easy solution to get your money back effortlessly.
The 7 Ways to Claim Amazon Reimbursement
An Amazon reimbursement claim is the amount of money that Amazon owes you due to inventory issues and errors. To help you better understand when you can receive a refund from Amazon, we have listed seven different reimbursement claims.
1. Inbound Shipment Issues
If you sell products by using the FBA program, Amazon manages the logistics mostly on your behalf. The first step of this process is to ship the inventory from your destination to one of Amazon's fulfillment centers. Naturally, you expect it to be received and processed without any problems, but this is not always the case.
Unfortunately, the first errors may occur during the inbound shipment stage, even before your products are available for sale. The issues may be:
Missing Items – For whatever reason, Amazon FBA employees were not able to scan all the units. Meaning, if you sent 40 items, you might see only 35 of them checked in.
Damaged or Lost Items – During the shipment, the inbound courier might accidentally damage, lose or misplace your items.
Since the Amazon team is responsible for your inventory, you are entitled to reimbursement for any units that you send under Amazon's FBA reimbursement policy. However, keep in mind that typically the amount of the refund is the average sales price of the item, not the current listing price.
2. Lost and Missing Inventory
Amazon warehouses are huge complexes that process massive volumes of orders and items. Although automation reduces the possibility of errors, Amazon may still lose some of your inventory after receiving it without problems. Most likely, the employees accidentally placed your products in another seller's inventory or moved them.
If you want to get a more detailed answer on how Amazon lost it, you can take a look at the inventory report on Seller Central. Whatever the reason, the lost items are an inconvenience for your business. Without an inventory, you can't sell or restock when the items are at the warehouse but just misplaced.
Because of the massive scale of Amazon's operations, it's typical for almost every seller to have a few lost units each month. In these types of situations, Amazon must reimburse you accordingly. Same applies if your product has been missing in fulfillment centers for the past 30 days.
3. Damaged Inventory During Shipment
When the Amazon FBA team is fulfilling your orders quickly and efficiently, accidents may happen. The shipping process involves many steps from picking and packing the item to the delivery before it reaches the buyer. Between any steps of the process, it is possible that one of the employees accidentally damages the product.
Although Amazon is quite good at catching faulty products before they reach the customer, in a hurry some of them manage to slip through or get damaged after leaving the warehouse. That's why you may sometimes receive a customer complaint about a damaged product.
In other instances, the courier might damage the product that the customer returned back to the warehouse. Whatever the reason is for the damage, you can get a reimbursement from Amazon.
4. Amazon Destroys Item Without Permission
Occasionally, there are situations when Amazon destroys certain items in the inventory without the seller's knowledge or consent. However, some intelligent software such as Eva Reimburser alerts the seller when Amazon destroys inventory without permission.
Typically, items are destroyed when the customer returns a damaged item and Amazon deems it unfit for sale. As usual, Amazon should refund the value, but sometimes sellers never receive the reimbursement. You need to carefully monitor that Amazon processes all the FBA reimbursements.
5. Customer Return Issues
If you already are an Amazon seller, you probably can guess the most common reason for refunds. Out of all the Amazon FBA reimbursement claims, the most common one is customers returning their orders. Amazon is very eager to immediately refund the customer, which undeniably has positive effects on customer satisfaction. However, occasionally the customer might get a refund even without actually returning the item.
Unquestionably, these types of situations are very unfortunate from the seller's perspective. As Amazon handles customer returns and refunds for FBA sellers, here are some of the reasons to make a reimbursement claim:
Customer is refunded the wrong amount – The customer can be paid the incorrect price for the item they purchased. Sometimes even double the indented amount.
Customer receives a refund but did not return the original item – Customers have the right to return the product if they are dissatisfied or if the item is damaged. However, sometimes Amazon refunds them the full amount when they did not return the product.
Customer receives a replacement but did not return the original item – Customer receives a replacement product but did not send back the original item.
Returned product is unsellable – If the product comes back, but in an unsellable condition.
Returned product not added to your inventory – When the customer returns the item, but for some reason, Amazon did not add it back to your inventory.
Uncredited restocking fee – Amazon charges the customer a 20% restocking fee from certain products. They first deduct the fee from your account and refund you after restocking the item. However, sometimes Amazon forgets to refund that fee back to you.
6. Wrong Order Quantity
Sometimes customers are surprised to notice that they have received the item three times instead of the ordered two. They consider themselves lucky, but the sellers suffer from sending one extra unit without receiving payment for it.
When this happens, Amazon does not discover the error on its own. If you don't detect discrepancies in your inventory and order details, it significantly harms your business.
7. Amazon FBA Fee Errors
Selling on Amazon is not free and especially the perks of using the FBA program comes with a cost. The fees you have to pay to depend on multiple factors. For instance, the fees are based on different item categories, the time your inventory is stored in the Amazon warehouse, or the shipment size and weight.
Sometimes Amazon calculates the fees wrong and overcharges the required amount. Due to Amazon weighing or measuring your item incorrectly, the product's shipping fees can be for cargo twice as heavy. Often sellers can not keep up with all the fee changes. However, Eva Sales Analytics reveals the hidden FBA fees and presents them clearly.
Because FBA fees can remain incorrect for weeks or even months, the FBA fee reimbursements Amazon owes you can add up being a significant sum of money.
How to Claim Amazon Reimbursement?
In some reimbursement cases, Amazon automatically initiates the case and refunds your money. However, most of the time you have to pay attention that Amazon reimburses you when required. In other words, you need to check and monitor your seller account and file a claim to process your FBA reimbursement.
Now, there a few ways how you can reduce the amount of manual work. If you are not up for doing the work yourself, outsourcing it to an assistant one option. You can rely on Amazon reimbursement services that help you to add new cases and tracks the progress from start to finish.
Let's go through the options.
Virtual Assistant for Amazon Reimbursement
Hiring a virtual assistant means that you outsource the work to someone else. Moreover, it is up to you how much of the manual work you want to trust to the virtual assistant. They can handle tasks from downloading reimbursement reports to making claims in Seller Central. However, finding a good assistant takes time and always creates extra cots.
Do It Yourself
If you don't have a large budget or your store is small, the cheapest method is to claim reimbursement yourself. Basic tools such as Excel and Google Sheets are enough to handle reimbursements. However, it is often time-consuming if you don't have a lot of experience in data management.
But do you really spend endless hours on your Amazon reports gathering data for the reimbursement claims? No? In that case, we might have just the method for you.
The Best Way to Claim Amazon Reimbursement
Constantly keeping track of the broken or lost goods can be a bit tedious. If you feel like using your valuable time for something more productive, an FBA reimbursement tool combined with years of Amazon store management experience is for you.
Amazon reimbursement software such as Eva Reimbursement offers you an effortless hands-off solution to get your money back. It automatically finds, collects, and combines all of the lost or missing products based on Amazon reimbursement policies. After that, the Amazon experts manage the reimbursement claim process to get approval and refund your money. As for all efforts and reimbursement processes displayed transparently, as a seller, you can enjoy a fast process by claiming all your FBA reimbursements in bulk.
Final Thoughts
Amazon handles and ships hundreds of thousands of packages each day. Despite the number of employees and machines working to fulfill customer orders, sometimes Amazon can't prevent accidents. No matter how careful they are, unexpected events may lead to your item being lost, stolen, or damaged. In these situations, Amazon owes you money.
Claiming Amazon reimbursement is a key way to recover that lost revenue and get more funds back to your business. Even though Amazon FBA will automatically reimburse you for some issues, their system is not perfectly accurate. There is a chance you might be losing thousands of dollars without even knowing. That's why you need the perfect reimbursement software to track the inventory for you.
Sign up for Eva Profit Velocity Platform and active Reimburser to claim your money back now.
Related Posts: