Top 10 Amazon Repricer Strategies for Amazon Sellers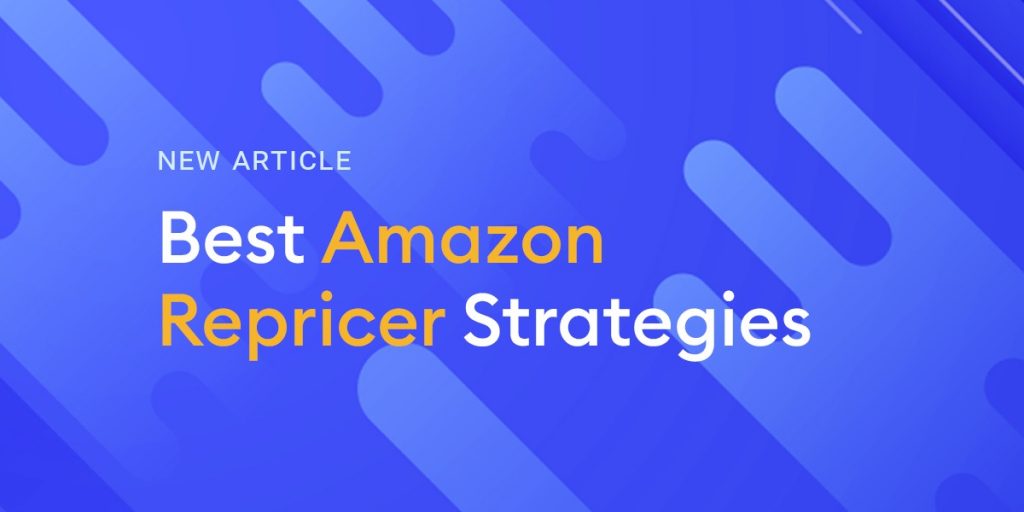 The life of a successful Amazon merchant is continuous balancing to find the optimal price and maintain competitive advantage. For this reason, experts take advantage of not only repricer tools but the best Amazon repricer strategies in maximizing their profits!Why is it crucial for your eCommerce business success to know the best Amazon repricer strategies? Amazon is the biggest online retailing store globally. Every day, over 200 million people visit Amazon's websites.
Many factors draw these customers to the website, but the price is indisputably a huge part of Amazon's charm. A survey found out that 82% of customers stated price as a significant concern when making purchases.
Prices are always changing on the site, depending on the product you are buying and other factors and activities. In as little as ten minutes, the price of an item changes automatically. For the seller to remain relevant, they would have to frequently keep up with the fluctuating pricing changes. Many times a slight price change could make a ton of difference in sales.
Amazon Repricer Strategies Keep You Ahead Competition
Repricing (or Amazon repricing) means putting a different price on a product or service. Most of the FBA sellers ease this task by assigning the responsibility for their Amazon repricer software. The programming of this automated pricing tool adjusts a product's price while it simultaneously monitors the profits.
However, the growing number of sellers and listed products have accelerated the phase of competition in the online marketplace. Most sellers are using repricer but staying competitively relevant, and they have to adopt the right strategies.
The Best Amazon Repricer Strategies
Minimum and maximum pricing. Fix your prices for the product. The repricer for Amazon is naturally programmed to set the prices on its own, based on the prices of other vendors that sell the same things. The repricing software automatically raises the prices or brings them low based on the product's availability and the demand rate on the site. A good repricer should be able to locate the maximum and minimum prices from Amazon's recommendation.
Be careful about the price you set. If you set your price toolow, you'll drive the customers away, and they will not trust your products' quality. If you set it too high, no one will buy from you because there are better, more affordable options. Be intelligent about setting the price of your product. Somewhere in the middle is the perfect price for what you are selling. But for the best results, dynamic pricing based on the speed of sales is optimal.
Don't always go on the 'cheapest' route. Don't allow yourself to be sucked down the 'cheapest sells fastest route'. While it's true that cutting down prices and making your offering affordable will attract customers (who doesn't love a good bargain!). But far more people are quick to distrust goods that seem too cheaply priced. It is often associated with low quality of products. Product review and seller ratings might motivate a buyer more than rock bottom prices. A good repricer must assess seller ratings and product reviews.
Prioritize what you are repricing. Not everything is about is reducing the price as fast as possible. Check your inventory first and consider which item you should give priority to more than others.
If you have slow to sell items, maybe you should cut down the price on those first before touching the items that are selling well. Your most expensive items should also be marked down. Some buyers watch goods that may be out of their price range. A price change can lead them to make the sale when the price is lowered.
Decide on your competition. Everyone cannot be your competitor. You have to choose the competitor that is closely aligned with you. For example, say you are an FBA seller, your competitors should be fellow FBA sellers. In this case, you should be more concerned with the Amazon FBA pricing. You need to ensure that your FBA repricer is helping you reach your target market.
Watch and Learn. Watch each product as you adjust the price and keep tabs on which strategy worked for which product. Even when the strategy fails, still take note of what was done to not do so in the future. Experiment with the pricing and analyze which ones work. Experience and understanding repricing is key to getting your Amazon repricer tool to work efficiently for you.
Time is Money. Choose a Repricer that can surpass the speed at which Amazon updates prices. Beating competition means your repricer must be faster than Amazon's 10 minutes. Most prices update their prices in 5-15 minutes. Our repricer is almost 5x faster than that! It updates every 80 seconds, and this incredible speed available for every user.
Mind your Sales Velocity Amazon monitors sellers' sales velocity during a certain period. A high sales velocity indicates that your Amazon account's performance is top-notch, and the algorithm ranks you higher. This allows you to benefit from additional sales and positive reviews, which scale up your business even further.
At this point, you don't want to race to the bottom with high sales velocity and face the risk of being out of stock. Or miss the opportunity to sell at higher prices for higher profits. The best repricing strategy must always keep an eye on the sales velocity and act ahead. Remember being at out of stock would decrease the Amazon Sales Rank (BSR) rapidly
Keep your Amazon IPI Score High Ignoring the Amazon IPI Score is one of the most common mistakes when setting any repricing rules. While racing to win the buy box, you can easily face the risk of being out of stock. Which would cause your Amazon IPI Score to be reduced rapidly. Amazon's inventory performance index (IPI) is a numerical value between 0-1000 and portrays your inventory's health. In other words, the higher the score, the better it performs. The issues arise from having too many or too few units on your SKU's. Well-managed inventory benefits FBA sellers in many ways. It reduces costs, increases profitability, and enhances business growth. Be careful with your repricing strategies, and always try to balance your IPI score with your prices.
Use AI-based repricer Many repricers on the market rely on rule-based programming. Therefore, their capabilities to act in a dynamic and highly-competitive environment are limited. When it comes to Amazon repricers, no rule is the best rule. AI-based repricers, such as Eva, are far more flexible and make intelligent decisions.
Final Thoughts
In conclusion, there are many approaches to become a prosperous vendor, and over time you will learn which works the best for you. However, among the best Amazon repricer strategies, the most efficient one is to choose Amazon repricer software that outperforms the others!
Take advantage of Eva's intelligent repricing technology. It enables you to stay at the top of your game with cutting-edge artificial intelligence and data-driven insights that help keep you ahead of your competitors. Try our dynamic repricer and sell the smarter, more profitable way on Amazon.