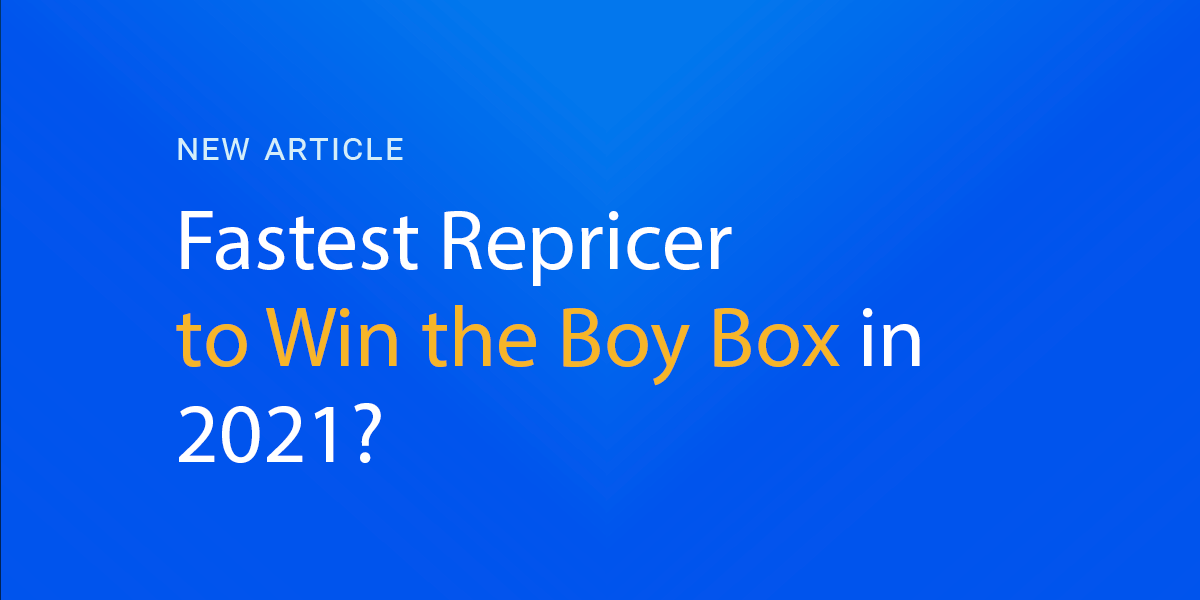 Fastest Repricer to Win the Buy Box in 2021
How to grow in this fierce competition on Amazon? Suppose you've had some experience with some repricers on the market 2020. Do you think it is enough to accelerate your sales growth so you can win the buy box? Explore the impact of artificial intelligence on the fastest repricer to win the Buy Box in 2021.Just being a seller on Amazon is not enough, and you may wonder how to keep your position in the fierce competition. Suppose you've had some experience with some repricers on the market. As the new year approaches rapidly, here is what you need to know about the Fastest Repricer to Win the Buy Box in 2021.
Keep reading this article to figure out how artificial intelligence technology and the fastest repricer can accelerate your sales growth.
Fastest repricer for the win in 2021!
As you likely know the basics by now, repricer is a software that is programmed to monitor, update, and adjust prices. Repricer can be tailored for specific eCommerce platforms such as Amazon. It monitors the prices as they change on the marketplace and adjusts the price to appeal to the customer. It may not be visible to the customer, but millions of transactions take place daily on Amazon. Having an Amazon repricer that handles its transactions fast is an advantage and the trump card to beat all trump cards.
"Why is the speed of repricer so crucial for overcoming competition?" you may ask. The simple answer is, the closer you are to real-time repricing, the more your sales and profits through the Buy Box increase.
Keeping the sellers' best interest in mind, we have created Eva, the fastest repricer software. It has a repricing speed of up to 80 seconds, meaning that the system dynamically updates itself and adjusts its prices accordingly within this period. Compared to other repricers that may charge extra for faster refresh rates, Eva's powerful performance is accessible to every user.
However, Amazon only allows the prices refreshed at a certain minimum refresh rate. For this reason, we have developed cutting edge technology that blows other repricers out of the water.
Smarter Amazon repricer with Artificial Intelligence
The secret to Eva's remarkable performance speed is the utilization of Artificial Intelligence. Most other repricers rely on rules and algorithms to work and only work based on what they are programmed to do. Our repricer goes many steps further as it is one that uses the technology of the future.
Eva's AI technology enables it to assess millions of data points and from every single angle. This technology allows the repricer to combine the computing power with the intelligence of a human brain. Whether you are an FBA, FBM, SFP seller, or not, it would be wise to consider this smart repricer. It generates the best strategy for sales based on the factors that matter.
With the smart technology of AI-based repricer, the seller doesn't have to keep undercutting his price to get the lowest points. By simply analyzing the competitor's algorithm, it helps you maximize profits and price optimally without overcutting your rates.
Because our Amazon repricer uses AI, after just 24 hours of Learning Time, you will see profit increase instantly up to 65%. With other repricers where you would have to do pricing manually, profits might increase up to and only after one week. Faster reaction time also dramatically increases your chances of having your products displayed in the buy box. In other words, success is inevitable when artificial intelligence meets the fastest repricer to win the buy box.
The Amazon Buy Box
In case you don't know this, the Amazon Buy Box is the box on the right side of the page where customers can add items they want to but to their cart. However, the buy box is not available to every vendor. It's only those whom the customer-centric algorithm chooses that will have their products displayed. So we'll be looking into how to win the Amazon buy box.
If you're a seller on Amazon and you know about the buy box, you've probably asked yourself: "Why am I not winning the buy box?".
If you're new to this online market scene, you may even ask: "How do you win the buy box as a new seller?".
Win the Buy Box with the right methods
First, Amazon approves that your seller standards and pricing match with their eligibility criteria. The criteria include a professional seller's account, your items must be new, and your stock must be up to date.
If you are not sure of your status, check it on Amazon Seller Central. Then the algorithm matches your seller's rating, competitive pricing, and other factors that it deems as important. Any element that comes up short can be supplemented with the other. For example, if your seller rating is excellent, your price should be higher than that of the person with low seller ratings. In this case of which, it might be better to go with low prices.
Secondly, there is no point in having a repricer that doesn't get you spots on the Buy Box. While it's true that you can get by without a spot on the buy box, consider the fact that almost 90% of sales on Amazon are made through the Buy Box. Showing that, it gets close to $100 billion a year! You want to be a part of that sales figure. Get a repricer that will get you on the Buy Box.
Invest in real-time repricing and win the Buy Box!
So why exactly are you still waiting for? If you want to try our intelligent repricer before purchasing, how about doing our 15-day trial. You'll have the first-hand experience of the amazing benefits of Eva. There is no argument here the fastest Amazon repricer to win the Buy Box, whether in 2021 or next week, is Eva. Make the informed and wise choice now.
Related Posts: