Selling Books on Amazon: A Guide to Success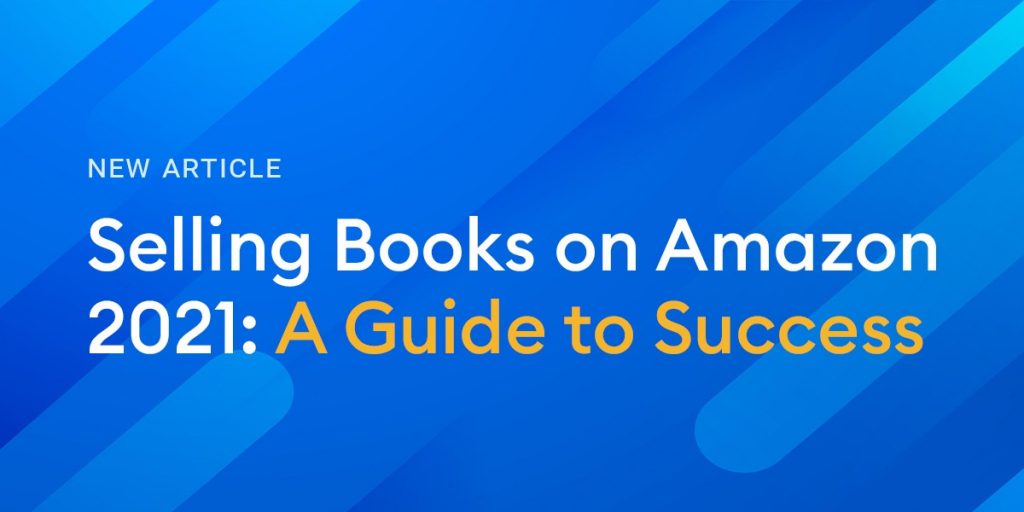 Amazon has a long history of selling books online. Despite the growing popularity of ebooks and audiobooks, printed books are still in high demand. After almost a couple of decades, selling books on Amazon is still a profitable business model for sellers.
In this article, we cover everything you need to know about how to sell books on Amazon.
How to Get Started with Selling Books on Amazon?
Selling books on Amazon is relatively simple. In a nutshell, the process begins with creating a seller account, selecting a shipping method, and finding the best-sellers on demand. Finally, you create a listing and start selling.
Set up Amazon Seller Account
First, to sell books on Amazon, you need to set up an account. Amazon offers two types of selling plans:
Individual seller
This selling plan is suitable for sellers who only have a few items to sell, more precisely fewer than 40 books per month. The reason is that individual sellers are not subjected to monthly subscription fees, but they have to pay an additional $0.99 for every item they sell. After exceeding the item limit, it might be more cost-effective to choose a professional selling plan.
Professional seller
If you plan to sell 40 books or more each month, you should opt for the professional selling plan. Professional Amazon sellers pay a monthly $39.99 subscription fee, but are not subject to the additional "per-item" fee like individual sellers. In addition to gaining access to other benefits, most importantly, you are eligible to win the Amazon Buy Box.
Setting up your Amazon account is the first step, but subscription costs are not the only Amazon seller fees you come across if you decide to sell books. Additionally, you have to pay referral and closing fees in addition to shipping and storage costs.
Choose a Fulfillment Method
After setting up your account, you need to figure out how to ship the books to your customers.
There are two ways to fulfill your orders on Amazon: FBA and FBM.
Fulfillment by Amazon (FBA)
Fulfillment by Amazon is quite an easy solution for sellers, and it's especially suitable if you have lots of orders to fulfill. Typically you ship the books in one bulk to one of the Amazon fulfillment centers, and the eCommerce giant stores your inventory. When you sell a book through FBA, Amazon picks, packs, and ships the items on your behalf. Moreover, they also provide customer service. Instead of paying for multiple costs, the Amazon FBA fee covers all these services.
Using FBA also has some additional benefits. It gives you access to a fast Amazon Prime shipping option, which might be a determining factor in purchasing decisions. Moreover, since Amazon is responsible for the shipping, you don't have to worry about any negative reviews that might harm your business.
Fulfillment by Merchant (FBM)
Fulfillment by merchant means that sellers are responsible for storing and shipping their inventory. When you sell a book on Amazon, you pack and ship the book yourself, using the courier of your choice.
You don't have to pay any additional Amazon fees and have full control over the stock. On the other hand, shipping and providing customer service can be both time-consuming and expensive. However, if you have the time and strong distribution channels, you can save money by fulfilling the orders yourself.
There is no clear answer on which one to choose for your business. The fulfillment option that you select depends on your cost structure and the resources at your disposal.
What Kind of Books to Sell on Amazon?
There are multiple options for finding books to sell on Amazon. However, you wouldn't want to waste your time on books that nobody wants to buy. The books you list must have demand. The question is how to find the best books to sell on Amazon. One trick is to check the book's Best Seller Ranking.
Finding the Best-selling Books on Amazon
Every product on Amazon gets a "Best Seller Rank" (BSR), which ranks the specific product among competitors' listings. The lower the number, the better.
You can find a book's Amazon Best Seller Rank on the page listing under the product details section. When looking at the BSR, focus on the general Books category instead of literature genres or subcategories. Some sellers state that books with BSR lower than 100,000 tend to sell rather well.
Amazon Book Conditions
Every seller who wants to sell books on Amazon should consider value and demand or even find their specific niche. As much as finding the best-selling books matters, in general, Amazon sellers sell books based on two main options: new and used books.
Brand new books are exactly what the name suggests, and we cover this area in a bit. However, many sellers explore their book business with used books. Even though Amazon allows sellers to sell used books on the platform, they state clear condition guidelines for books to prevent misunderstandings and ensure customer satisfaction.
New: A brand-new copy of the book in its original, unopened packaging. It may not have any markings or labels on it.
Used – Like New: The item needs to be in ideal condition to use despite not having the original protective wrapping. The pages have to be clean, but the book can have minor cosmetic defects.
Used – Very Good: Generally, the item is intact and clean. However, it may have minor cosmetic defects, missing packaging or the book might contain marks on the outer edges.
Used – Good: The book is intact, but it may contain signs of wear or possible labels on the cover. The text may include limited notes and highlighting.
Used – Acceptable: The book is intact but may have significant markings on it. However, the text still needs to be readable.
Unacceptable: If the pages are missing or the text is unreadable, Amazon does not allow you to sell the book. Additionally, you are not allowed to sell copies of unpublished books.
Selecting the correct condition is essential. If you overestimate the condition, unsatisfied customers may leave you negative reviews that further decrease your seller rating and your chances to win the Buy Box. Additionally, Amazon has similar condition criteria for books that are considered Amazon collectibles.
How to Source for Used Books to Sell on Amazon
Amazon approves the sellers listing used books, and this method is quite approachable for many sellers. Sourcing used books to sell on Amazon is usually relatively easy, and there are many ways to do it. However, keep in mind that the profitability of selling used books is often based on the large volume sales.
Book Sales
Finding book sales is comparatively easy. Many libraries, book stores, or yard sales might have many hidden treasures that you can buy for cheap and sell for a profitable price on Amazon. Using the Amazon Seller App gives you an idea of the market price and whether the purchase is a good deal.
Retail Arbitrage
You can buy lots of used books at a low price from websites and social media platforms such as eBay, CraigsList, and Facebook. Even better if you can purchase the used books in bulk to get a discounted price and fast refill for your Amazon store.
Free Books
Quite often, many people want to get rid of old books and give them away for free. This is an amazing opportunity for you! However, ensure first that there's a demand for these specific books. Also, you can go through your bookshelves at home to sell old books collecting dust.
Selling New Books on Amazon
Selling new books on Amazon is also a great business opportunity as many readers prefer to purchase new books over the used ones. In addition to demand, your profitability depends on the cheaper bulk purchases that increase the profit margin. The more you buy together, the lesser you will pay for every book. However, for this reason, sourcing for brand new books is a bit more challenging.
In order to acquire new books to sell on Amazon, you need to find a reliable supplier with enough volume. Many Amazon sellers find wholesalers to be the best source for new books because they purchase high volumes directly from the publishers at low rates. Therefore, their prices are lower when compared to retailers.
How to List Your Book on Amazon?
Once you have set up your account, you can start listing your books on Amazon.
The easiest way to create a listing is to find an ISBN on the back of the book and type it into the Amazon search bar. The International Standard Book Number (ISBN) is a unique book identifier that distinguishes it from the others. Once you enter the code, you will find a button on the product's listing page that says "Sell on Amazon." However, if the book was printed before 1970, it doesn't have an ISBN. In that case, you have to enter the title manually and create a new listing for the book.
After clicking the button, you get the following information to be filled:
Seller SKU – This is a code that you decide to identify a specific product. We recommend creating a code that has some logic behind it and it's easy to remember. However, if you leave it empty, Amazon randomly generates a code for your book.
Price – When deciding a price for your book, we recommended considering the condition and shipping costs. Typically, the books in better condition tend to sell at a higher price. Additionally, you ensure that you profit from the sale. Calculating the shipping costs based on your fulfillment method helps you set a minimum price for your book.
Quantity – Enter the number of copies you have for sale. The default quantity is one unit.
Fulfillment Channel – The choices are either FBM or FBA. Select the one that suits your business the best. However, keep in mind that fulfilling the order by yourself activates your listing in less than 30 minutes. Fulfillment by Amazon takes 1 to 2 weeks since you have to first ship the books to one of the fulfillment centers and wait for the Amazon staff to list them.
Tips to Boost Book Sales on Amazon
Promoting on social media might bring additional traffic to your Amazon store. Therefore, sharing your book listings on social media platforms is a great way to boost sales.
Sell the books based on the season. The demand for books increases before the holiday season. Typically, most booksellers notice an increase before November and create more listing on Amazon before the busiest months.
Best Seller Rank is a good indicator of which books are currently selling fast on Amazon. However, these books face the highest competition and therefore do not guarantee the best performance. Instead, many sellers have noted a decent success with selling textbooks, comic books, or selling to a specific niche.
Final Thoughts
In the '90s selling books on Amazon was just a small online business. Over the years, other sellers have joined and turned competition fierce. Thousands of sellers are constantly undercutting competitors with Amazon repricer tools to get the Buy Box position and increase their sales.
However, this does not mean that your Amazon business can't become successful. Nowadays, winning the Buy Box is not just about getting the lowest price. You need an intelligent and more sophisticated program to ensure that your books sell. Therefore, Eva is a must-have tool for every bookseller on Amazon.
Was this article helpful?