Amazon created the Buy Box to give the customer the best possible value for their money. When the customers purchase their desired product through this button, Amazon's algorithm ensures it's from a quality seller with a competitive price.
Meanwhile, Buy Box eligible sellers get an advantage over others by getting featured for potential customers. After all, Amazon is a highly competitive marketplace, where the majority of buyers only shop through this orange button.
In this article, we'll learn Amazon Buy Box works and what you need to consider to win the Amazon Buy Box in 2022. Read on! 😃
What Is the Amazon Buy Box?
When customers are shopping on Amazon, they might come across the Buy Now and Add to the cart buttons on the right side of the product's listing page. This noticeably visible area is called the Amazon Buy Box. When customers click the buttons, The A10 algorithm chooses a seller or several in a rotation that Amazon believes can provide the best shopping experience.
Even though Amazon does not reveal how the process works, there are quite a few watertight speculations. Stock level, fulfillment, reviews, and most importantly, pricing affect the selection. In other words, customers are automatically buying from an Amazon seller that delivers the best quality.
Read More: 5 Tips to Win and Keep the Amazon Buy Box FAST!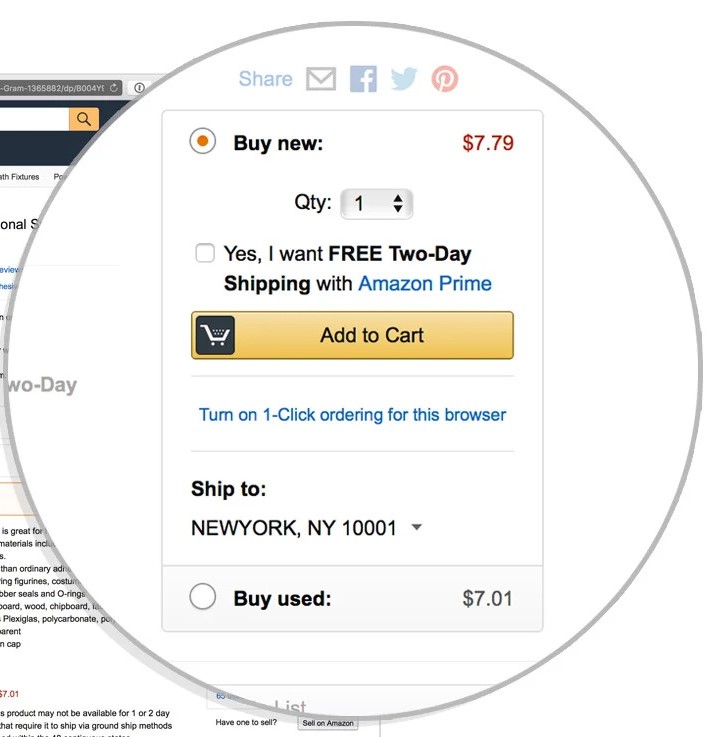 Does Every Product on Amazon Have a Buy Box?
While most listings have a Buy Box, this does not mean every product matches the requirements. If the seller is not eligible for the Buy Box, none of their product has it. Additionally, in some cases, a seller might lose the spot on the box. We will cover this topic a bit later in the article.
The Importance of Winning The Buy Box
"Winning the buy box" is a selection process where one seller claims the spot and makes the sale. The winner drives more sales compared to any other seller for the same product. Also, partly because over 80% of Amazon sales happen through the Buy Box. No wonder every seller is aiming to meet the standards necessary to get the position. However, not every merchant is eligible for the Buy Box.
What is Buy Box Eligible Status?
In order to compete for a spot on Amazon's Buy Box, a seller must be Buy Box eligible. There are no additional fees for being Buy Box eligible, but you have to be a professional seller and meet specific performance-based requirements.
What Are The Requirements for The Buy Box?
You can check your eligibility from Amazon Seller Central:
Navigate to the Inventory tab and select 'Manage Inventory.'

Click on 'Preferences'

Select 'Buy Box Eligible' from the 'Column Display' and save your changes.

Go back to the Inventory and look at your SKU's right-side column. If the item is eligible, it says 'Yes'.
Because Amazon wants to keep its customer experience top-notch, qualified sellers must maintain high-performance levels that combine high seller performance and low prices. Therefore, to become eligible, you must match the following requirements:
Professional Seller Account
You need to have a Professional Seller Account. Individual accounts are not eligible for the Buy Box. Luckily, you can easily switch your existing plan from Amazon Seller Central.
Reliable Stock-Level
You need to have stock to sell to become eligible. However, Amazon allows back-ordered items to win the Buy Box.
It is worth noting that Amazon prefers sellers who can fulfill orders fast. If you are at risk of running out of stock, your products may not reach customers within the expected time range. This situation may negatively impact your seller performance metrics and Buy Box eligibility. In other words, if maintain strong inventory levels, Amazon may give the Buy Box to you.
Item Must Be New
If you aim to compete for the Buy Box, the item must be new. However, Amazon introduced a Buy Used Box for items in used condition, which is separate from the traditional Buy Box.
High-Performance Metrics
To become Buy Box eligible, your Account Health must be on a good level. These performance metrics include Order Defect Rate, Cancellation Rate, and Late Shipment Rate. The better you perform in these aspects, the higher your chances of winning.
After you meet the requirements, you can almost immediately become eligible for the Buy Box. However, keep in mind that it does not guarantee that you'll win the Buy Box just because you're Buy Box suitable. If you aim to compete for the Buy Box, the item condition must be new. However, Amazon introduced a Buy Used Box for items in used condition, which is separate from the traditional Buy Box.
How to Win the Amazon Buy Box in 2022?
Becoming eligible is the first step to winning the Amazon Buy Box. However, the Amazon algorithm decides who wins the spot by comparing multiple variables among qualified sellers. If you face competitors who match your pricing and their performance metrics are equally good, winning becomes harder.
Amazon aims to offer the most valuable shopping experience to its customers. Utilizing this information is the best strategy to win the Buy Box. Moreover, consider the most critical performance metrics and other aspects that increase the chances of Amazon's algorithm recognizing you.
1. Improve Performance Metrics
Even though pricing is an essential factor in winning the Buy Box, Amazon's algorithm also considers your performance as a seller. Especially the following metrics that also affect your Account Health status.
Order Defect Rate (ODR)
This performance metric measures how well you can meet Amazon's customer service standards. Negative feedback, A-to-Z claims, and credit card chargebacks affect the rating. An ideal ODR is below 1%.
Cancellation Rate (CR)
This rate applies to sellers who fulfill the order by themselves. Whenever you cancel a customer's order, it negatively affects this metric. An ideal rate is below 2.5%.
Late Dispatch Rate (LDR)
This metric states the percentage of orders that have been shipped later than the expected ship date. If your LDR exceeds 4%, you are at risk of losing the Buy Box eligibility.
Additional Metrics
In addition to the metrics mentioned above, Amazon takes into account your interactions with customers. The number of feedback you receive is an indicator of the product's popularity among buyers.
The more, the better, and the positive feedback weighs more when Amazon evaluates your Buy Box eligibility. In the same sense, responding to customers promptly has a significant effect. Prolonged customer response time might negatively impact your chances of winning the Buy Box.
2. Sign Up For Amazon FBA
Fulfillment by Amazon (FBA) sellers are automatically eligible for the Buy Box. Amazon takes care of the packaging, shipping, and customer service, making the shipping process easier for you. But most importantly, it gives you an advantage when competing for the Buy Box.
Amazon provides more significant changes for sellers who can offer fast delivery for customers. Therefore, FBA sellers are more likely to win the Buy Box.
Fast Shipping with Amazon Prime
Since Amazon prioritizes fast shipping in the Buy Box, you can increase the odds by signing up for Prime. FBA sellers automatically qualify for Prime, but Amazon accepts self-fulfilling sellers as well. If your previous sales record and ranking are on a good level, you can be eligible for Seller Fulfilled Prime (SFP).
3. Gain Experience
If you are new to the platform, unfortunately, experience counts in as well. When it comes to winning the spot on the box, Amazon favors experienced sellers over new ones. To gain expertise fast and speed up becoming eligible, you can try to sell popular products through FBA. Meanwhile, focus on optimizing the pricing and improving your seller performance metrics.
4. Optimize Product Pricing
Product pricing is a significant decision factor for most consumers and therefore for Amazon as well. That's why pricing is an essential factor in deciding who wins the Buy Box. However, this is a tricky aspect for sellers.
Nobody knows the secrets of how Amazon's Buy Box algorithm works, but we can say for a fact the company and its customers love competitive prices. The sellers aim to find that 'sweet spot' with different repricing strategies.
The general belief is that the lower the prices, the better your chances of winning the Buy Box. But if you keep driving your prices down, risks end up cutting your profits when competing for the Buy Box. Therefore, optimizing prices by 'racing to the bottom is not necessarily a competent repricing strategy.
Read More: Winning Pricing Strategies for Amazon Sellers
Use an Intelligent Amazon Pricing Tool
Repricing on its most fundamental levels means increasing or decreasing a product's price based on competition. It is updating the prices matters because it helps you stay competitive and improves your chances of winning the Buy Box.
Some sellers do the repricing manually, but it is often tedious and time-consuming. For these reasons, most Amazon experts utilize repricing tools that monitor the listings 24/7 and almost instantly make the repricing decisions. The faster the repricer, the more likely you will win the Buy Box.
The most significant benefit of repricing software is that they save your time and keep your listings profitable despite competition. Especially AI-based Pricing Tools analyze countless data points to determine your competing price.
What Makes You Lose the Buy Box on Amazon?
So far, we have covered the aspect of winning the Buy Box. However, sometimes the competitor takes the spot and snatches the deal. If this keeps happening, you are in danger of being placed further down in the search results pages and even further lowers your chances of customers finding your products, and as a result, your sales decrease. Therefore, it's as important to understand what factors can make you lose the Buy Box.
Your Account Health Decreases
As mentioned, your Account Heath is a significant metric for the Buy Box eligibility. If your score falls below a certain threshold, Amazon might disqualify you.
Your Listing Has Competition
If another seller starts to sell your product, your listing faces competition, and the competitor might win the Buy Box. While other sellers are generally allowed to sell with the same effect, occasionally, listings get hijacked by scammers.
This is especially a problem for private labels because hijackers copy their brand and product to sell it for a lower price. Unfortunately, in most cases, they end up taking the Buy Box away from you.
Your Prices Are Too Low or High
When you are creating a listing, pay attention to the prices that you set. If you price your products much higher or lower than the average sales price, Amazon might remove the Buy Box for that listing. You can change the pricing through your Seller Central Account but suggest using a repricer that automatically recognizes Amazon's pricing scale.
How to Sell on Amazon Without the Buy Box?
Although the buy box is quite essential for selling on Amazon, it's not impossible to sell without it, so the answer is yes! But there are 2 scenarios here:
There is no buy box on the listing: Amazon removes the buy box when they sense all the sellers are not in line with the Fair Pricing Policy. Unless the listing is suspended, people can still buy from you by selecting your offer from the seller's list.
There is a buy box but you don't own it: It's not the end of the world! You can still persuade people to buy from you by offering the Fastest Delivery and getting more Positive Reviews!
Frequently Asked Questions (FAQs)
How long does it take to get the buy box on Amazon?
It depends. There are a number of factors that can influence how quickly you'll be able to snag the coveted buy box, including your seller ranking, customer feedback, and product price. But according to our experience, it takes 1-2 days for a new seller to get the buy box.
How do I get my buy box back from Amazon?
There are a few things you can do to improve your chances. First, make sure your prices are competitive. Second, focus on delivering great customer service. And finally, stay patient – the buy box will eventually come your way!
How long does Amazon Buy Box last?
There's no guaranteed duration for the buy box. Amazon will take it from you as soon as another seller demonstrates higher eligibility — a never-ending battle!
What is a good buy box win percentage on Amazon?
A good rule of thumb is that a buy box win percentage of 50% or higher is considered good. Of course, the ideal percentage will vary from seller to seller, and it's always worth monitoring your performance over time to ensure that you're still on track. So, if you're looking for a good target to aim for, 50% is a good place to start.
How do I find my buy box price on Amazon?
On your Seller Central dashboard, go to Inventory > Manage Inventory. Then take a look at your products listings, you will see two columns: Buy Box Price and Buy Box Eligibility
How do you lose the buy box on Amazon?
First, take a look at your pricing. If you're significantly higher than the competition, that could be why you're losing the buy box.
Second, check your seller rating. If it's been slipping, that could be another reason customers are choosing other sellers over you.
Finally, make sure you're offering fast and free shipping – customers love free shipping, and it could be the deciding factor in whether they choose your listing over someone else's.
What does not in buy box mean on Amazon?
It means you haven't won the buy box but your listing is active on Amazon and people can buy from you.
How to Win the Buy Box and Maximize Profits At The Same Time?
Owning the Buy Box increases your chances of making a sale. Amazon's algorithm chooses the best seller to win the box position. If the sellers are equally qualified, it gives the spot to several in rotation. Usually, in this case, sellers reprice their products and compete with lower prices to win the spot. However, just because you increase the sales does not necessarily mean you profit more.
The key to success is to think of profits, not sales. To maximize your profits, you need Eva's Intelligent Repricer which makes smart repricing decisions based on competition. The self-learning algorithm finds the optimal prices for your products and continuously improves the strategies if the market changes. This way, Eva either wins or shares the Buy Box but always aims to maximize your profits.
Start your 15-day free trial and start winning the Buy Box now.
Conclusion
Conclusion paragraph: If you want to be successful as an Amazon seller, it is crucial that you understand how Amazon Buy Box works and what you need to do to win it. The competition is fierce, but with the right strategies in place, you can increase your chances of being selected by Amazon and drive more sales for your business. Eva can help!
Our team of experts is here to provide you with a Free Consultation and help you take your Amazon business to the next level. Contact us today to get started!
Getting Started With Eva Is Easy
Ready To Grow?
Start A Free Trial
Create an Eva account in seconds & link your Amazon account. Get a complimentary onboarding call to properly configure & dial in your settings or do-it-yourself using our help library containing 150+ articles and videos.
Have Questions?
We Got You
Need a little more guidance? Connecting with one of our experienced Amazon consultants is the best place to start.