Why You Should Start Selling on Amazon – 5 Excellent Reasons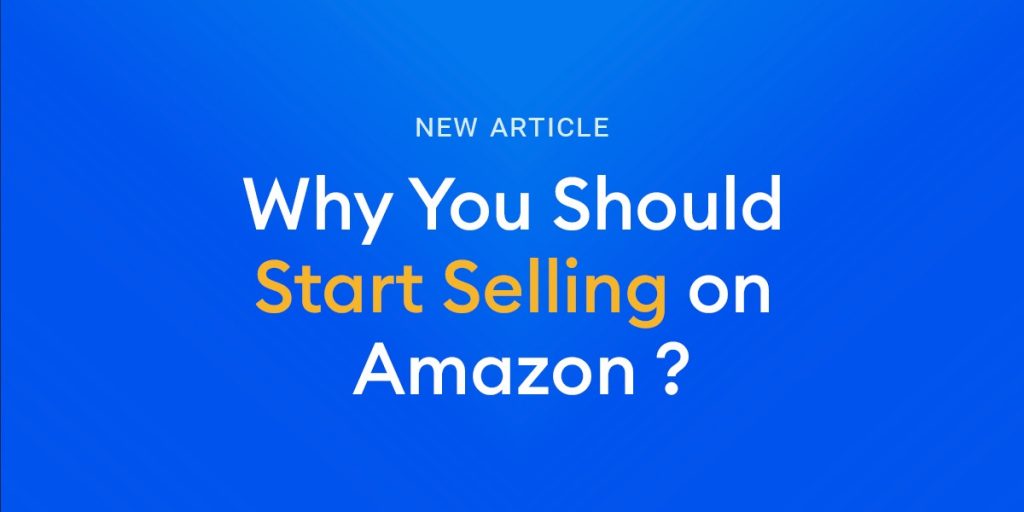 When you want people to think about online selling platforms, they would most likely think of Amazon. It's because Amazon is the largest online marketplace all over the world. So, what are the main reasons that it is so appealing to sell things on there and why should you start selling on Amazon?
Given that eBay is just a marketplace– a location where people may sell things and do business. But keep in mind that Amazon began as an online bookstore and has now grown to offer everything from electronics to clothes to musical instruments to cosmetic goods. Because Amazon allows third-party offers and your products are displayed alongside Amazon's, your pricing will frequently be comparable to Amazon's. Using its marketplace, of course, comes at a cost. Amazon gets a minimum of 6% of every item you sell, with up to 15% for mobile phones and musical instruments.
So why does everyone want to start selling on Amazon rather than other marketplaces?
1. Amazon is a popular shopping destination
Every month, Amazon receives over 2 billion visits, which is 36% more than eBay's traffic. Not only that, but after joining the Amazon Marketplace, online retailers often see a 50% boost in sales.
2. Amazon simplifies everything for you!
You do not need to create your own website to begin your online business. All you have to do is get your products to the Amazon market and sell it on there. Amazon will take care of the rest, including website traffic, shipping (if you utilize FBA), and even worldwide expansion by selling on various Amazon marketplaces.
3. Shoppers confide in Amazon
Amazon is used by 82 percent of internet consumers to research prices before making a purchase. According to the study, 89 percent of consumers believe that they are more inclined to purchase goods from Amazon than other eCommerce sites. As a result, Amazon has developed a strong customer connection and earned their confidence. Sellers may use Amazon's reputation to quickly attract customers without having to invest a lot of time and effort in building customer connections.
And then there's the power that Amazon gives to customers in terms of influencing companies via feedback and reviews. Remember to submit A-to-Z claims against vendors for any unresolved transactions. As a result, sellers should follow Amazon's example in establishing trust with their audiences by offering relevant material, promoting reviews, and delivering excellent customer service, all of which will help consumers trust your brand in the long term.
4. Amazon provides the finest possible customer service.
Amazon has a reputation for providing the most convenient online buying experience. You can rely on Amazon for excellent customer service, fulfillment, and a broad range of products at competitive pricing. Amazon's inventions and advancements are all focused on the consumer. Amazon will ensure that this type of golden buying experience is maintained. They not only keep their end of the bargain, but they also make sure that the third-party merchants do as well.
This implies that performance indicators, Featured Sellers designation, and even Buy Boxes are all in place to encourage companies that provide competitive pricing and seller practices. It seems logical that they would promote and reward vendors that follow their customer-centric ethos by giving them a marketplace edge.
5.Amazon Prime benefits sellers
The loyalty of Amazon Prime subscribers is very strong. The Prime advantages and bonuses entice customers to return to Amazon on a regular basis to guarantee they get their money's worth. This includes one-click shopping, free two-day delivery on millions of products, free access to Amazon Prime Video and Prime Music streaming services, Prime-only offers and special pricing, and Whole Foods savings. On Amazon, Prime members spend an average of $1,400 each year, whereas normal customers pay just $600. As a result, Prime members are more likely to purchase Prime-eligible goods from FBA sellers.
Summary
You've undoubtedly heard a lot of people talking about their Amazon success stories. Sure, many earn a livelihood selling on Amazon full-time, but this is not a one-day job. If you're beginning from scratch and want to sell on Amazon with modest success by sourcing goods from a manufacturer, it'll take at least 2-3 months for the results to appear. If you want to be one of Amazon's top sellers, you must have the same mentality as they do: create a long-term company rather than a quick buck.
It's not impossible to become the next Amazon popular if you follow the advice of experts and utilize the appropriate Amazon tools to automate your Amazon shop.
EVA provides you with a collection of strong tools to help you effectively launch your Amazon business and maintain every part of it!
Let's grow your business together!!! Join us with a 15-day free trial.
Was this article helpful?