Are you looking to get more out of your Amazon PPC strategy? Whether you're a new seller or an experienced one, these 10 tips will help you turbocharge your campaigns and get better results. From optimizing your bids to using different ad formats, read on to learn how to power up your Amazon advertising.
If you're looking to sell something on Amazon, it's effortless. All you have to do is set up an Amazon store. However, with hundreds and thousands of sellers trying to sell the same product, it's tough to get the necessary exposure to sell. Therefore, the best way to succeed in selling on Amazon is to go through these advertising tips for Amazon!
Amazon Headline Search Ads, Amazon Product Ads, and Amazon Sponsored Products Ads are three advertisement formats on Amazon. As a third-party seller on Amazon, you must use sponsored product ads and sponsored brands ads. These ads will allow you to rank high on Search Engine Result Pages (SERPs) even if you don't have a history of ranking at the top.
Your Amazon PPC strategy needs technical expertise and knowledge to succeed. So here are 10 Amazon PPC strategy tips that work like magic for your promotion.
1- Choose Manual Campaigns but Test it Through Automatic Targeting.
Just like other PPC advertisement platforms, it's ideal to have the upper hand in your Amazon PPC strategy as much as possible. It will enable you to make cost-effective business decisions. However, sometimes, you need automatic campaigns that may help you leverage your Amazon store.
Keyword research is one of the automatic features that you'd need. Through automating targeting campaigns, you can test the waters in the market and figure out the search terms used by people looking for products you're selling.
You can do this by setting up a targeting campaign similar to the manual one you've been using. Test campaigns should have minimum ad spends. Let it run for a few days and evaluate the results to find out about the search terms used by people to retrieve the ads. After that, you can use the search words in the manual targeting campaigns. Please note that you shouldn't replace your keyword strategy – look for them on keyword.io and Google Planner. Instead, you should use automatic targeting to add value and strength to your existing campaign to optimize results.
2- Benefit from Match Types
If you're accustomed to Google AdWords – which you should be, given that you're trying to advertise – using match types shouldn't be difficult.
Like Google AdWords, Amazon also uses phrases, broad, negative, and exact match types to funnel down the targeting process. One of the best approaches for your Amazon PPC strategy is to apply a combination of match types for highly targeted advertising that can reach niche buyers and ensure better sales.
With a broad match type, you can cover many keywords. You can add words to the middle, after, and before the targeted keyword in this category. While this match type is the least targeted, it can come in handy when you want to discover valuable keywords and jumpstart campaigns. For instance, if the keyword is 'toiletries bag,' the ads can lead to searches about a big bag for toiletries, pink toiletries bag, or toiletries bag for travel.
The phrase match feature will enable you to funnel down the search that can retrieve your ad. You can add the word either after or before the keyword, and they can also include plurals and misspellings.
For the keyword 'toiletries bag,' your ad will appear in searches for toiletries bags for kids, blue toiletries back, etc. However, the keywords won't be separated.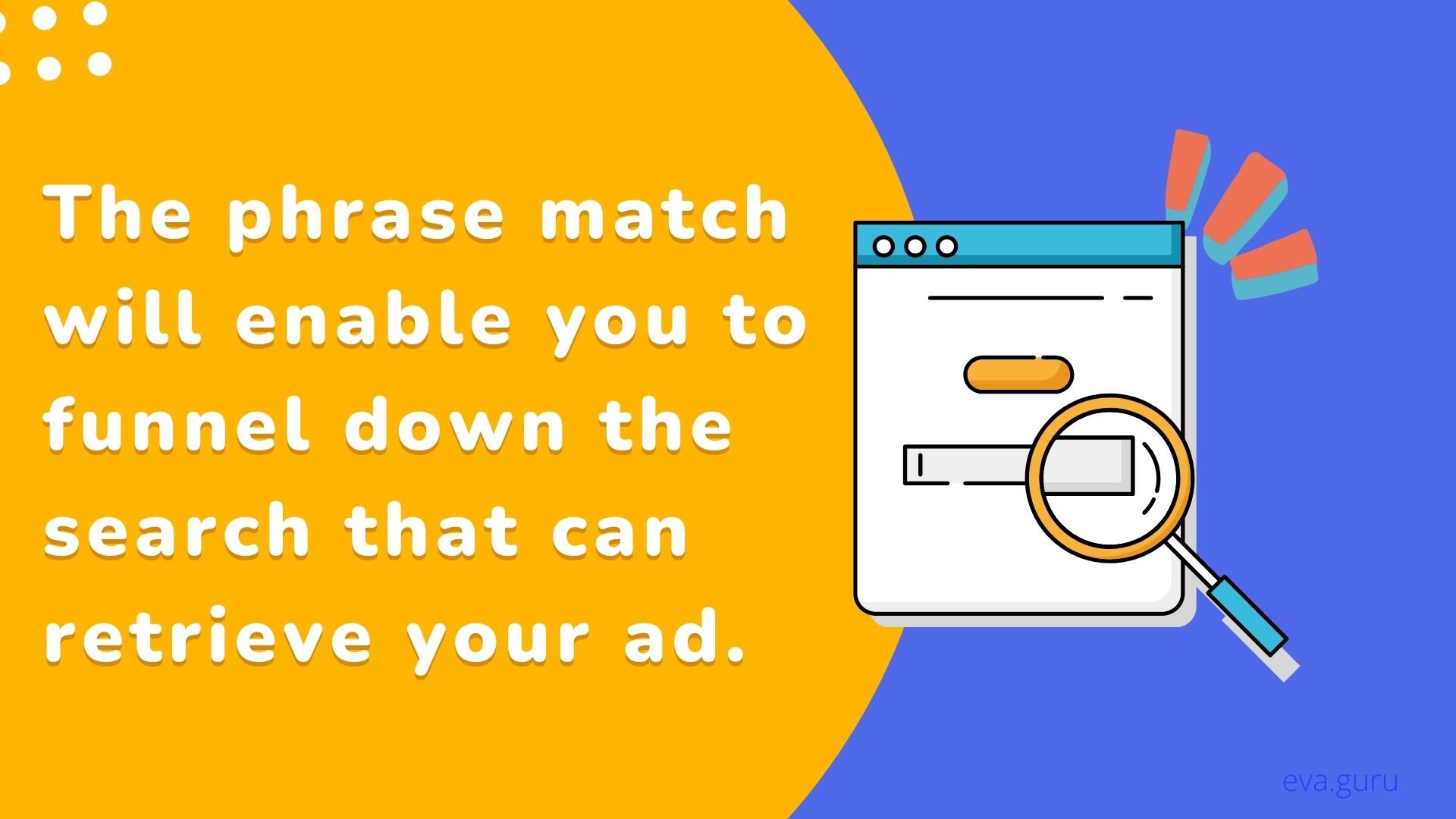 3- Use the Targeted Keywords in the Product Listings
Paid and organic traffic across different platforms have a single common thread: they all offer an outstanding user experience. Of course, the ideal way platforms achieve this is by providing relevant results to the user's search. Hence, it's not surprising that Amazon and other ad platforms will prevent displaying ads that don't fit the landing pages.
To prevent this with your Amazon PPC strategy, you must prove that your product listings are pertinent to the ads. You can do this by incorporating the targeted keywords in the content of the product listings.
Be mindful that this addition must be tactical and shouldn't seem very obvious. Otherwise, the potential customers won't be able to read the listings and convert.
4- Arrange Your Amazon PPC Campaigns
An organized PPC campaign is crucial to managing a successful and cost-effective ad campaign. If your campaigns are haywire and messy, they can put you at risk of getting unqualified clicks via ads from the wrong keywords and losing money. Moreover, you may end up paying more than you initially intended.
While there are different steps to organize an Amazon PPC Strategy, common logic should be applied – grouping keywords for related products. Moreover, you can manage your Amazon PPC campaigns via product category, top sellers, or brand.
Please note that items within the same group can come with variegated margins, meaning they don't have identical bids. Therefore, it's vital to be strategic when allocating bids according to profit margin and performance.
See Also: Amazon PPC Strategy: 6 Proven Ways to Boost Click Through Rate (CTR)
5- Restrict Your Ads from Irrelevant Searches
Like Google AdWords, Amazon offers the 'block ads' option that prevents your ad from showing for specific searches using negative keywords. For instance, you can add lip gloss in the negative keyword option if you sell lipstick but not lip gloss. It will prevent your ad from showing under lip gloss-related searches. Therefore, potential customers will only see your ad if they search for lipstick.
If you use them tactfully, negative keywords can save you money and maximize conversion by displaying your ad to qualified users who're looking to buy your product. You can use negative keywords with match types to further refine the Amazon PPC Strategy. The rules for using match types (as used above in the toiletries example) apply. Therefore, if you apply a negative match type for red lip gloss, your ad will not be shown to people searching for red lip gloss or red lip gloss for cheap.
You can build a list of negative keywords over time. However, if you have some keywords that you don't want your ad to show for, you can incorporate them before you start a campaign. To improve your Amazon PPC strategy, you must evaluate the search report periodically to figure out which keywords shouldn't be used.
6- Set Different Bids Based on Value and Performance
Different products have different profit margins. Therefore, you can't have the same bid amount for all your keywords. This way, you'll lose money on products with small profit margins.
Select the keywords with a high profitability potential and bid high for them. Simultaneously, choose the keywords for low-profit products and set their bid according to the Amazon PPC strategy cost.
Nonetheless, you aim to garner profits from the sale, not break even or lose money. Be mindful that you'll have to bid higher for new campaigns to get search history. Amazon will prefer PPC campaigns by senior competitors with proven sales generation without a search history. After gaining sales and search history, you can reset your bids to normal.
7- Bid on the High-Performing Competitors' Keywords
Does your Amazon PPC strategy include your competitor's keywords to generate traffic? If you know the answer to this, you can easily get insight into how your competitor is performing. Moreover, you can also unveil a set of new keywords that you can implement into your existing Amazon PPC campaigns. You can do this in two ways: manually or using an online tool.
As you may have expected, the manual tool can make the job tedious, especially when managing different campaigns. On the other hand, the online tool can offer you detailed insights without the painstaking work. The online means that you must use are the ones that provide reverse ASIN lookups like Keyword Inspector. This tool uses product ASINs (Amazon Standard Identification Number) to search for hundreds of keywords within a few seconds. Every keyword will show the estimated assigned Amazon volume. You can choose keywords with great potential and use them in your Amazon PPC strategy.
8- Get Target Specificity with Long-Tail Keywords
These keywords contain longer phrases that offer more specificity to the search terms. Long-tail keywords consist of two or more keywords strung together and should be an inseparable part of your Amazon PPC strategy. For instance, if you sell lipstick from different brands, an excellent long-tail keyword will be 'deep red lipstick by MAC.' This keyword will be a great addition to your keyword list if you offer deep red lipsticks by MAC.
Long-tail keywords enable your ads to show up when users search for relevant keywords, leading to high conversion rates. For example, a person searching for lipsticks may get many different lipstick shades and brands that you may not have in stock. However, a person looking for a deep red lipstick by MAC aims for specificity, and you may win this customer over other sellers.
9- Retrieve Data to Leverage Conversions
If you feel that platforms like Google Analytics and Google AdWords are hard to use, you'll change this perception after using Amazon PPC ads. While this platform has different comparable functions found in Google AdWords and Google Analytics, Amazon gets messy when you want to retrieve the data manually. Here are the steps you should follow to optimize workflow and search for opportunities to enhance your product campaigns.
First, download the report for search terms to determine which keywords are accountable for retrieving the ads. This step differs based on the size and maturity of the Amazon PPC strategy. Newer ad campaigns need a solid foundation and systematic analysis to drive results. After that, you can arrange the data in the report to visualize and sift through the search terms that may not be performing well. Then you'll have to evaluate your bidding strategy, add long-tail keywords, and add matching types – as we discussed previously.
10- Give It Time and Constantly Optimize Your Amazon PPC Campaign
Initially, it'll take some time to see your campaign perform. Therefore, you must stay patient before you optimize your Amazon PPC strategy. Using ad settings like budget caps, you can set budgets and stay within them while awaiting results.
Key insights that you must look for are keyword bids and impressions. First, ensure that you're allocating enough budget to receive impressions. Or else, your ads will not show as frequently as you need to leverage conversion rates. It can adversely impact the performance of your Amazon PPC campaign and diminish your chances of triumphing in the competition.
Be mindful that the bidding amounts will differ according to the products' target profit margins and sale costs. After discovering a profitable optimization, you can test the change by altering one variable and waiting for some days to evaluate the results. The A/B split testing will verify if the intended changes are successful or not.
See Also: Amazon PPC Strategy, 10 Simple and Helpful Tips to Touch the Sky!
Conclusion
To get the most out of your Amazon PPC strategy, it's essential to be strategic in your approach. By following these 10 tips, you'll be able to turbocharge your PPC campaigns and see better results. Have you tried any of these tactics? If not, give them a try and see how they work for you. And if you're looking for more help, be sure to contact us, an amazon advertising agency, and get our free PPC audit – it will show you exactly what you need to do to improve your Amazon PPC strategy and start seeing better ROI.
Getting Started With Eva Is Easy
Ready To Grow?
Start A Free Trial
Create an Eva account in seconds & link your Amazon account. Get a complimentary onboarding call to properly configure & dial in your settings or do-it-yourself using our help library containing 150+ articles and videos.
Have Questions?
We Got You
Need a little more guidance? Connecting with one of our experienced consultants is the best place to start.