Hello there, my fellow Amazon sellers!
Robert Runton here! As someone who's been in the eCommerce game for quite some time now, I know how important it is to have the right tools in your arsenal. And when it comes to selling on Amazon, there's no shortage of tools available to help you grow your business.
That's why I'm excited to share with you today some game-changing Amazon brand analytics tools that are guaranteed to boost your sales. From finding the right keywords to tracking your competitor's sales, these tools will give you the competitive edge you need to succeed in the crowded Amazon marketplace.
So, sit back, relax, and get ready to take your Amazon game to the next level!
What is Amazon Brand Analytics?
Amazon brand analytics is a tool that sellers use to track the performance of their product listings and advertising campaigns.
It highlights which listing and ad elements perform optimally and which need improvement. You will also find the data you need to make informed decisions about your marketing budget.
This article explains how to get the most out of your business listings and ads by understanding how to optimize them. Use it as a resource for periodically updating your advertising strategy. Let's dive right in!
Why Is Amazon Brand Analytics So Important?
Amazon analytics is vital to business owners for several reasons.
First, it helps you develop cost-effective ways to reach potential customers.
Second, it tracks sales and performance over time.
Finally, analytics helps business owners optimize their product selection and advertising strategies by identifying trends.
As you can tell, using Amazon Brand Analytics to identify popular products and trends in your industry is worth it. The information it provides is invaluable to your business.
Find & Track Your Business KPIs Using Amazon Brand Analytics
Running a successful eCommerce business with the Amazon marketplace has never been easier, but knowing which KPIs (Key Performance Indicators) to focus on can be tricky.
There are many data points that Amazon tracks, and not all of them will be relevant to your business goals. So how do you know which KPIs are the most important for your business?
Start by identifying your business goals, and then find the KPIs that will help you track progress towards those goals.
For example, if your goal is to increase sales, you should track KPIs like conversion rate and average order value.
Likewise, if your goal is to improve customer satisfaction, you should track KPIs like customer churn rate and the number of 5-star Amazon reviews.
You'll get the most out of Amazon analytics by focusing on the KPIs that matter most to your business.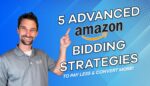 5 Advanced Amazon Ads Bidding Strategies To Pay Less & Convert More!
Amazon Brand Analytics Uncovers Customer Value & Customer Acquisition Costs
Amazon Brand Analytics helps you understand the background of your customer base and highlights new growth opportunities.
One of the most important metrics that this analytics tracks are customer value. This metric measures how much revenue a customer generates over their lifetime.
By identifying purchase frequency, you can target customers likely to buy more frequently and adjust your marketing strategies accordingly.
Amazon brand analytics also tracks customer acquisition costs. This metric measures how much it costs to acquire a new customer and can be used to compare different marketing channels.
You can make informed decisions about your Amazon business by understanding both customer value and acquisition costs.
This tool also lets you track customer behavior, identify trends, and adjust your prices or inventory levels accordingly.
For example, if you notice increased searches for a particular product, you may want to raise your price to drive more profit.
Alternatively, if you notice a spike in sales during a specific time, you should increase your inventory to match demand.
As you can tell, Amazon sellers that review their analytic data can make informed business decisions that lead to profitability.
Is Amazon Brand Analytics Free?
It's worth mentioning that Amazon Analytics is a free service that is available to all sellers to track their sales, customers, and product performance.
It also provides businesses with insights into their marketing and advertising campaigns. Therefore, analytics is a valuable tool for businesses of all sizes. ✅
Get a Comprehensive and Multichannel View of Your Business
Amazon brand analytics provides businesses with a comprehensive and multichannel view of their business.
It gives businesses insights into their business strategies and advertising campaigns — a valuable tool for businesses of all sizes.
Using analytics is a free service that facilitates communication between different channels within the business, including customer support, marketing, sales, and software development departments.
Amazon Analytics lets you connect your data to other sources to uncover insights. You can track your business's performance over time and compare it against other companies.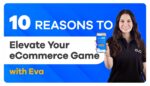 10 Reasons to Elevate Your eCommerce Game with Eva
Use Amazon Brand Analytics to Fine-tune Your PPC Campaigns
This tool can also help you optimize your Amazon PPC campaigns to aim for maximized conversion rates. By understanding which ad type works best for you and which audience is more likely to convert, you can improve your chances of success with Amazon advertising.
Amazon brand analytics can also help you track your progress over time to see how your campaigns perform and make adjustments as needed. This tool ensures that your Amazon PPC campaigns are as effective and cost-efficient as possible.
7 Game-Changing Amazon Brand Analytics Tools
With the correct data, you have the power to unlock revenue growth. Let's discuss six innovative reporting tools to help set your brand apart and maximize sales!
Search Catalog Performance Dashboard
The Search Catalog Performance Dashboard helps sellers compare products and review data of competing brands.
It's an excellent tool for any seller looking to make informed decisions on what to sell and how to price.
With this dashboard, sellers can compare and contrast pricing trends across multiple vendors to better understand the best product to invest in.
By allowing users to drill down into the data of competing brands, you're equipped with an arsenal of facts and figures that make purchasing decisions more effortless than ever.
Additionally, savvy marketers can use this detailed view of each product's performance as a jumping-off point for more advanced strategic plans.
Whether you're just starting or already in business, equipping yourself with the correct information is critical for success. The Search Catalog Performance Dashboard will help you research your competitors and take better control of your search catalogs.
Alternate Purchase Report
The Alternate Purchase Report provides retailers with a convenient way to gain valuable insights into customer behavior.
It shows which products customers purchase from Amazon after visiting your store, allowing brands to make key decisions about future marketing campaigns and product selections.
Analyzing this data can help you understand what attracted potential customers. For example, you'll discover why your brand didn't win the sale while receiving helpful information for curating a successful e-commerce business strategy.
So if you want to increase brand engagement and take more command of consumer buying habits, the Alternate Purchase Report should be at the top of your list of tools to check out.
Demographics Report
The Demographics Report is an Amazon analytics tool that breaks down customer information, including age, gender, location, and more.
This report answers the question, "Who buys my products?" In addition to demographic information such as marital status, it also explains how many buyers are new and who are repeat customers.
Brands must understand their target customers and how they engage with products on the platform. With this data, brands can tailor their product listings to meet their customers' needs better.
Item Comparison Report
The Item Comparison Report enables brands to compare the performance of their products with competing items in the same category.
This report helps understand how customers view different products and what factors influence their purchasing decisions.
It also provides valuable insights into a buyer's journey before making a purchase decision — which can help your brand develop an effective strategy for increasing conversion and sales.
Market Basket Report
The Market Basket report helps brands measure customer loyalty and buying patterns.
This report reveals the types of products customers will likely purchase together, enabling sellers to identify new opportunities for cross-selling and upselling.
Additionally, this data can be used to create strategic bundles and discounts that encourage customer loyalty and increase customer average order value.
If you're searching for new products to offer your customers and want to know more about their spending habits, this report will explain everything.
Repeat Purchase Behavior Report
The Repeat Purchase Behavior Report displays a customer's purchase frequency and average order size.
This report helps brands understand how customers engage with their products and allows them to segment them based on purchase behavior.
Use this data to see which of your products are most popular with your newest customers and which have a higher chance of creating brand loyalty.
It can also help you understand which customers may require more incentive or additional attention to ensure they keep coming back.
Search Terms Report
The right keyword can turn a product page or advertising message into gold.
The Search Terms Report provides brands with a list of keywords buyers search to find their products.
This data allows you to refine your product titles and descriptions and optimize your SEO content.
Once you identify the keywords most relevant to your audience, you're on the way to taking the number one spot.
By leveraging the features of Amazon's analytics tools, brands can gain valuable insights that help them make wise business decisions and optimize their operations.
With this data, your brand can build a successful e-commerce strategy for increased sales, higher conversions, and long-term growth.
Conclusion
Amazon Brand Analytics is a potent tool that helps you grow your business on the Amazon marketplace. This blog post has shown you how to use it to improve your product listing, find new growth opportunities, and more.
So what are you waiting for? Start your free trial on Eva today and see how our analytic dashboard provides all the information you need to grow profits! 🚀