To sell your products on Amazon, you need to follow the code of conduct and meet high-performance criteria. Otherwise, you risk penalties such as account suspension and the removal of whole listings. When an account is suspended, sellers can appeal the decision and request that their account privileges be restored by submitting a plan of action to Amazon (POA).
Overall, an Amazon POA outlines the measures a seller will take to resolve any lingering complaints, which may range from low scores on key performance indicators like Order Defect Rate and Cancellation Rate to suspension for price gouging or selling counterfeit goods.
Stay tuned to this blog to learn Amazon's write-up policy before writing an appeal letter, and writing a perfectly convincing POA.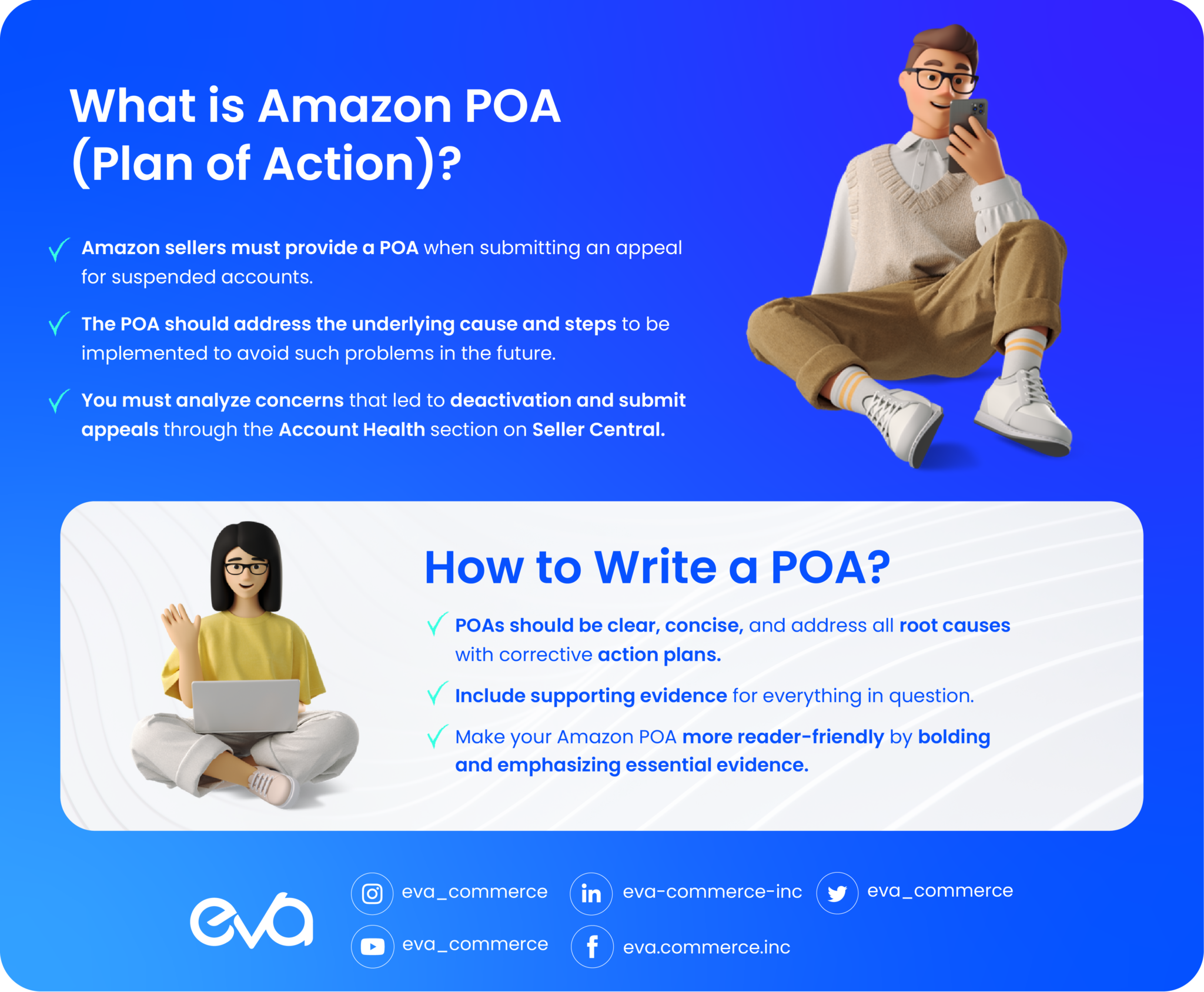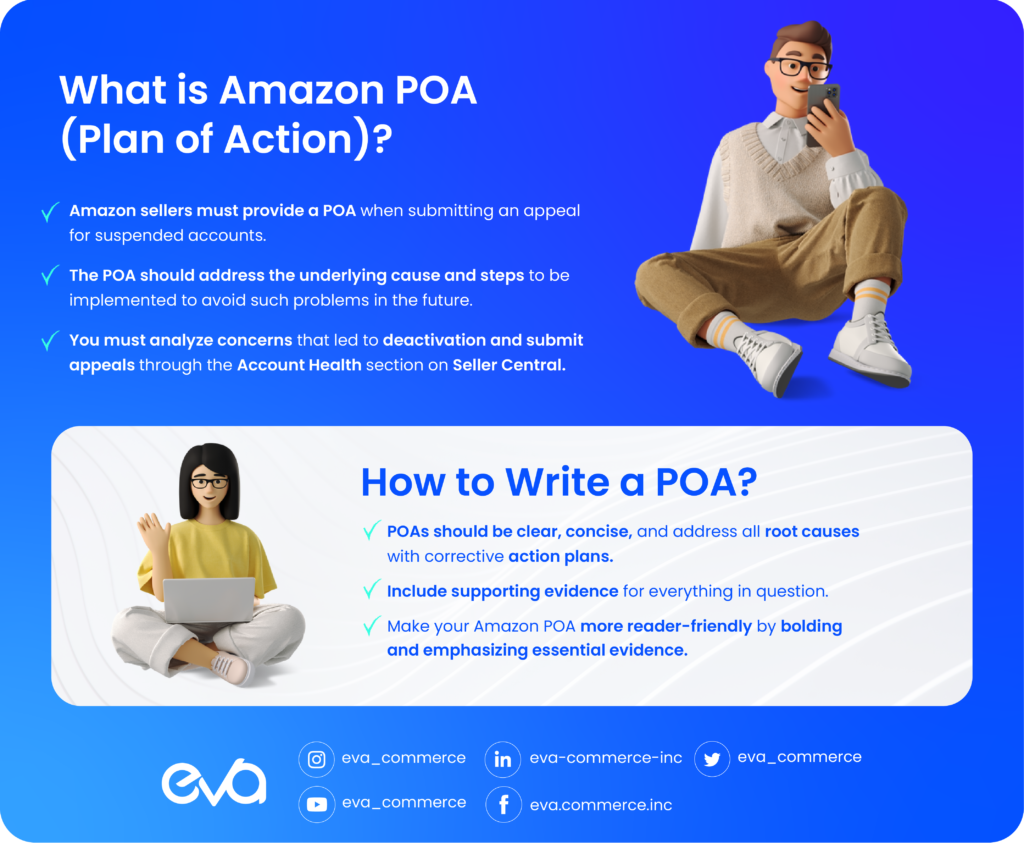 What Is Amazon Plan of Action?
When submitting an appeal for suspended selling rights, Amazon often requests that sellers provide a POA, which outlines what they will do to improve their account health and address any concerns noted by Amazon. While many components of an Amazon appeal plan of action are simple, sellers must verify that they are developing a POA in accordance with Amazon's best practices.
Make sure your letter addresses some points when submitting a POA. You should determine the Amazon underlying cause and the essential variables that contributed to the current scenario. If the problem continues, describe the exact measures that will help resolve it.
You should also make a list of the systems and steps you want to implement to avoid such problems in the future. Through the Account Health area of their Amazon Seller Central profile, sellers can analyze the concerns that led to their deactivation and submit appeals.
How to Write an Amazon POA
Your POA should provide Amazon with clear information that is simple to read and comprehend, in addition to answering the three critical points above. According to Amazon, there are four things to take in mind while writing a POA:
–Make your writing clear and concise: A plan of action isn't supposed to be a long essay that covers every area of your organization. Instead, it should be straightforward and truthful, focusing primarily on the events that led to the problems and pertinent supporting information.
–Address all root causes and provide corrective action plans for each: If an Amazon account suspension was triggered by a mix of circumstances, be sure you address each underlying cause and include corrective action plans for each.
–For everything in question, provide supporting evidence: Remember to submit supporting proof for every good or ASIN that Amazon is examining as part of your POA. Also, double-check that the required papers cover the relevant time spans for the evaluation.
–Make your Amazon POA more reader-friendly: By bolding and emphasizing essential evidence and portions inside papers, like Terms and Conditions provisions, supplier data, ASINs, and more.
Important Things to Keep In Mind While Writing Amazon POA
Make it short and straight to the point.
Because this isn't a thesis, the shorter you can make it, the better. A concise point is more vital than a long or superfluous paper.
Divide it into sections.
This isn't a long letter; it's a document to convey complicated events and concepts in a straightforward manner. Consider how you may split and show the information most effectively.
Step-by-step instructions.
It's critical to discuss what you've previously done to solve the problem, as well as what you plan to do in the future to avoid it.
Make a step-by-step list of how you'll arrive at the point where you can solve the problem.
Don't get bogged down in details.
Don't go into a detailed description of your thought process; if you're being succinct about the ultimate game, there's no need to defend the minor details.
Make use of bullet points.
Bullet points are used for a reason: they make content simpler to assimilate and reading more pleasant.
While writing an Amazon action plan, bear in mind that each issue has its own set of considerations.
Depending on what caused the suspension, there are numerous items you should emphasize or address; nonetheless, there are three questions you should focus on answering:
– What was the problem's root cause?
Demonstrate that you have a thorough comprehension of the issue and the key elements that influenced it.
– What steps are you taking to find a solution to the problem?
An Amazon POA seeks to put out a step-by-step plan that emphasizes "doing" rather than "planning."
– How will you keep this from happening again in the future?
It's not enough to just fix the problem.
Amazon expects you to learn from your mistakes and develop new methods to avoid such problems in the future. When writing an Amazon plan of action, the way you address an issue depends on what the root cause was.
Amazon Policy Changes
As you all know, Amazon may change its policy at any time, and actually, they frequently do.
Since 2019, Amazon has sent sellers a 30-day warning, as well as far more extensive reasons, to assist them in understanding why their account has been stopped.
Amazon has grown more conscientious about suspensions. Especially for merchants from other countries who have tried to take advantage of the situation by using unethical tactics.
To have a successful appeal, make sure you are up to speed on all areas of the policy.
How to Submit a POA to Amazon?
If you're looking to submit a Plan of Action (POA) to Amazon, there are a few things you'll need to keep in mind. First, your POA will need to be in compliance with Amazon's guidelines. Second, you need to submit it through the proper channels. Here's a step-by-step guide:
Make sure your POA is in compliance with Amazon's guidelines. This means that it should address the issue at hand and propose a resolution that is acceptable to Amazon.
Submit your POA through the proper channels. You can either submit it through the Amazon Seller Central portal or by emailing it to Amazon's Plan of Action team.
Once your POA has been reviewed, you'll receive feedback from Amazon regarding their decision. If your POA is accepted, you'll be able to proceed with implementing the proposed resolution. If it is not accepted, you'll need to revise and resubmit it.
Read More: Best Way to List an Item on both FBA and FBM
Conclusion
Despite the fact that this is a difficult scenario, an Amazon POA should not be a complex report. You can simplify things and concentrate on solutions if you look for them.
Don't try to blame others or write the arguments you've seen online. Instead, you might adopt a solution mentality, in which you focus all of your efforts on addressing your specific problem rather than explaining or defending the error. To avoid circumstances like these, take an active interest in the health of your seller account.
If you have trouble with handling Amazon suspensions and policy changes, or you do not want to spend much time managing your Amazon store, there is another solution for all these and more! Join the Eva family today and enjoy substantial growth for your Amazon business! 📈