Tired of low-profit sales on wholesale items that you have no control over? It's time to consider starting your Amazon private label business. This model is the key to unlimited success for entrepreneurs willing to put in the work.
In this post, we'll break down everything you need to know about this exciting opportunity so that you can fulfill all amazon private labeling requirements & launch your private label business on Amazon with confidence. Ready to jump in? Let's go!
What is Amazon Private Label?
Amazon's Private Label business model means you only sell the products you legally own. In other words, a private label business sells the product on Amazon under its own brand name. It could be the products you manufacture or white-label ones that you have purchased from a vendor.
As a private label retailer, you need to add your own branding to the product before launching it in the market. If you source your products from a white label manufacturer, your supplier might have the same contract with another private label business.
That means you won't have to reinvent the wheel or create a new concept to sell products under your own label. Private labeling is common among the world's largest retailers, not just Amazon sellers but also Walmart, eBay, and Shopify.
Are Private Label Products Cheap or Expensive?
Private label products are usually cheaper than name-brand products and can be just as high in quality. As a result, many sellers switch to a private label business because it offers an excellent opportunity to build a strong brand and earn a high-profit margin.
Private label products on Amazon also tend to have less competition than their name-brand peers, so ranking well in search results can be easier. If you're interested in starting a private label business on Amazon, there are a few things you need to keep in mind:


How Many Private Label Sellers Are on Amazon?
Amazon is the world's largest online marketplace, and it shows no signs of slowing down. In fact, Amazon is expected to have over two million private label sellers by 2022. That's a lot of competition for online shoppers! So, what does this mean for the average shopper?
Well, it means that they'll have more choices when it comes to finding the perfect product. It also means that prices are likely to stay competitive, as Amazon private label sellers fight for market share.
Why Should You Start a Private Label Business on Amazon?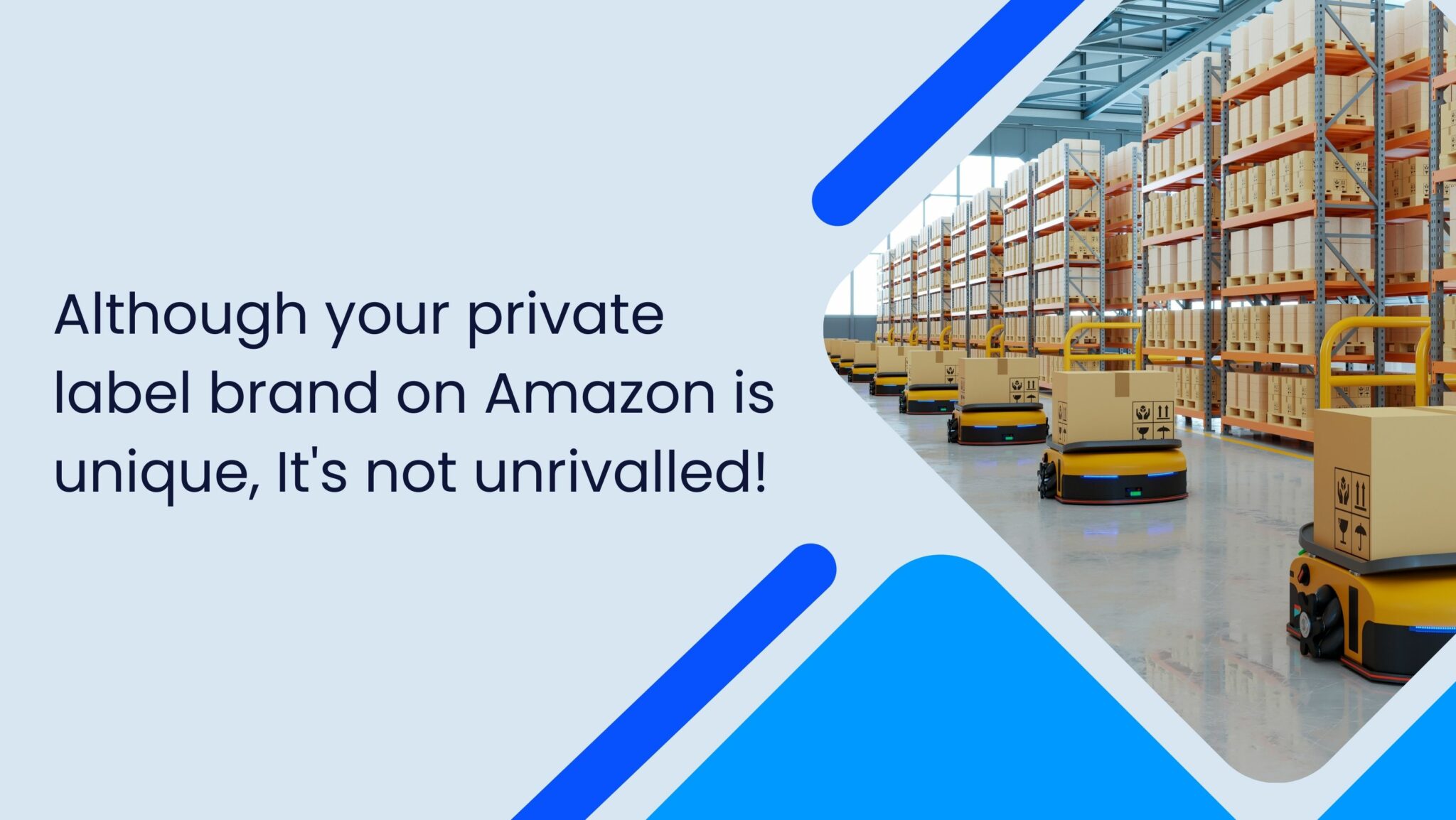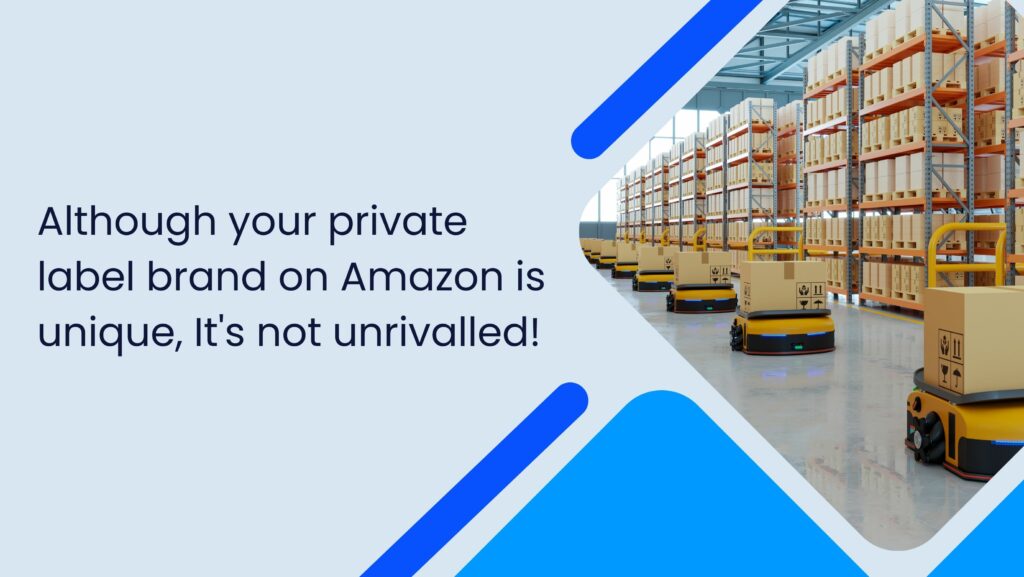 Private label businesses on Amazon are on the rise, and there are many reasons why you should start one too. First, private label products often have higher quality than wholesale ones.
This is because they are made by a specific company and are not generic or "one size fits all." Private label products also tend to be more expensive so you can make a higher profit margin on them. 
Moreover, starting a private label Amazon business can be a great way to build your own brand. It allows you to put your unique logo on a product, which creates a strong brand identity.
Is Amazon FBA Private Label Worth It?
Although your private label brand on Amazon is unique, it's not unrivaled, and you'll have to deal with many other ASINs. It also takes some time and money to get started, and, despite popular belief, private labeling is not a set-it-and-forget-it type of business.
Instead, learning, perseverance, and hard work are required when running an Amazon FBA private label business. Is it, however, worth it? That decision is ultimately yours, but we say a loud yes!
Amazon's private Labeling, in our opinion, has far more pros than cons. Will every Amazon seller who launches a product be successful? Probably not, but if you put in the effort, form effective amazon private label strategies, constantly improve, and learn from your mistakes, you will master it.
Read More: 7 Reasons to Choose Eva as Your Brand's Co-Pilot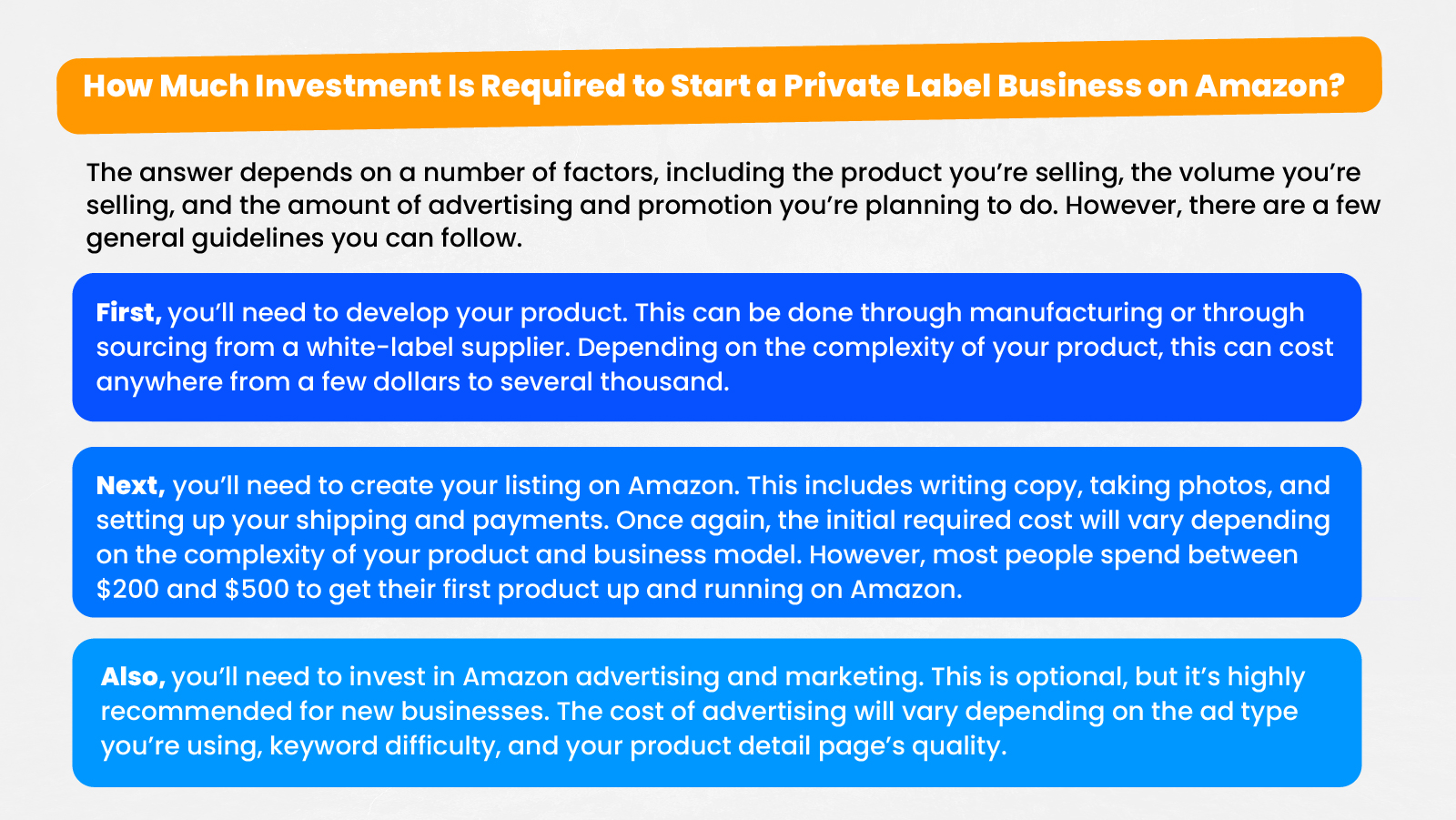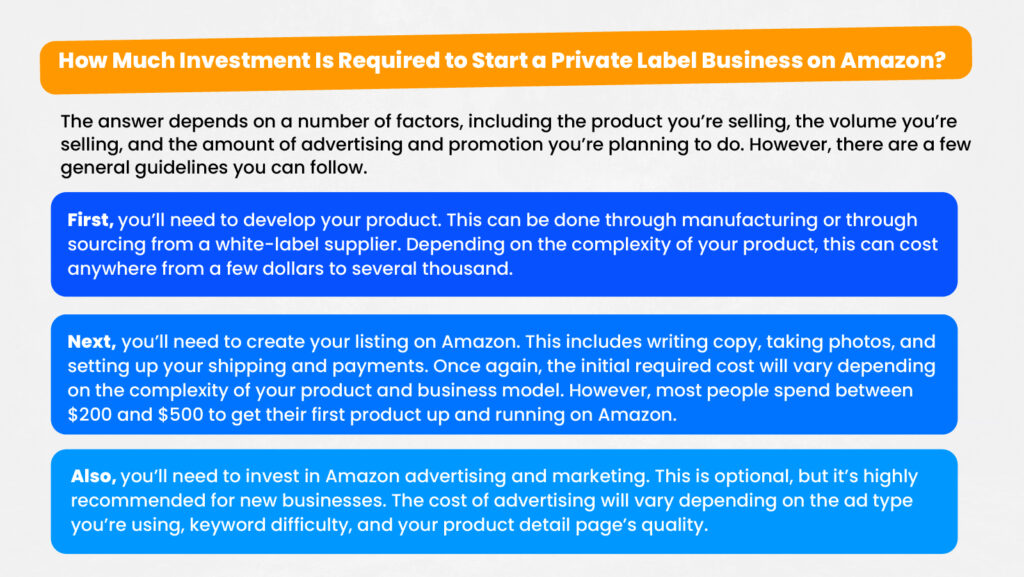 For Medium-Sized Businesses
In terms of both time and money, Amazon private labeling has a much lower startup cost than almost all other types of businesses. With a budget of around $10,000, you are almost certain to succeed and see a return on investment far exceeding your initial investment.
However, new products must be launched with an ad budget to get those first few reviews and start ranking organically. You also need to pay the cost of registering a brand trademark, which is necessary for the Amazon Brand Registry and premium features that would help your brand stand out.
If you have a $500 or less budget, you'd better start with retail arbitrage or wholesale and focus on flipping your investment as soon as possible.
A budget of $500 will cover the costs of a mid-level designer and content writer for creating Amazon A+ content as well as several product samples. So all in all, the starting cost for a private label Amazon FBA business in 2022 is approximately $3000.
You'll also need $39.99 to purchase a Professional Amazon Seller account and additional fees for each sold item. You should strive to reduce your manufacturing costs while increasing your selling price. You can get better deals by placing large volume orders and locating cost-effective 3PL warehouses for delivering manufactured goods to Amazon warehouses.
Moreover, the initial investment depends on your logistic infrastructure if you're about to use Amazon FBM or SFP programs.
For Small Businesses
For small-size items, a landing cost of $4 per unit is on the low end. Amazon Marketplace requires all sellers to use UPCs. Inventory storage, fulfillment, unplanned services, return processing, and other services are all subject to fees. In addition, referral fees are calculated as a percentage of the product's total sale price.
Amazon Brand Registry (ABR) is one of Amazon's services that was created with a variety of benefits in mind, such as high-quality content creation and customized advertisements. Furthermore, if you have the necessary skills, you can create your own unique logo and storefront design. It's also worth mentioning that professionally shot and edited photo costs about $75 on average. You should consider purchasing a professional camera if you intend to expand your sales.
Advantages of Amazon Private Label
You Own Your Brand on Amazon
In contrast to arbitrage or wholesale, where you resell products from other brands, private labeling means the brand belongs to your company. The private label model gives you the freedom to market, grow, and price your products to drive maximum profit and sales.
You don't have to seek brand approval or jump through hoops to find discounted products to resell at a higher price.
Increased Profit Margins
Because you are sourcing your products directly from a manufacturer or supplier, your costs are significantly lower than if you were reselling other brands' products. If you sell wholesale products, however, you are purchasing from the brand owner or a vendor who has marked up the price, leaving you with a lower profit margin.
But there is no go-between with selling private label products on amazon. You're on your own, looking for the best deal on inventory.
Make Your Product Unique.
With private label selling on amazon, you can completely personalize the product. Look at customer reviews on similar products and pay attention to any issues people have with their purchases — these are excellent indicators. You can then determine how to improve your products to outperform the top-selling brands.
This method allows you to be strategic, figure out ways to improve the product, and top what is already on the market. Putting a logo on a product isn't enough — this is where you can collaborate with your vendor and graphic designer to make your listings stand out on the search results page. It won't be easy to compete if you sell something that looks exactly like every other product on Amazon.
Control over the Product Details Page
When you launch an Amazon private label product, you'll need to create an entirely new listing on Amazon. This means you can easily change images, pricing, copy, and keywords whenever you want.
But it isn't easy for wholesale or drop shippers to edit the images or copy if necessary if you are reselling on an existing Amazon product detail page like wholesale, arbitrage, and drop shippers.
No More Competition for the Buy Box
If you resell products from other brands on Amazon, you'll have to compete for the Amazon Buy Box with other sellers. You will not get the sale if you haven't won the Buy Box when a customer clicks on it.
But, you will be the only seller on the listing with a private label brand and own 100% of the Buy Box, all the time, no matter what!
There Are No Brand Restrictions.
There are some limitations to selling products from other brands on Amazon. However, that is not something you should be concerned about when developing your own private label amazon brand.
Less Competition
If you sell under your own Amazon brand, nobody else will compete with you on that list. This means you don't have to be concerned about other sellers undercutting your listing and stealing your customers in an unfair price war.
A+ Content
Amazon A+ Content, aka Enhanced Brand Content (EBC), is available only to Amazon-registered brands. You can use Amazon EBC to add multimedia content to your listings. The premium content feature improves the user experience, boosting traffic and conversions!
Disadvantages of Private Label on Amazon
High Initial Investment
Creating a mid-level private label brand needs a relatively high initial investment. Manufacturers require bulk orders, and to compete, you must ensure that the cost per product is low. A private label will typically cost you a few thousand dollars in the beginning, but take it as an investment for the long term.
Branding
Although branding is a unique point of difference for private labels, it requires so much budget, time, effort, and creativity, which seems like an obstacle for a fresh-starter business.
Relatively higher risks
Spending a significant amount of money on products launched and branding carries its own set of risks. You are not purchasing an established brand, and there is always the possibility that your FBA private label will not give you the expected ROI.
Customer Expectations
Most people will trust a brand they have used for a long time. However, many customers will be skeptical of your smaller, lesser-known brand. Therefore, it is critical to conduct market research on customer preferences. Knowing what your customers want is essential when developing a new product line.
Order Quantity Minimum
Most manufacturers have minimum order quantities that you must meet before they work with you. They must make use of their resources, including their production capacity. It makes no sense for them to put in all the effort to produce only a few units of any given product. They, too, are in the profit business. In many cases, the minimum order amount is greater than what you would typically order. But if you use 3PL warehouses, you can store the excess inventory and have them sent to FBA warehouses whenever necessary.
Inventory That Remains Unsold
Most retailers will only order items they are confident will sell. It can be difficult to predict what will sell if they have no prior experience with similar products. If you order more than needed, you may be left with much unsold (dead) inventory.
4 Steps to Launch Your Amazon Private Label Brand
Starting an Amazon private label business is a great way to grow your online business and increase your revenue. You can create a successful brand and attract a loyal customer base with the right strategies and tools. This article will guide you through the steps to start your Amazon private label business and achieve success.
Step 1:
Research and Choose a Product The first step to starting your Amazon private label business is researching and choosing a product. You need to find a product that is in demand and has the potential to generate profits. You can use tools like Amazon Best Sellers and Google Trends to identify popular products and trends.
Once you have identified a product, you need to research the competition and evaluate the market demand. Again, you can use tools like Helium 10 to analyze the market and evaluate the competition. This will help you determine if the product is worth investing in and if it has the potential to generate profits.
Step 2:
Source Your Product Once you have chosen a product, the next step is to source it. You can source your product from a manufacturer, a wholesaler, or a supplier. It's essential to find a reliable source that can provide you with high-quality products at a reasonable price.
You can use platforms like Alibaba, Global Sources, and ThomasNet to find potential suppliers. You can also attend trade shows and exhibitions to meet suppliers in person and evaluate the products.
Step 3:
Create Your Brand The next step is to create your brand. You need to create a unique, memorable brand that reflects your values and vision. Your brand should also resonate with your target audience and differentiate you from your competitors.
To create your brand, you need to choose a name, logo, and brand identity. Then, you can use tools like Canva, Adobe Illustrator, and Fiverr to create your brand assets. You should also create a brand style guide that outlines your brand guidelines and ensures consistency across all your marketing channels.
Step 4:
Create Your Product Listing Once you have sourced your product and created your brand, the next step is to create your product listing. Your product listing should be optimized for search and conversion. It should also provide your customers with all the information they need to make a purchasing decision.
To create your product listing, you need to write a compelling title, bullet points, and product description. You should also use high-quality images and videos that showcase your product and its features. You can use tools like Keyword Tool, Ahrefs, and SEMrush to identify relevant keywords and optimize your listing for search.
Step 5:
Launch and Promote Your Product The final step is to launch and promote your product. You need to create a launch strategy that generates buzz and attracts customers. Use tools like Eva to launch and promote your product.
You can also use social media, email marketing, and influencer marketing to promote your product and attract customers. Monitoring your sales and customer feedback and adjusting your strategy is important.
How to Brand Your own Private Label Products on Amazon?
Amazon is a powerful platform for launching your own brand. With Amazon's vast reach and global customer base, you can instantly tap into a huge potential market for your products. And with Amazon's robust branding and marketing tools, you can easily create a professional and distinctive identity for your products. But how do you get started? Here are some tips for branding your own products on Amazon: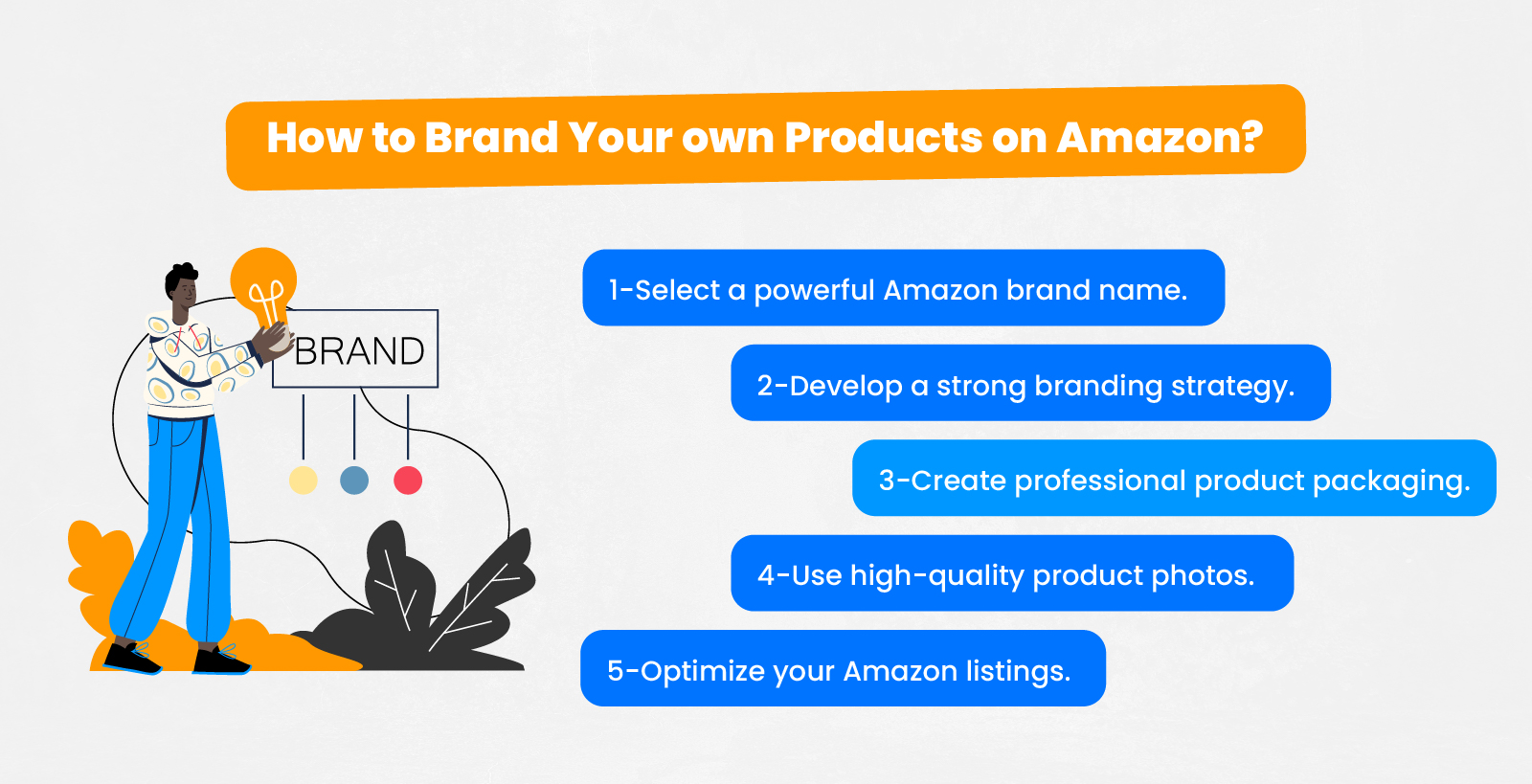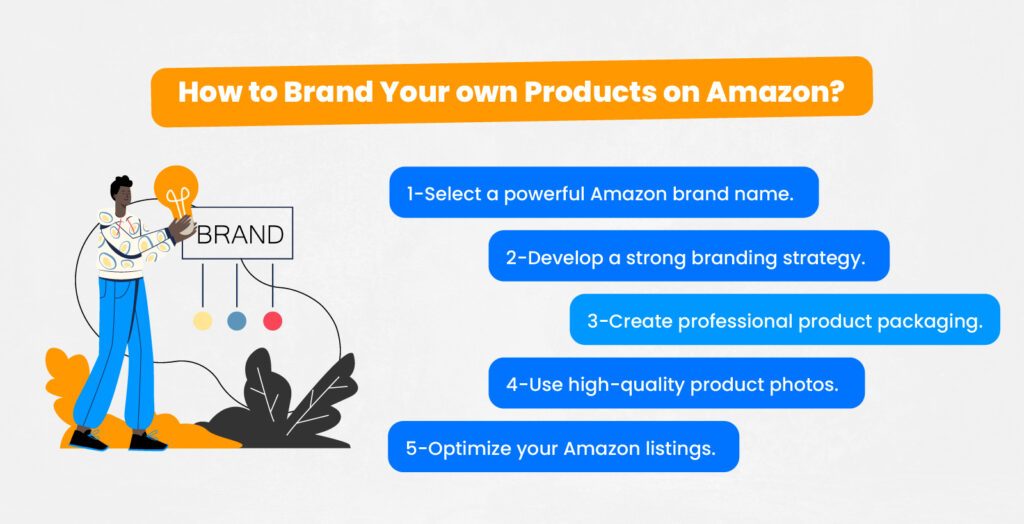 1: Select a powerful Amazon brand name.
Your brand name is one of the most important elements of your Amazon identity, so choose carefully! Think about what kind of message you want to communicate with your brand name, and select something that is distinctive and memorable.
2: Develop a strong branding strategy.
Once you have selected your Amazon brand name, it's time to start thinking about your overall branding strategy. What kind of image do you want to project? How will you differentiate your products from other brands on Amazon? Spend some time developing a clear and concise branding strategy before moving on to the next step.
3: Create professional product packaging.
First impressions are everything, so make sure your product packaging is professional and eye-catching. Amazon provides some great resources for designing and printing custom packaging, so take advantage of those! This is an important opportunity to make your products stand out from the competition
4: Use high-quality product photos.
Product photos are another vital element of your Amazon branding strategy. Potential customers will form their first impressions of your products based on the photos they see, so make sure they're high quality! Hire a professional photographer if necessary to ensure that your photos make a great impression.
5: Optimize your Amazon listings.
Your Amazon listing is like a mini sales page for your product, so be sure to optimize it for maximum impact! Write compelling product descriptions, include keyword-rich titles, and use attractive visuals to capture potential customers' attention. Remember, the goal is to convert browsers into buyers, so make sure your listing is up to the task!
How to Start an Amazon FBA Private Label Business?
Private labeling has become a popular way to start a business on Amazon. When done correctly, it can build a substantially growing source of income with high margins and little competition. Starting an Amazon FBA Private Label from scratch is as follows:
Research and Find Amazon Private Label Products
Product ideas can come from anywhere. But first, try to analyze other sellers' offers by visiting their Amazon storefronts and product listings.
Don't forget to check the social media of potential customers and popular sellers for new ideas, trending hashtags, and customers' expectations. There you can see crazy new product ideas that went viral. Also, look into Kickstarter and Indiegogo, where brilliant inventors find new and innovative ways to pitch their products.
There are dozens of factors to consider when deciding what to sell under your private label on Amazon, but the criteria listed below will provide you with a clear picture:
Small and light:
Your items will perform much better if they fit into a small, flat-rate box and weigh no more than one or two pounds. This allows you to save money on shipping both from the manufacturer and later when the order is fulfilled (either by you or by Amazon FBA).
Non-seasonal:
Sales of your main products should not be seasonal. Seasonal products include Christmas lights, Valentine's Day gifts, winter clothing, etc. When at all possible, avoid these.
Unregulated:
Certain products, such as food, toys, and batteries, have "red tape" that can make selling them difficult. We recommend that you stick to simple items to manufacture and distribute without a lot of legal paperwork or certifications.
Uncomplicated:
Electronic devices can be exciting to sell, but they frequently come with headaches and poor customer service. The same can be said for fashion and clothing items, which may require multiple colors and sizes for a single ASIN.
Analyze and Target Competitors
After you have refined your product concept to a manageable level, it is time to research your competitors. Maintain a record of how well they are doing overall and how many sales they bring in. The next step is to log into your Amazon account and search for the item you intend to sell. Launch the top five products, then carefully review each listing.
Find keywords that adequately describe the product, then analyze how your competitors employ those terms. Read the feedback from customers of your competitors and keep an eye on the overall product rating. You will better detect gaps in your competitors' offerings if you read and consider negative evaluations. Then, you will close those gaps with the help of your new private label!
After researching your rivals on Amazon and compiling your results, you can move on to the next step. Before deciding on a purchase, you should always make a list of the benefits and drawbacks associated with each option you are considering purchasing.
Find the Suppliers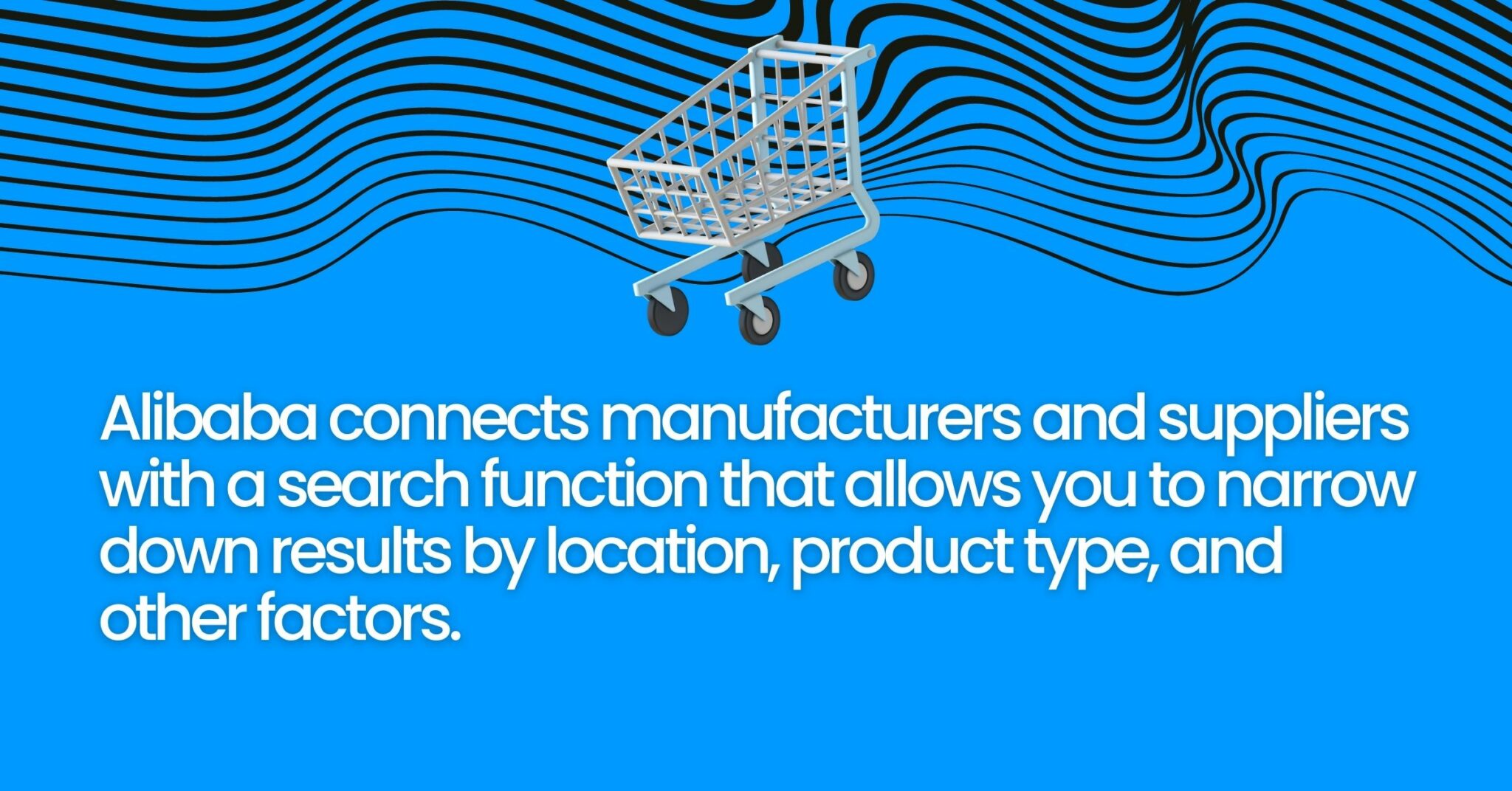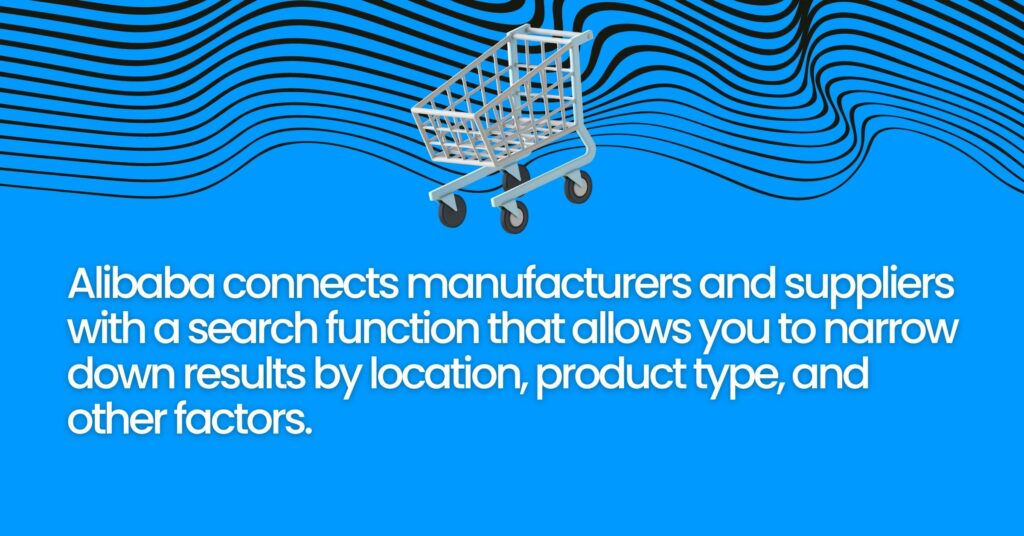 Finding the ideal supplier is more straightforward than many people believe. The first step in private labeling is finding a reputable manufacturer or supplier who can produce high-quality products on time and at reasonable prices. Platforms like Alibaba have made sourcing products directly from the manufacturer much easier. So, first and foremost, you must register with one of these international B2B platforms and contact your potential suppliers. You can consult this comprehensive guide if you're having trouble locating suppliers.
Alibaba is Every Private Label Seller's Go-To
Alibaba connects manufacturers and suppliers with buyers from all over the world. This website has a search function that allows you to narrow down results by location, product type, and other factors.
Make sure to contact several manufacturers to find the best prices. Also, ensure that your suppliers allow for Amazon private labeling. There are many imposters on the internet, so make sure you're sourcing from a reputable manufacturer or vendor with at least two years of experience and trade insurance. Finally, only use reputable payment methods.
When contacting the supplier, including the following information:
The product you want to buy
The required quantity
The address to which you want your products to be delivered
Once you've found a few potential suppliers, you'll need to contact them and request quotes. Be sure to ask for their work samples so you can evaluate their products' quality. Once you've found a supplier that meets your needs, you can begin negotiating the terms of the agreement. By finding a reputable supplier, you can be assured that your private label business will be off to a successful start.
You can start negotiating once you've decided on a product and a supplier. The majority of manufacturers only accept bulk orders of 500-1000 items. Following that, it is up to you to negotiate the contract's terms.
Choose the Best Fulfillment Type
You can choose the shipping program yourself or outsource logistics to Amazon FBA instead of paying fees. But if you're starting your own private label, we recommend enrolling in the FBA program.
If you're an FBA seller, you must ensure that your products arrive at Amazon's warehouse. Amazon handles storage, packaging, shipping, and customer service. This is not free, but it is worth the money. Furthermore, FBA sellers qualify for Prime delivery, which is always associated with higher customer satisfaction.
As an Amazon private label, one of the first decisions you'll need to make is which fulfillment type is best for your business. There are three main types of fulfillment – Fulfillment by Amazon (FBA), Fulfillment by Merchant (FBM), and Seller Fulfilled Prime (SFP). Each has its own pros and cons, so it's essential to choose the option that's right for you.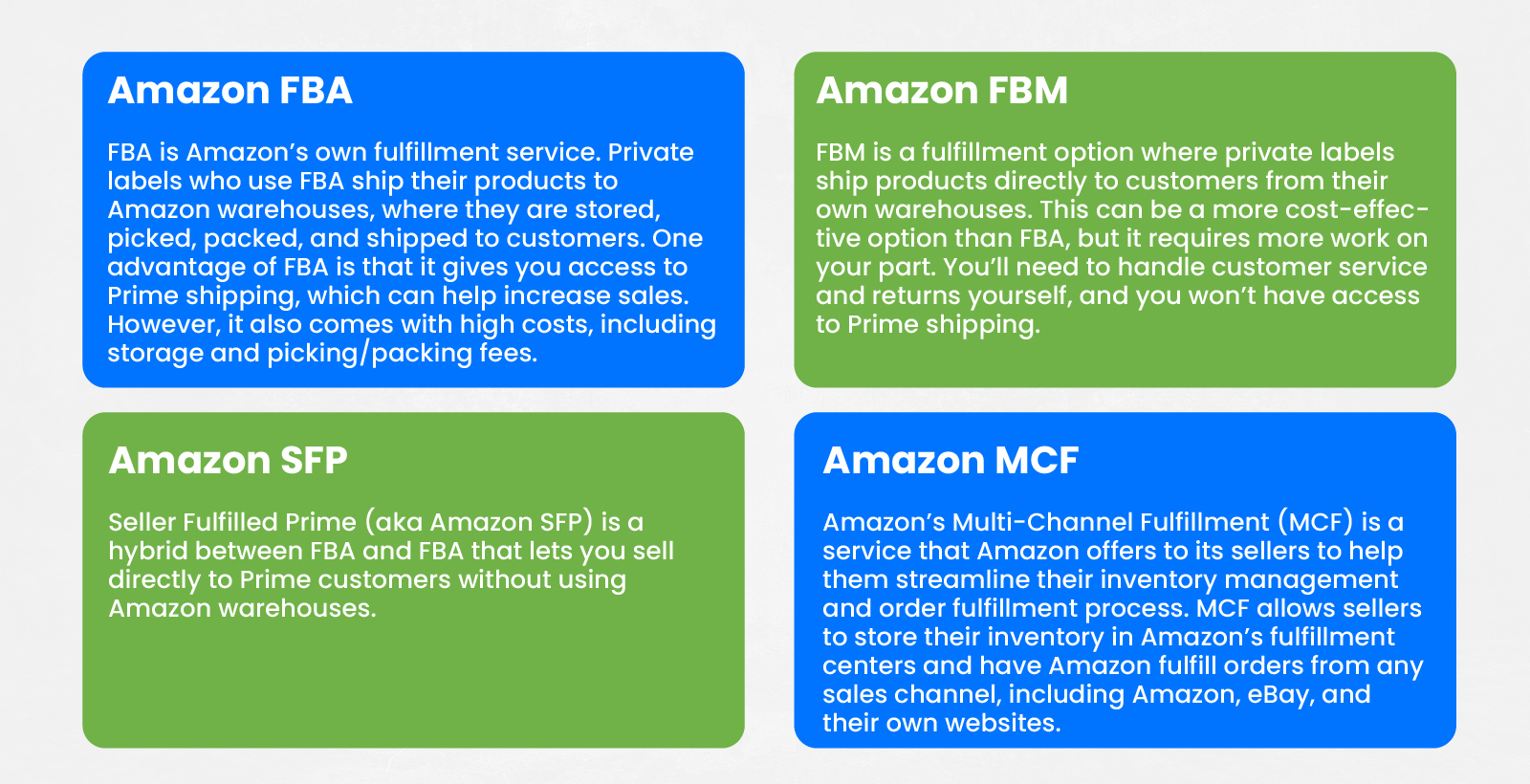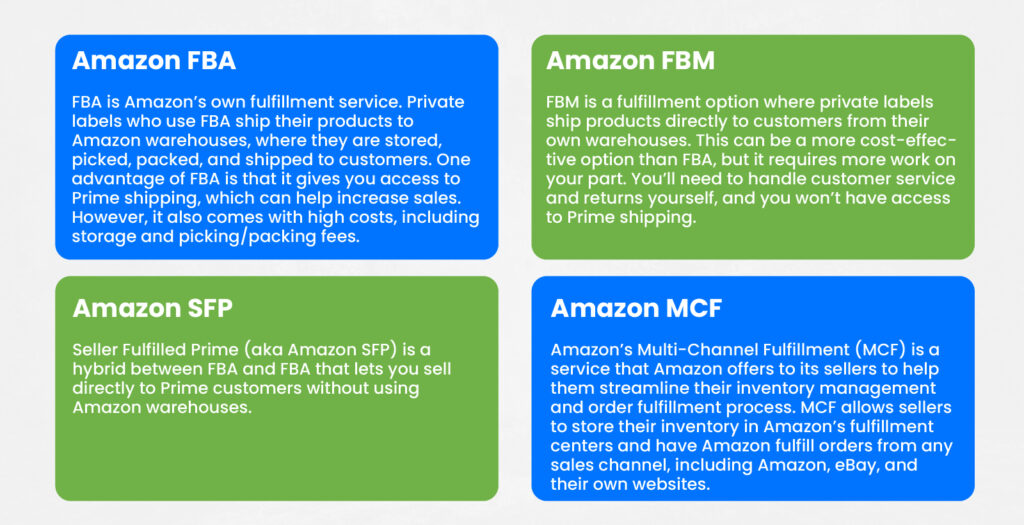 Create and Register Your Private Label Brand on Amazon
Amazon Brand Registry is a program that helps you create and register your private label brand. The program provides Amazon sellers with tools and resources to help them create and protect their brands and ensure that their products are listed correctly on Amazon.com.
In order to participate in Amazon Brand Registry, you must first create a brand identity for your business and then register your brand with Amazon. After that, you can create and submit product listings. Once Amazon receives the listing, it will review it and determine if it meets all of its guidelines. If the listing is approved, Amazon will then add the product to its catalog and list it for sale on Amazon.com. You need Amazon Brand Registry to build a brand and protect it against hijackers.
About Your Brand's Logo
Although branding experts will tell you that a brand is much more than a logo, your logo and color scheme are essential components of your private label brand and should be carried throughout all aspects of your business. You will have a much better idea of your brand identity once you know what type of product you will sell. We aren't all artistically gifted, so you might want to hire a graphic designer to assist you. Many talented graphic designers are available on the freelancing site Upwork or Fiverr to help you find an expert with whom you can discuss your brief at a reasonable price.
List Your Private Label Products on Amazon
A product takes about 3-4 weeks to be manufactured and another 1-2 weeks to be shipped to the seller or the nearest Amazon fulfillment center.
That 4-6 weeks is ideal for creating our Amazon listing. When creating an Amazon listing, ensure that you have everything ready to publish and launch ahead of time.
Second, excellent product photography is essential. And, unless you are an accomplished photographer, we recommend hiring a professional.
The Title Comes Next.
It is a critical component of your Amazon private label product listing.
It assists Amazon in determining where your product should appear in its database.
As a result, make sure the keywords in your title are relevant! If you sell "dog food" and want to rank for that keyword, include "dog food" at the beginning of the title.
Then, after that set of keywords, add the secondary and tertiary keywords you want to rank for.
Finally, include your product's most important features and benefits in the product description field and bullet points.
When customers click through your page, these assist them in making purchasing decisions.
The more closely your private label product matches their wants and needs, the more likely they will purchase.
Set a Competitive Pricing Strategy for Your Amazon Private Label Products
When it comes to pricing your Amazon private labels, there are a few different strategies you can use. The key is finding the Amazon pricing strategy to maximize your sales and profits. Here are a few things to consider:
Sales Velocity:
How fast do you want your products to sell? If you price too low, you may sell out quickly and run out of stock but not make much profit. If your price is too high, you may not sell much and have to deal with old inventory fees. AI-powered tools like Dynamic Pricing can find the sweet spot that gives you the best sales velocity and profit at the same time.
See Also: The Amaze of Dynamic Pricing for Your Private Label Business on Amazon
Market Demand:
Take a look at what similar products are selling for and price accordingly. Don't be too far above or below the competition. Dynamic Pricing constantly monitors the market demand to make sure your prices are adjusted.
Costs:
Make sure you consider all your costs when setting your prices. This includes things like manufacturing, shipping, and advertising costs. Dynamic Pricing is integrated with Eva's inventory management and advertising platform to automatically calculate TACoS and all Amazon fees to help you come up with the minimum profitable price.
Of course, there is no one-size-fits-all pricing strategy for Amazon private label businesses, but Dynamic Pricing is trained by cutting-edge machine learning to find what strategy works best for your private label business.
Run Amazon PPC Ads to Spread the Words
When you've just started private labeling on Amazon, spreading the word and getting noticed by potential customers among thousands of competitors is vital. Amazon advertising is one efficient way for both customer retention and acquisition.
There are various types of Amazon ads available, but there are a few things to remember when creating and running any kind of Amazon PPC campaign for your private label.
First, you need to determine your goals. Are you looking to increase brand awareness? Drive traffic to your listing? Or generate sales? Once you know what you want to achieve, you can create ad campaigns tailored to meet those objectives.
Next, you need to choose the right keywords. Keywords are how customers find your products on Amazon, so choosing ones relevant to your product and with a high search volume is important. You can use Amazon's Keyword Planner tool to research keywords and get ideas for new ones.
Finally, you need to track your results and adjust your campaigns accordingly. Amazon provides detailed reports that show how your ads are performing. Use this data to refine your keywords and target, and budget your PPC costs in a way that maximizes ROI.
Common Mistakes to Avoid While Running a Private Label Brand
Private label brands are a great way to get started in the eCommerce world. But there are a few common mistakes that can quickly lead to a loss of profit.
One mistake is overspending on products that don't sell well. Don't forget that not all products are going to be best sellers. Often it takes a few tries to find the right product mix. Private label products on Amazon tend to have a lower profit margin than branded products, so it's important to be strategic about what products you're spending your money on.
Another mistake is not putting enough thought into your branding. A private label brand is only as good as its branding. This includes everything from the logo design to the packaging design to the color scheme. If your branding is weak, customers will have a hard time differentiating your products from the competition.
Finally, one of the biggest mistakes private label sellers make is not investing in marketing. Private label brands especially amazon private label brands often rely on word-of-mouth marketing, but this isn't always enough to get the attention of potential customers. You need to invest in paid advertising and social media marketing if you want your private label brand to succeed.
How Can Your Brand Compete with Private Label Brands?
If you are a third-party merchant selling products on Amazon, you may be intimidated by the prospect of competing with Amazon.
Because low prices are the main interest of Amazon's private label products, most of the brands have received low impressions on their site and elsewhere on the web. Private labels prioritize not winning over their consumers with high-quality marketing and a strong brand story—it is to sell the cheapest products possible to consumers who value low prices.
As a result, Amazon products do not have the same level of brand recognition as other companies, which means customers are less likely to trust them over another brand they've heard of or had good experiences with. However, you can differentiate yourself from private labels by sharing your brand's story and cultivating customer trust through exceptional customer service and high-quality products.
Marketing
Make sure to highlight the features that distinguish your product from similar, less expensive private-label products in your marketing content and listing optimization. For example, perhaps your product is made with higher-quality materials or in a more ethical manner than its private-label counterparts. Focus on the unique selling points that distinguish you from private label products and are important to your target audience. Knowing and researching your consumer base is essential when creating marketing that will persuade shoppers to choose your product over a more basic, cheaper version.
Customer Service
Customer service, product development, and marketing can persuade customers to choose your brand over an Amazon brand. Excellent customer service starts a chain reaction that can lead to customers leaving positive reviews and pushing your content to more visible areas on Amazon.
Product Variation
You can also create new variations of existing products with their own ASIN. Making your product part of a bundle, for example, can set it apart from similar products sold by Amazon.
Shipping and Fulfillment
Regarding your shipping model, it may also be beneficial to compare dropshipping vs. FBA. It's becoming more and more challenging to compete with Amazon's lightning-fast shipping times, and FBA private label may be the best option for many sellers. If you can ship products as quickly and reliably as Amazon, your Amazon brand will be better positioned to compete with its private label products.
In addition to the benefits of fast shipping, Amazon FBA gives your brand more credibility and exposure than it would otherwise, especially since using FBA qualifies your products for Amazon Prime.
Examples of Best-Selling Private Labels on Amazon
Private label products are often seen as an opportunity for retailers to offer their customers unique products or to fill gaps in their product lineup. However, not all private-label products are created equal. Some private-label products are best sellers on Amazon, while others languish on the shelves. So, what are the best-selling private-label products on Amazon?
Coffee is one of the best-selling private-label products on Amazon. Private-label coffee is often seen as a more premium product than national brands and can be priced with a much higher profit margin. In addition, retailers who offer private label coffee often source their beans from top-notch suppliers and roast them to perfection, resulting in a delicious cup of coffee that coffee lovers can't resist.
Another top-selling private label product on Amazon is supplements. Private label supplements are easy for retailers to enter the market without developing their own formulas or striving to stand out from the competition. Private label supplements are also generally less expensive than branded supplements, making them a budget-friendly option for consumers. In addition, supplements of high quality and well-formulated can be highly successful on Amazon.
See Also: 11 Private Label Mistakes to Avoid When Selling on Amazon!
FAQs
What is Amazon private label?
An Amazon private label is a product created by a third-party seller that is manufactured, branded, and sold under its own brand name on the Amazon Marketplace. Private label products are made from existing, generic products purchased from a manufacturer and then re-branded by the seller to include their own branding.
Is Amazon Private Label profitable?
Selling your own private label products on Amazon is a popular way that retail brands to
sell goods and make a profit. With the right product selection and proper pricing, you can create a profitable Amazon private label that earns revenue each month.
How to private label on Amazon?
Creating an Amazon private label business requires brand owners to research, source products, design packaging, market their products, and handle logistics. While there are many steps involved, with the right strategies in place, you can set up a successful private label business on Amazon.
What is the cost to start a private label on Amazon?
The cost of starting an Amazon FBA private label business can range from a few hundred dollars to tens of thousands. On average, you can launch successfully with $3,000. Factors that affect the cost include product selection, inventory quantity, packaging design, shipping, and marketing.
How much do Amazon FBA private label sellers make?
Brand owners that sell private label goods on Amazon earn anywhere from $500 to tens of thousands of dollars per month. Factors that affect earnings include product selection, pricing, inventory costs, and marketing efforts.
Do I need LLC for Amazon FBA Private Label?
Amazon private label businesses can operate with or without an LLC. To maximize protection and legal advantages, however, brand owners often consider registering a business entity, such as an LLC, for their private label business.
Conclusion
Private labeling on Amazon is a low-risk, low-competition, and very profitable business model for those who want to start a sustainable eCommerce business. Hope this has answered your question about is amazon private label profitable. Private labels offer unique branding and acquire way better customer satisfaction than retail arbitrage, wholesale, and dropshipping.
Don't forget to get a free trial of our All-In-One exclusive platform for private label brands on Amazon and unlock the secrets to success.