Is Dropshipping on Amazon Dead in 2021? Absolutely Not!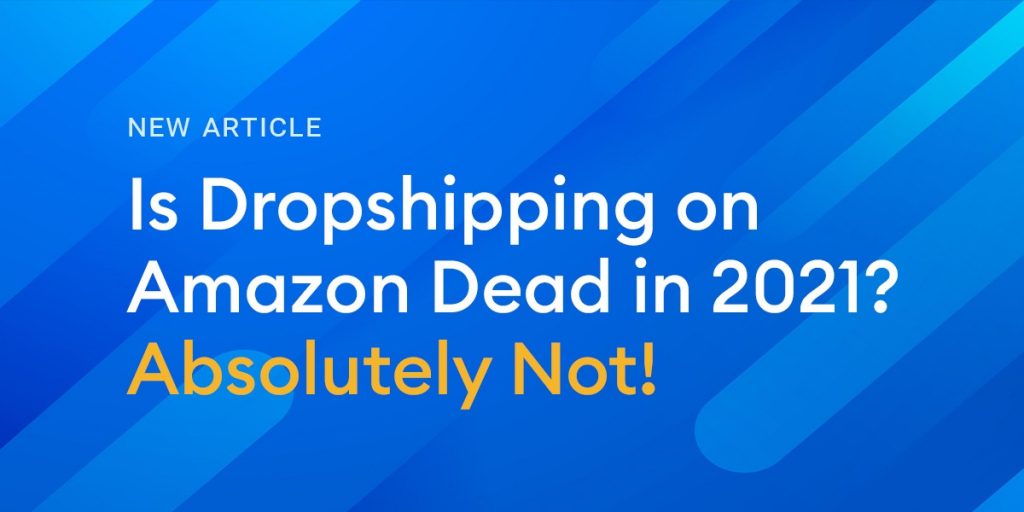 Millions of entrepreneurs have profited from dropshipping. However, the discussion on private label success on Amazon challenges its position as a popular business model. Let's take a look at what does the future hold for dropshipping?Is dropshipping on Amazon finally coming to an end?
We know that everybody is telling you that the "Private Label" is the answer to success on Amazon. And we love "Private Labels" and "Native Amazon brands," but it doesn't mean that there is no place for dropshippers.
Dropshippers are a kind of seller with a different mindset, and there are several reasons to be one of them.
What makes Dropshipping a great model?
If you plan to establish your own online business, you may ask: "Is dropshipping still worth it and why?". The answer is "absolutely yes." Dropshipping is still a profitable business model in 2021. There are several reasons why entrepreneurs can start with dropshipping.
Minimum capital requirement
As the responsibility of stocking and shipping is not with the entrepreneur, capital requirements are much lower than other models. As a Dropshipper, you don't need to buy a product until an order is received. You focus more on product search, finding trusted suppliers, listing products on Amazon, and managing the returns.
Start fast, sell fast.
You can start right away by finding the best products to sell from suppliers catalog, and the dropshipping model is already known and accepted by many of the suppliers. As long as they receive the order, they will be happy to work with you and ensure that products are shipped on time. You don't need to have a warehouse, packaging, tracking, handling. It means you can start fast by listing your products on Amazon.
Low maintenance
If you have a trusted supplier who can take care of the stocking and shipping, you don't need to spend too much time on dropshipping, and you can drop ship to multiple marketplaces, not just Amazon, and enjoy creating a passive income.
Start from anywhere
I work with many dropshippers all around the world. Eva has customers from Israel selling on Amazon CA or sellers from Bangladesh selling on Amazon US, even sellers from Ghana selling on Amazon MX. There are some fantastic possibilities with Amazon to trade anywhere you want as long as your supplier can deliver to the customers. And a dropshipper can be anywhere in the world.
Then what is wrong with Dropshipping on Amazon?
It sounds all great, isn't it? Dropshipping is just another way of making money on Amazon, but there is a secret sauce to be successful in 2021. In fact, with thousands of sellers trying to sell the same products from suppliers, we believe there are a few key factors as a differentiator to be successful in dropshipping.
Automation
You can not handpick products and sell them one by one. You need an excellent level of automation, from listing to returns. Amazon is already covering several steps for the seller for a reasonable fee, but the best dropshipper is the one who automates the end-to-end process.
Scalability
There is no limit to sell on Amazon. Why a few hundred or even thousand items? You can sell a lot more and increase your possibilities of winning the deals and finding a niche where nobody is selling.
Pricing
Pricing determines your sales velocity and profits your eCommerce business generates. Finding the best Dropshipper repricer for Amazon is the holy grail of being successful in 2021.
Final Thoughts
Like any other business model, dropshipping has its advantages but also in-build complexities you need to address. Low-barrier entrance makes it an attractive business to jump into, but it requires tending to grow successful. However, finding the correct strategies and tools makes your dropshipping business thrive in 2021.
Many of the issues arise from the scalability that quickly gets out of hand. If you are a dropshipper with hundreds or thousands of SKUs, managing all of them not only time-consuming but uncontrollable. In that case, you can switch to Eva Intelligent Repricer just in minutes and enjoy unlimited SKUs with easy management.
Was this article helpful?