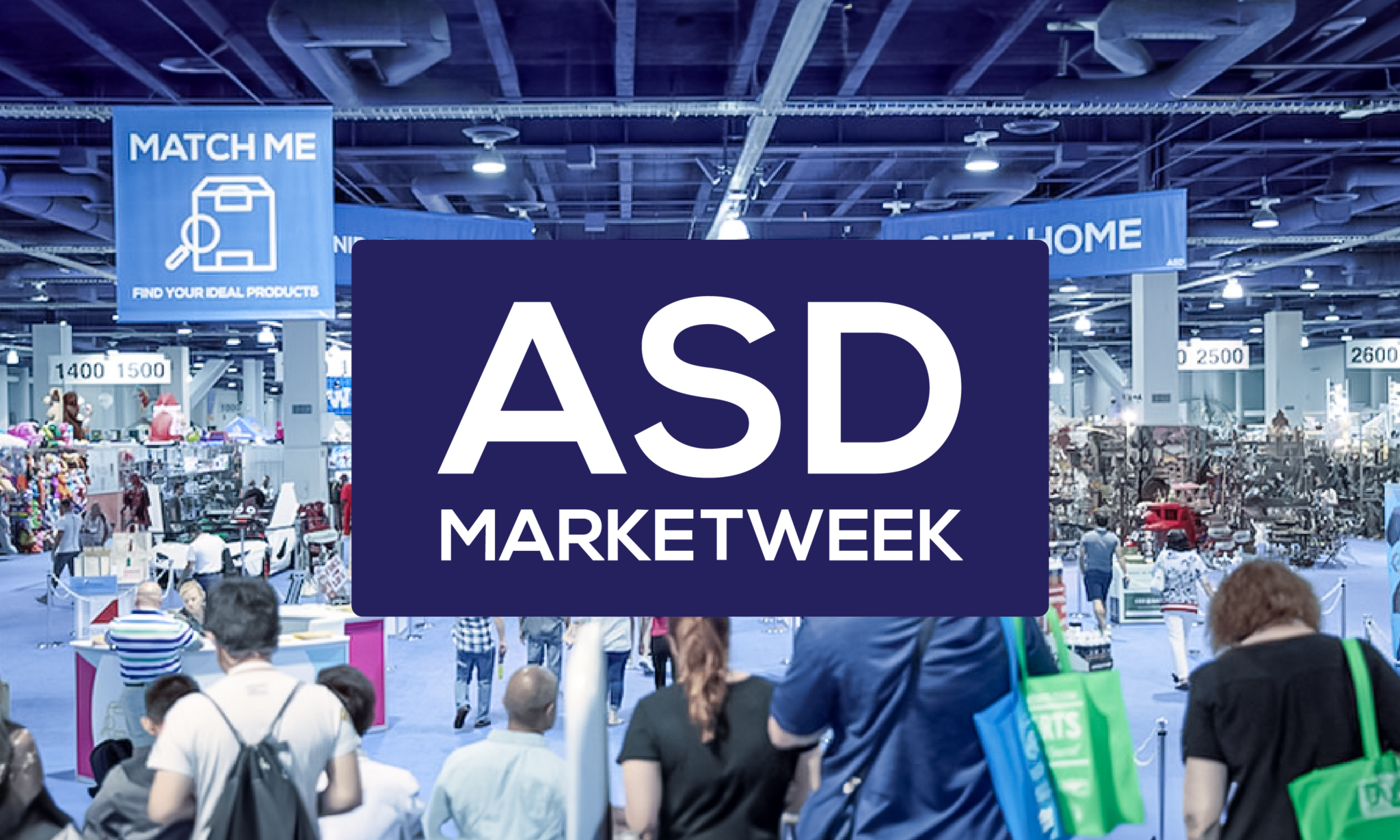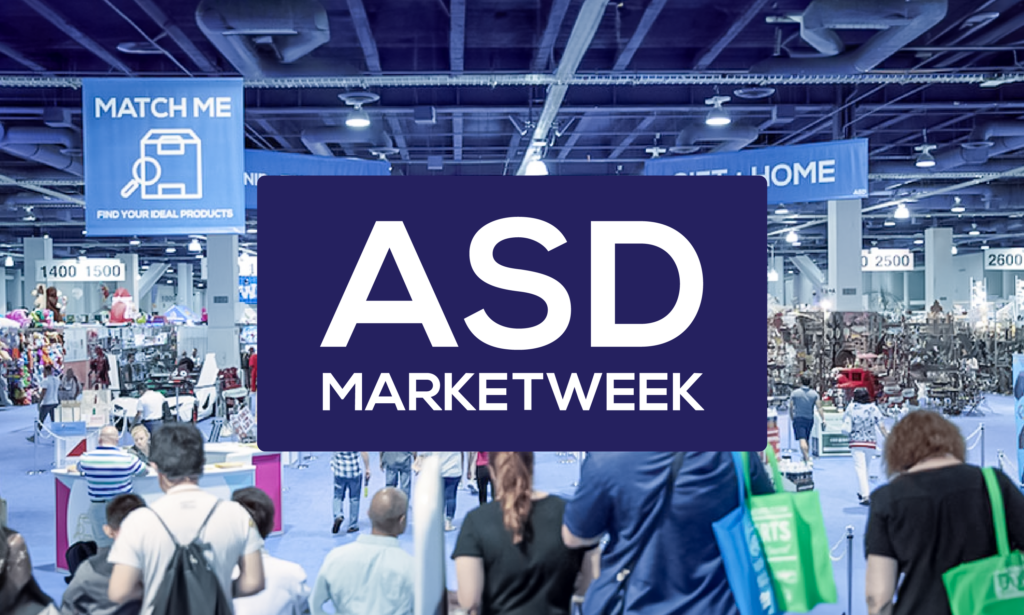 Have you ever stared at a bustling marketplace filled with opportunities but felt lost, because of not knowing where to start? That's what ASD Market Week can feel like whether you are a newcomer or even a seasoned veteran. A diverse & lively event, ASD Market Week is the place where business owners, retailers, and distributors converge to discover, learn, & grow. But how do you make the most of this grand event? How do you unlock the doors to success and seize the opportunities within?
In this comprehensive guide, you'll find the answers to these questions & more. From understanding the core of ASD Market Week to crafting a plan that fits your unique needs, from effective networking strategies to maximizing every moment you spend there, we'll explore every facet of this phenomenal event.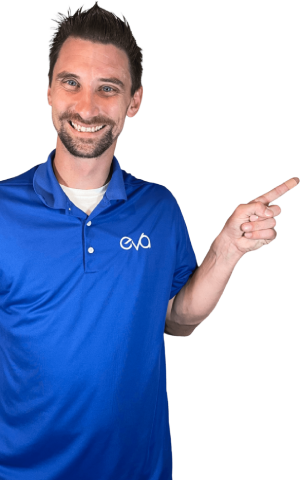 Discover How To Supercharge Your Profits From Amazon & Beyond
Tech – unlock more revenue, increase efficiency & maximize profitability with integrated AI solutions
Agency Services – our ex-Amazonian team provides key insights, expertise & handles everything for you from A-Z
3PL Fulfillment Solutions – real-time inventory management connected to Eva tech across Amazon marketplaces
Understanding ASD Market Week
What Is ASD Market Week & Why Does It Matter?
ASD Market Week is more than just a trade show; it's a vibrant marketplace that brings together the world's leading brands, innovative products, & keen buyers all under one roof. With its rich history spanning over six decades, ASD Market Week has become a hub for trendsetters & decision-makers.
The statistics speak for themselves. With over 2,700 exhibitors, 45,000+ buyers from 90+ countries, the scale of ASD Market Week is simply staggering. But numbers alone don't tell the full story. The event fosters a culture of innovation, collaboration, & education, turning it into an ecosystem where businesses don't just thrive; they flourish.
Here's why ASD Market Week is a must-attend:
Diversity of Products & Services: From fashion & accessories to beauty & health, electronics & toys, the range is boundless.
Networking Opportunities: Meet industry experts, potential partners & clients.
Educational Seminars & Workshops: Learn from thought leaders, gain insights into trends & market dynamics.
Exclusive Deals & Partnerships: Discover new products, secure deals, & build lasting relationships.
But how do you tap into this ocean of opportunities? How do you navigate the maze of aisles, exhibitions, seminars, & people? Read on, as we delve into the strategies, tips, & real-world examples that can help you unlock success at ASD Market Week.
Section 1: Preparing for Success
Crafting the Right Plan: Your Path to Success at ASD Market Week
Research & Planning: Knowing Your Terrain
The success of any mission depends on proper reconnaissance. Before setting foot in ASD Market Week, it's crucial to know the layout, exhibitors, events, & everything else in between.
Know the Floor Plan: Familiarize yourself with the venue layout. Identify the booths you must visit and plan your path accordingly.
Identify Key Exhibitors & Products: Research the exhibitors & products that align with your interests & business needs.
Plan Your Schedule: With numerous seminars, workshops, & networking events, it's essential to create a schedule that allows you to make the most of your time.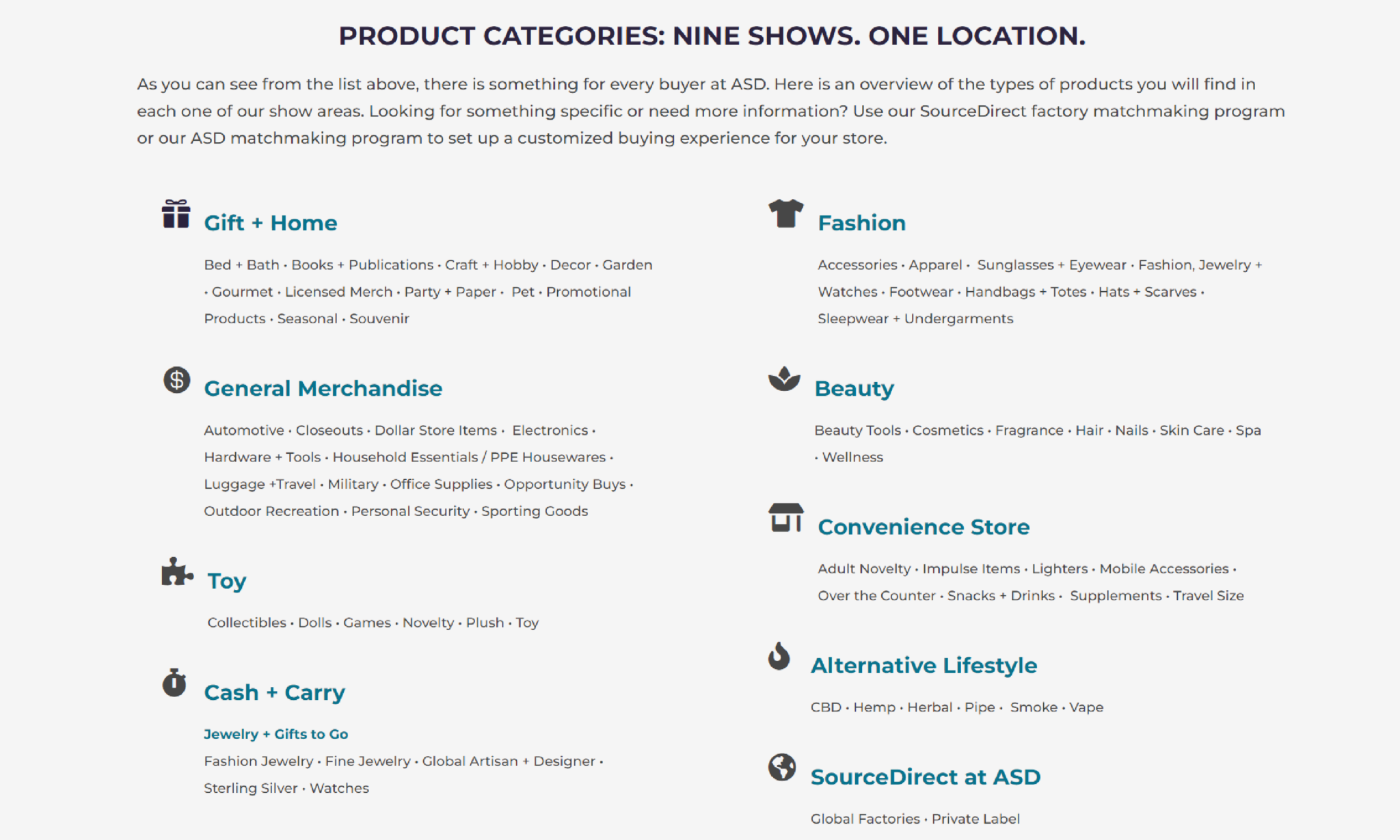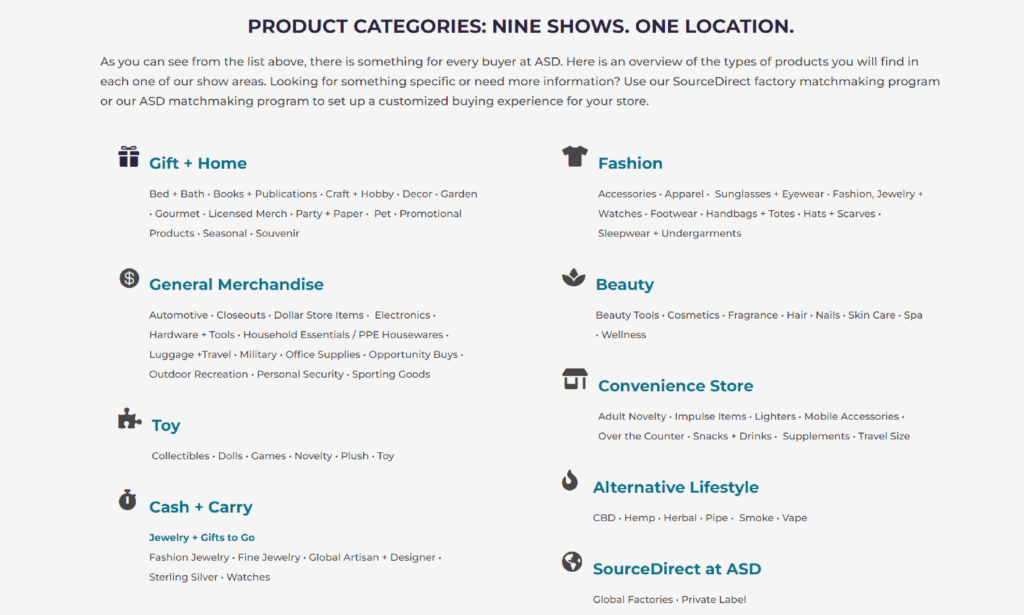 Setting Clear & Achievable Goals
Success at ASD Market Week isn't accidental; it's the result of clear & thoughtful planning. Here's how to set goals that align with your vision:
Define Your Purpose: Whether it's sourcing new products, expanding your network, or learning new strategies, your goals must be clear.
Set Measurable Objectives: Break down your main goal into smaller, manageable tasks.
Stay Flexible: Be ready to adapt. ASD Market Week is full of surprises, and opportunities can arise from anywhere.
Real-World Example: Consider the story of a small retailer who attended ASD Market Week with a clear goal: to find unique, eco-friendly products for their store. By researching exhibitors beforehand, setting appointments, and having clear questions ready, they not only found new suppliers but also negotiated better deals, all because of proper preparation & clarity of purpose.
Section 2: Effective Networking Strategies
Building Bridges: Networking That Works
Finding the Right Connections
ASD Market Week is not just a place to find products; it's a hub for building lasting relationships. Here's how to network like a pro:
Prepare Your Elevator Pitch: Have a concise & clear introduction ready. You'll meet a lot of people, so make your first impression count.
Use Technology: Apps & tools can help you connect with other attendees & exhibitors.
Follow Up: Connections mean nothing if they're not nurtured. Send a thank you note or a follow-up email after the event.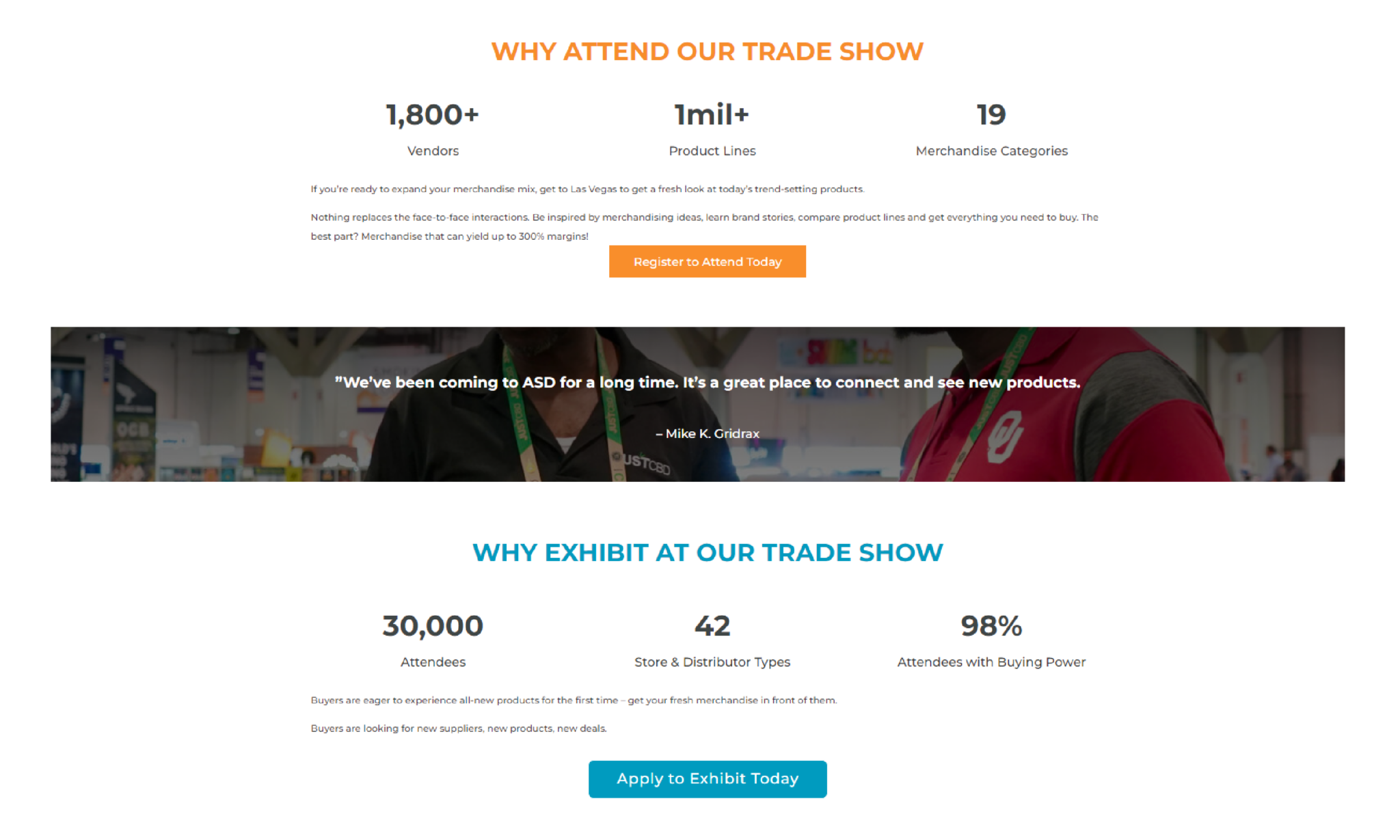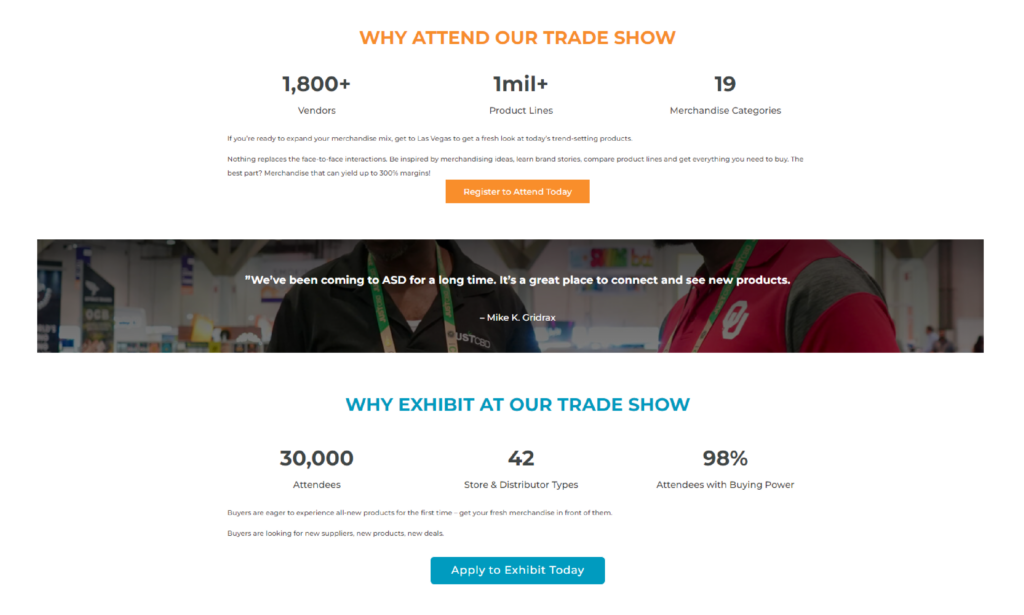 Making a Lasting Impression
Be Genuine: People appreciate sincerity. Share your story, ask meaningful questions, & show real interest in others.
Provide Value: Offer something of value. It could be an insight, a connection, or a business opportunity.
Stay Positive & Engaged: A positive attitude is contagious. Be an active listener & engage in meaningful conversations.
Real-World Example: A startup owner once made a connection with a potential investor at ASD Market Week. Though the investor initially seemed uninterested, the startup owner's genuine passion, clear communication, & value proposition led to a follow-up meeting & eventually an investment. The connection was made not just through a polished pitch but through authentic interaction.
Section 3: Maximizing the Experience
Exploring Opportunities & Overcoming Challenges
Managing Time & Energy
ASD Market Week is an intensive experience, & managing your time & energy is key.
Prioritize: Focus on what matters most. Don't get sidetracked by every shiny object.
Take Breaks: Schedule some downtime to rest & reflect on what you've learned.
Stay Hydrated & Fed: Simple things like staying hydrated & having snacks can keep you energized.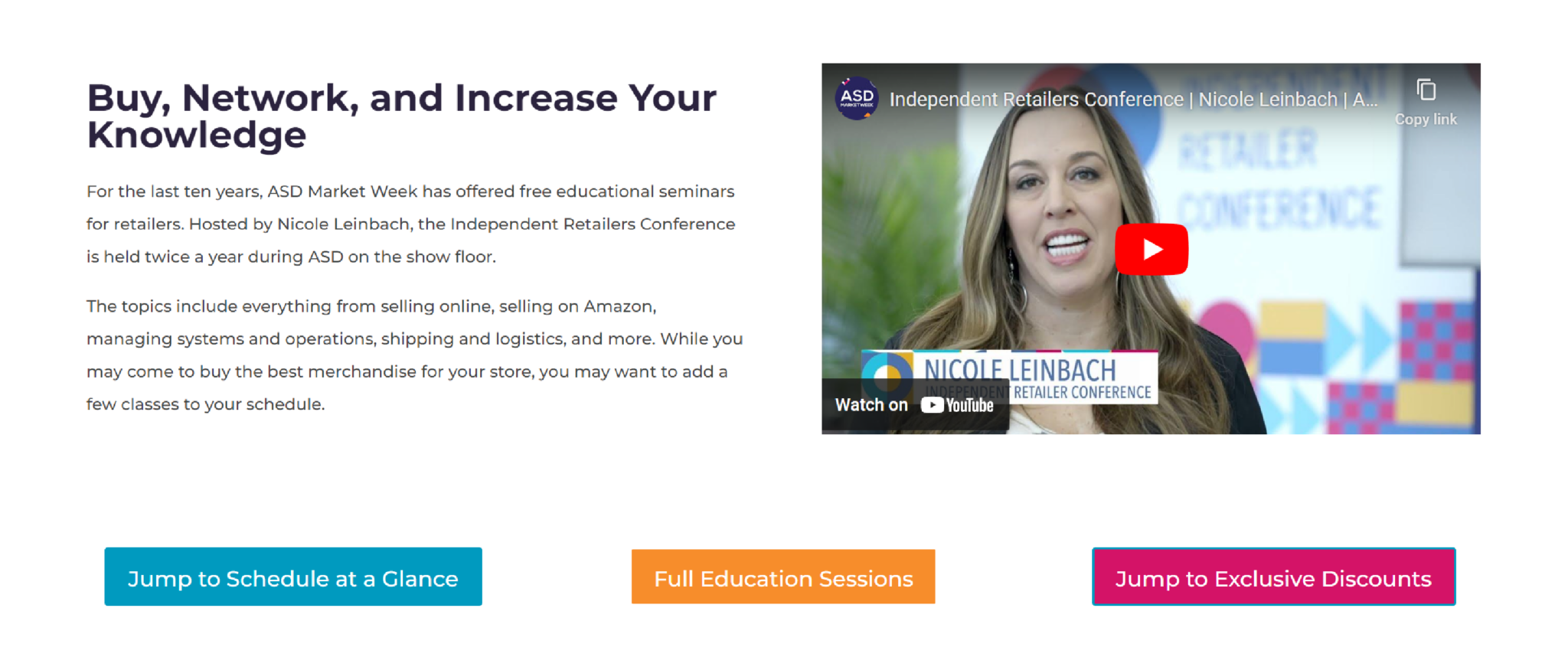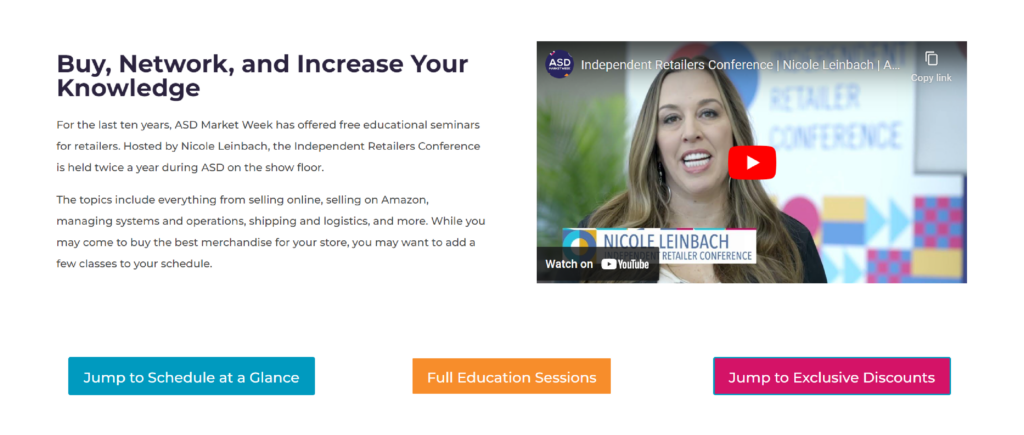 Utilizing Available Resources
Make use of all the resources ASD Market Week offers.
Use the Official ASD Market Week App: It provides real-time updates, maps, schedules, & networking opportunities.
Attend Workshops & Seminars: Gaining inside information from industry leaders is invaluable.
Frequently Asked Questions

Question 1: What Is ASD Market Week & Why Should I Attend?

ASD Market Week is a comprehensive trade show bringing together thousands of suppliers, retailers, & industry experts. It's an essential event for anyone looking to source new products, learn about market trends, and network with like-minded professionals. The diversity of products & the educational opportunities make it an indispensable experience for retailers of all sizes.

Question 2: How Can I Make the Most of Networking Opportunities at ASD Market Week?

Effective networking at ASD Market Week requires preparation & genuine engagement. Start by identifying who you want to connect with, prepare a clear & concise introduction, and use the official ASD Market Week app to find and connect with potential contacts. Most importantly, be yourself, ask meaningful questions, & follow up after the event.

Question 3: Can Small Retailers Benefit from Attending ASD Market Week?

Absolutely! Small retailers often find ASD Market Week to be a treasure trove of opportunities. The event provides access to unique products, suppliers that may be willing to negotiate smaller MOQs (Minimum Order Quantities), & educational content specifically tailored for growing businesses.

Question 4: How Can I Stay Updated During ASD Market Week?

Staying updated is simple with the ASD Market Week app, providing real-time updates, maps, & networking opportunities. Additionally, follow ASD Market Week on social media & subscribe to their newsletter for the latest information.
Conclusion
ASD Market Week is more than a trade show; it's a great opportunities waiting to be tapped. From planning & goal setting to networking & maximizing the experience, success at ASD Market Week is achievable with the right strategies & attitude.
Whether you're a seasoned attendee or a starter, the actionable insights & real-world examples shared in this guide are designed to empower you to make the most of this incredible event.
Dive in, explore, connect, & let ASD Market Week be the catalyst for your next level of success.
See you next time!