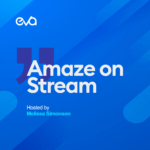 "Don't listen to the naysayers… If you're thinking about it, or if you're struggling or wanting to expand… keep on, because you're in the right place and the opportunity is absolutely real to completely change your financial outlook on life." – Jon Tilley
🔥Take a look at this week's episode of Amaze on Stream featuring Jonathan Tilley, CEO of ZonGuru. Host Melissa Simonson asks questions about the early influences in Jon's life and how his environment, experiences, and the people surrounding him have shaped him into the person he is today.
Learn about Jon growing up in South Africa and how team skills played a role in shaping his view on leadership and entrepreneurship. On his way to founding ZonGuru, Jon had side hustles throughout much of his life and experience in advertising and event organization, all of which led him down the eventual path to cofounding ZonGuru, a tool to help sellers gain greater insights into their market, as well as a significant competitive advantage.
Getting Started With Eva Is Easy
Ready To Grow?
Start A Free Trial
Create an Eva account in seconds & link your Amazon account. Get a complimentary onboarding call to properly configure & dial in your settings or do-it-yourself using our help library containing 150+ articles and videos.
Have Questions?
We Got You
Need a little more guidance? Connecting with one of our experienced Amazon consultants is the best place to start.