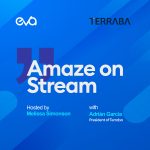 Did you know that Adrian Garcia started selling in 2001??!!! In this compelling interview, we meet the President of Terraba and discuss his entrepreneurial journey, which leads him on a wild ride, ending with him creating an agency to help people sell in Latin America.
Terraba, which is based in Costa Rica, is uniquely placed in an area where the local community is packed full of Amazon employees, making it possible for Terraba to hire employees who were previously Amazon employees exclusively.
Getting Started With Eva Is Easy
Ready To Grow?
Start A Free Trial
Create an Eva account in seconds & link your Amazon account. Get a complimentary onboarding call to properly configure & dial in your settings or do-it-yourself using our help library containing 150+ articles and videos.
Have Questions?
We Got You
Need a little more guidance? Connecting with one of our experienced Amazon consultants is the best place to start.