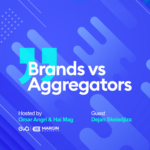 🤔 Is Amazon DSP really worth it? How much money do you need to start with? How long does it take till you notice the ROAS?
If the questions above pop up in your mind every time you hear about Amazon DSP, then the 25th episode is for you! 💯✅
Dejan Skeledzija, whose name has been the synonym of Amazon DSP, along with Omar Angri from MarginBusiness and Hai Mag, the CEO at Eva, deep dive into this new arena of Amazon Advertising to help you decide if it's the right option for you compared to Amazon PPC. ⚖📊
If you need professional help with your effort on Amazon Advertising, please count on Eva's Free Audit!