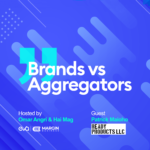 🤔 How to get your supply chain right? This week's episode is all about that!
Join Patrick Maioho from ReadyProducts LLC, an amazing FBA coach and successful Amazon seller who has mastered logistics and the importance of having everything in order. 👨‍🏫🔝
Hai Mag And Omar Angri co-host this show as they share insights on what works best for growing your business with a winning strategy for the supply chain. ✅🎯
Tap on the button below to learn more about Eva's 5-star 3PL Logistics and Returns Management:
Getting Started With Eva Is Easy
Ready To Grow?
Start A Free Trial
Create an Eva account in seconds & link your Amazon account. Get a complimentary onboarding call to properly configure & dial in your settings or do-it-yourself using our help library containing 150+ articles and videos.
Have Questions?
We Got You
Need a little more guidance? Connecting with one of our experienced consultants is the best place to start.