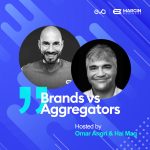 We are living in the exciting times of Amazon! Here is the first episode of a new podcast series from the CEO of Eva, Hai, and the CEO of Margin Business, Omar. Brands vs Aggregators!
Aggregators are quickly becoming a necessary part of the Amazon ecosystem. They allow Amazon to offer its shoppers a wide variety and availability of products at the best prices while simultaneously giving small businesses the opportunity to grow in ways that would otherwise never be possible on their own.
Amazon Sellers find Aggregators a great possibility to exit as well as to restart. The big questions for Amazon sellers are what products to build, how to grow, and when to sell the business. And even sometimes why to sell the business if the growth potential is so high? Brands vs Aggregators will bring all the parties together to discuss the best strategies for Amazon Sellers in the world of Aggregators.