Well-functioning inventory management is the foundation of any successful business on Amazon. Without paying enough attention to this matter, you'll have to constantly deal with stockouts, old inventory, failed PPC campaigns, and disappointed customers that churn toward your competitors who know how to manage their inventory! This blog gives you 5 vital tips to fine-tune your inventory management and grow your business effortlessly and substantially.
Why Is Amazon Inventory Management So Important?
Amazon Inventory Management is a system used to streamline and track stock levels, sales, and customer orders. It lets you see what products are selling well and gives you a data-driven forecast for future customer demand.
While Amazon Inventory Management may seem like a simple concept, it is a critical part of your business success. Inaccurate inventory levels can lead to lost sales, stockouts, failed advertising campaigns, and every seller's nightmare, angry customers! It'll also have a negative impact on your IPI score (Inventory Performance Index). That leads to gradually losing your organic rankings on Amazon and finally, shutting down your business.
An inventory management software also uses your Amazon store's data to:
Generate the most profitable replenishment strategy based on your budget
Notify you when items are about to go out of stock
Adjust your product's price based on the stock level to prevent going overstock or out of stock.
Give you an actionable overview of the sales velocity to help you with product launches.
It's critical to ensure your inventory management system is accurate, up-to-date, and integrated with all aspects of your business. With an AI-powered Amazon Inventory Management like Eva, you can keep track of your FBM or FBA inventory and ensure that customers always have the products they need at the most profitable price. It also boosts your IPI score to help you stay on top of Amazon result pages and reduce the TACoS while running Amazon PPC ads.
Know Your Inventory KPIs
Amazon Inventory Management includes some performance KPIs, which Amazon uses to evaluate the system's effectiveness.
Amazon Inventory Turnover Rate (AITR):
This metric measures how quickly your business sells its inventory. It is a key indicator of Amazon's overall efficiency. A high AITR indicates that Amazon is selling its inventory quickly and efficiently. In contrast, a low AITR demonstrates that your Amazon store is not selling as soon as possible.
Amazon Stock-Out Rate (ASOR):
This metric measures how often Amazon runs out of stock of a particular item. A high ASOR indicates that your store has difficulty keeping up with customer demand. But a low ASOR shows that Amazon has excess inventory.
Amazon Order Fill Rate (AOFR):
AOFR represents the percentage of Amazon orders fulfilled successfully and on time from in-stock Amazon inventory. The higher your AOFR, the better your Amazon Inventory Management is performing. AOFR is affected by some factors, including Amazon lead time, Amazon stocking levels, Amazon inbound shipments, and Amazon outbound shipments. Improving your AOFR can be a complex process, but it's essential to start by understanding the factors that influence it.
Amazon Index Performance Indicator (IPI score):
This metric measures how well your Amazon store manages its inventory. Amazon gives you an IPI score on a scale from 0 to 1,000. If you have a high IPI score, you manage your inventory well and get good reviews from customers. A low IPI score means Amazon is not doing an excellent job of managing your inventory, and you're getting bad reviews from customers. Amazon will de-list your products and take your organic rankings if your IPI score falls below 500 for two consecutive months. You can improve your IPI score by ensuring that your products are in stock and that customers are giving you positive reviews.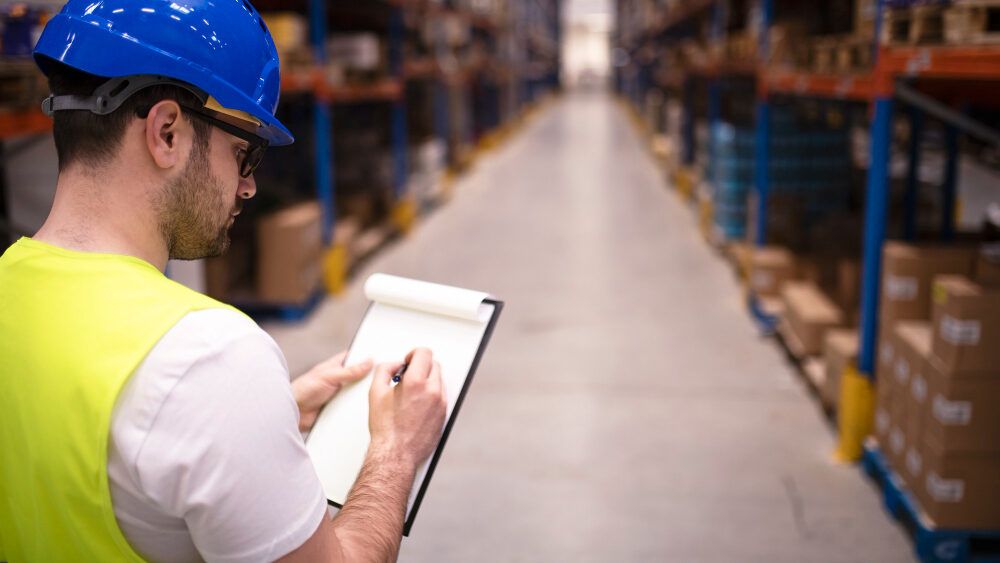 5 Tips to Supercharge Your Amazon Inventory Management
1. Track Amazon Inventory Turnover Rate
One important metric is your inventory turnover rate, which measures how fast you sell through your Amazon inventory. To find out your inventory turnover rate, you need to figure out how fast your listings sell. With that information, you can calculate how much stock you are going to need, not to go out of stock between shipment intervals.
That also helps you prevent overbuying or underbuying when you reorder stock. Generally, Amazon sellers who import goods target a 3-month inventory turnover rate. Therefore, you expect to sell through a stock order in 3 months. By understanding your Amazon inventory turnover rate, you can better manage your business and optimize your Amazon strategy of sales.
2. Understand Your Supply Chain Lead Time
It's quite essential to know your supply chain and lead times. Your Supply Chain refers to the inventory movement from initial sourcing to arrival in your FBM or FBA warehouse. And Lead Time is the time needed for the orders to arrive. By knowing the exact amount of your supply chain and lead times, you'll have no problem identifying what factors are involved in the ordering, receiving, and storing of your inventory.
To have an organized inventory, you'll need to stay on top of your vendors' manufacturing and delivery list and have a plan B in place for worst-case scenarios. This is critical if you use overseas suppliers that might have prolonged delays. The good news is that Eva's All-In-One platform also has a Purchase Order feature to streamline and manage all your sourcing tasks.
3. Properly Forecast Your Inventory Needs
To be a successful Amazon seller, you need to forecast your inventory needs correctly. Otherwise, you'll lose profit on numerous stockouts and overstocked items, losing profits, sales, and your ranking on Amazon.
Eva's Amazon Inventory Management tool uses a sophisticated machine-learning algorithm to track sales patterns and predict future customer demand to help you with the most profitable replenishment plan. With this AI-powered tool, you can constantly monitor your sales data and adjust your inventory levels, pricing strategy, and PPC campaigns accordingly. Properly forecasting your inventory needs is essential for success on Amazon.
4. Plan for seasonal sales fluctuations
By planning for seasonal sales fluctuations such as Prime Day and Black Friday, your Amazon store will be able to keep its shelves stocked with highly-demanded products. This helps you ensure that your store always has the items that customers need when they need them.
Eva's Amazon inventory management has the actionable data to forecast these sales influx. It will notify you to replenish appropriately and get ready for the grand shopping event. Also, this tool helps to prevent out-of-stocks and overstocked items. You can order the products needed from the Purchase Order section to keep its shelves full by keeping track of customer demand.
5. Diversify your fulfillment process
Amazon is a marketplace full of opportunities, but you need to have a well-oiled inventory management system to take advantage of what it offers. That's why it's essential to diversify your fulfillment process. We recommend you use both FBA and FBM programs and collaborate with a third-party logistics (3PL) service if you run out of space for your inventory.
Amazon Inventory Management can be a complex process as your business grows. Still, you can optimize your stock levels and ensure that your customers always have what they need by using all of the options at your disposal. With a little planning and forethought, you can build a flawless process for your inventory management.
Conclusion
Implementing these five tips for inventory management will undoubtedly help your business grow. However, if you want to take your Amazon business to the next level, we suggest using a tool like Eva that automates many of these processes for you.
Eva offers you an Amazon Inventory Management tool that optimizes stock levels, tracks sales, and integrates inventory with your pricing and advertising strategies to get the best results. It provides alerts when stock is low or out-of-stock and gives you the most profitable replenishment plan with any budget. Eva is a verified Amazon partner, so you can rest assured that your store's data is safe and in the best hands. We help you can say goodbye to old inventory, failed PPC campaigns, and disappointed customers! Start your free trial today without entering any Credit Card info, and you can cancel your subscription anytime.