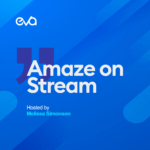 ♥️🔥I think right now, with everything that has gone on (because I'm a big believer in silver linings 🌤)… now I really think there's never been a better time for people to try new things." – Laura McCaul, CO-Founder of Sponsored Profit, a well-respected expert on Amazon PPC, and this week's guest on Amazon on Stream.
🎙Listen in as host Melissa Simonson learns about Laura's journey through building a brand and now a service business.
Getting Started With Eva Is Easy
Ready To Grow?
Start A Free Trial
Create an Eva account in seconds & link your Amazon account. Get a complimentary onboarding call to properly configure & dial in your settings or do-it-yourself using our help library containing 150+ articles and videos.
Have Questions?
We Got You
Need a little more guidance? Connecting with one of our experienced Amazon consultants is the best place to start.