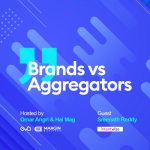 Here is another episode of the podcast series from Eva's CEO, Hai Mag, and the CEO of Margin Business, Omar Angri. Brands and Aggregators! In this episode, we talk about the strategies that brands can develop with our guest Sreenath Reddy, the Founder & CEO of the Amazon advertising optimization platform "Intentwise".
What kind of strategies can brands develop and follow as the aggregators are taking more place in the Amazon business world? Where is this current situation between Brands and Aggregators going? You can find these questions answers and more in this podcast!
Getting Started With Eva Is Easy
Ready To Grow?
Start A Free Trial
Create an Eva account in seconds & link your Amazon account. Get a complimentary onboarding call to properly configure & dial in your settings or do-it-yourself using our help library containing 150+ articles and videos.
Have Questions?
We Got You
Need a little more guidance? Connecting with one of our experienced consultants is the best place to start.