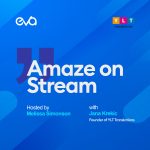 "Self-esteem comes from being able to define the world on your own terms and refusing to abide by the judgments of others. ― Oprah Winfrey.
Jana Krekic is the perfect example of defining the world on her own terms. Join us for this podcast episode where we learn how Jana used her strengths and interests to build a job she loved and in the process, created jobs for all the employees at her company, YLT Translations. We dive deep and get personal to learn how Jana faced the doubts and skepticism of family and friends when she quit her 9-5 job and started her own business, but she persevered and cannot imagine doing it differently now."
Getting Started With Eva Is Easy
Ready To Grow?
Start A Free Trial
Create an Eva account in seconds & link your Amazon account. Get a complimentary onboarding call to properly configure & dial in your settings or do-it-yourself using our help library containing 150+ articles and videos.
Have Questions?
We Got You
Need a little more guidance? Connecting with one of our experienced consultants is the best place to start.