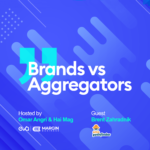 ✋😃 Are You Ready for Q4 2022? If not, no worries! The 28th episode of Brands and Aggregators is here to get you on the right track before entering the most important season of the year!
Brent Zahradnik from AMZ Pathfinder, Omar Angri from Margin Business, and Hai mag from Eva are here to tell you how to get your advertising strategy ready for Q4, where 50% of the whole sales over a year happen. 📈😲
Together they'll discuss very essential topics such as the opportunities of Amazon Marketing Cloud (AMC), Amazon Demand-Side Platform (DSP), and things you need to bear in mind before you decide to sell your business. ✅
Getting Started With Eva Is Easy
Ready To Grow?
Start A Free Trial
Create an Eva account in seconds & link your Amazon account. Get a complimentary onboarding call to properly configure & dial in your settings or do-it-yourself using our help library containing 150+ articles and videos.
Have Questions?
We Got You
Need a little more guidance? Connecting with one of our experienced Amazon consultants is the best place to start.