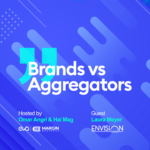 🚀"Sky is the limit," they say, but, would you jump off the balcony to reach the sky? No, not without your safe rocketship and a programmed map.
That's exactly the thing going on with Aggregators willing to expand their US-based businesses to Europe, Canada and beyond. 🌍
In this episode of Brands and Aggregators, Laura Meyer from Envision Horizons together with Omar Angri from Margin Business and Hai Mag from Eva will discuss what you should consider before spreading your wings to new marketplaces and sales channels + analyzing the latest innovations announced by Amazon. 💡🎯
Getting Started With Eva Is Easy
Ready To Grow?
Start A Free Trial
Create an Eva account in seconds & link your Amazon account. Get a complimentary onboarding call to properly configure & dial in your settings or do-it-yourself using our help library containing 150+ articles and videos.
Have Questions?
We Got You
Need a little more guidance? Connecting with one of our experienced Amazon consultants is the best place to start.