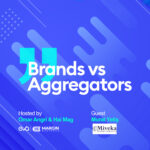 📍 Getting your cargo from point A to B might seem easy on paper.
But it needs a huge amount of calculating, consideration and expertise to get them delivered in good condition at the lowest risk and cost. 📉✅
That's where Freight Forwarding experts can come to your aid! 🤝
If you need some professional help with the whole Import and export process, tune into the 32nd episode of Brands and Aggregators with Murat Yetiş from Miveka along with Omar Angri from Margin Business and Hai Mag from Eva.
If you need professional help with your fulfillment process, don't hesitate to contact Eva and get a Free Consultation.