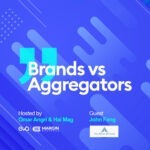 "There is a ton of money and attention being focused on marketplace brands right now and you really should do a full market check in order to really maximize the full value that you've built." – John Fang
Join us for our new episode of the Brand and Aggregators podcast with special guest John Fang, Co-Founder and Managing Partner at Two Roads Advisors. Co-Hosts Hai Mag, CEO of Eva, and Omar A, CEO of Margin Business ask poignant questions about how to realize the best value from your eCommerce business.
In this episode, John gives us insight into the reality of exiting your business and the landscape that sellers are currently looking at, as well as some of the current trends in the exit process as it continues to evolve with the ever-changing eCommerce industry.