If you want to survive in Amazon's customer-obsessed environment, you've got to know what's on your customer's minds and fulfill that desire perfectly. An Amazon Search suggestion expander gives you another level of insight into what people are searching for.
This information can help you better optimize your listings to gain more organic visibility and get a safer bet for your future product launches. So read on to find out more! 💡🤩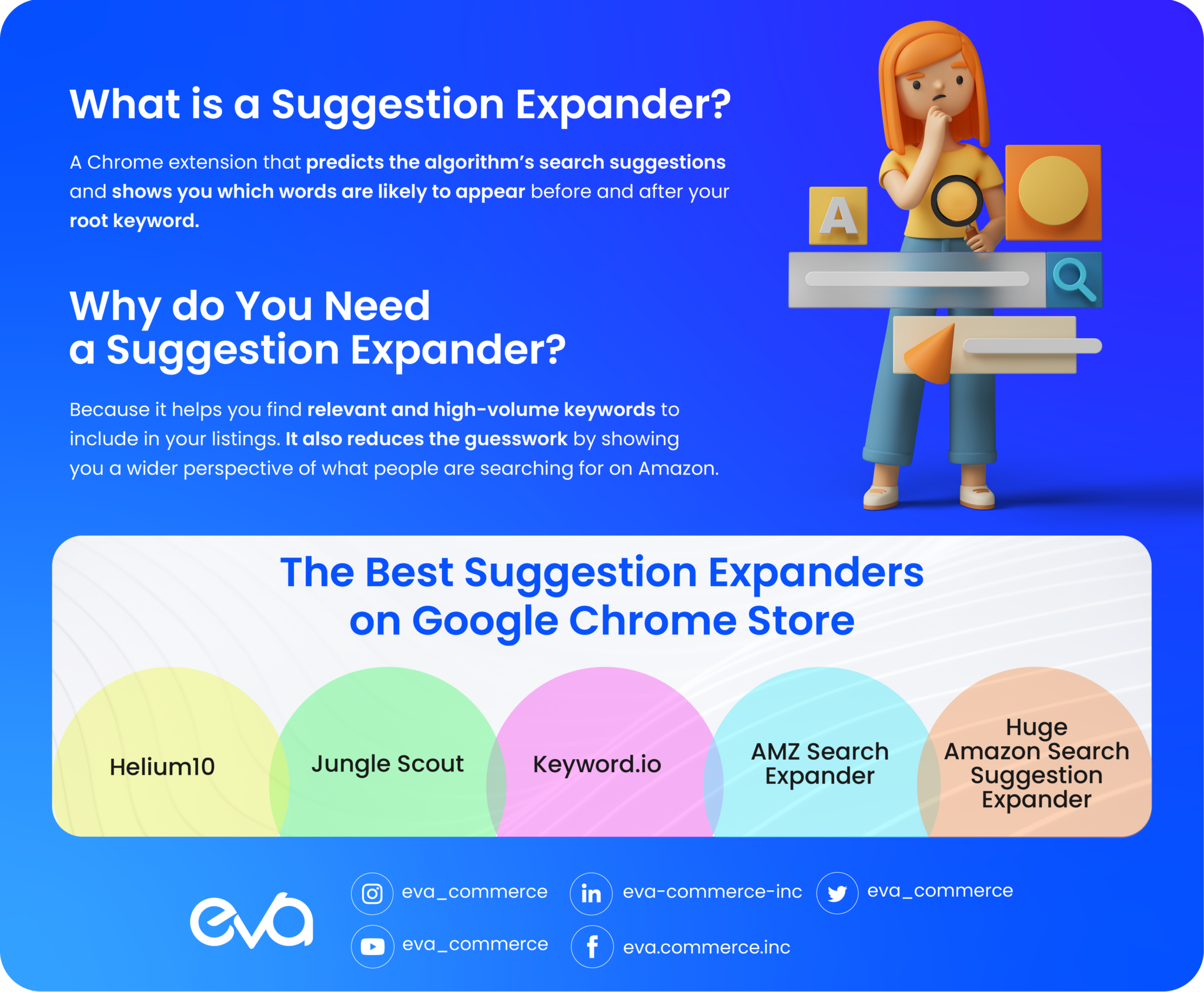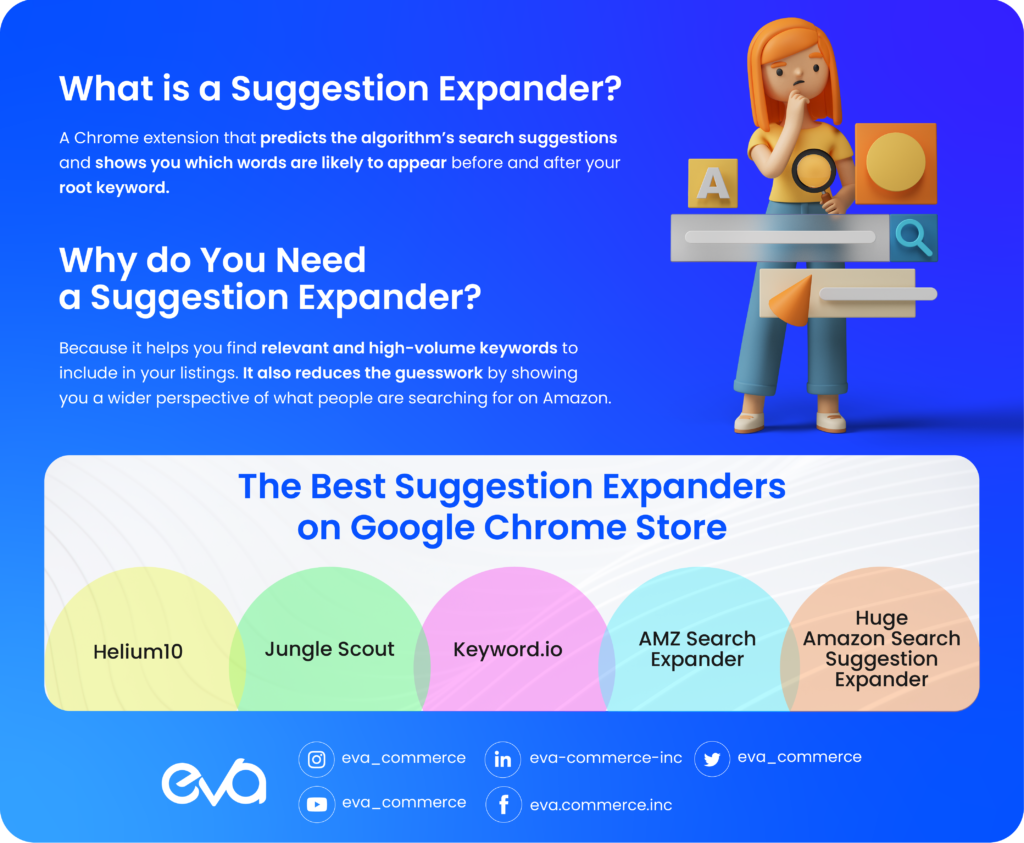 Read More: Google Ads for Amazon Products: The Golden Key to External Traffic
What Is An Amazon Search Suggestion Expander?
A Chrome extension tool for Amazon sellers is an Amazon suggestion expander. This Chrome extension predicts the algorithm's search suggestions and shows you which words are likely to appear before and after your root keyword.
Amazon has more than 12 million products. However, most of them fall into the same category or subcategory. For example, when we navigate to the 'kitchen' category on Amazon, several subcategories appear. There are several products in the cooking and decorations subcategory. Most of them are from the same brand but are sold by different people. Some of these products even have similar names with minor differences.

These items are almost certainly from sellers who used a suggestion expander. The search suggestions show you the most effective keyword combinations. You'll need to use product-related keyword combinations to optimize your listings. It is nearly impossible to generate a consistent keyword mix off the top of your head.

As a result, a suggestion expander is a simple way to discover streamlined keyword combinations with high search volume. Here's what you'll get if you sell board games and use a suggestion expander.
Choose the most appropriate keyword combination from the Chrome extension tool's search suggestions. Why should you use an expander now that you know what it does?
Read More: 7 Reasons to Choose Eva as Your Brand's Co-Pilot


Why You Should Use a Search Suggestion Expander
Keywords are essential but appear to be the holy grail that only a few sellers have discovered. However, keywords make all the difference when it comes to selling on Amazon. To build a successful business, keywords must be part of your visibility strategy.

You can make wild guesses using random Google searches. However, if you want to go from having no sales to having record-breaking sales, you must understand how to find keywords with high search volume. Consider using an Amazon suggestion expander if you're having trouble coming up with a relevant keyword mix for your products. This post will teach you everything you need about this mysterious tool.

Customers who shop on Amazon frequently use specific search terms to find products. Amazon's search engine employs keywords to deliver products relevant to a specific search category. The search engine may suggest alternative ways to search for the product. It accomplishes this by displaying various search suggestions via the autocomplete feature.

These keyword combinations make it easier for customers to find what they're looking for. Fortunately, the algorithm was not designed solely for shoppers, so sellers can also benefit from this feature. This is where an Amazon suggestion expander can help.

Because the majority of your research as a seller is done on the back end, you'll need to enter keywords while creating your listings. A good practice is to use a diverse set of relevant keywords in your listings. How do you find the ideal high-volume keywords to include in your listings for maximum conversions? Use a suggestion expander from Amazon.
Benefits of an Amazon Search Suggestion Expander
Regardless of your business model, you will need to find and include high-volume keywords in your listings. This means that an Amazon suggestion expander can be used by any seller. Why should you use an Amazon suggestion expander now that you know what it does?
Access To A Wide Range Of Search Suggestions
The majority of suggestion expanders are Chrome extensions. As a result, they function even while you are typing in Amazon's search bar. Simply enter a root keyword into the search bar, and the Chrome extension will return a long list of keywords.
Keyword Searching Made Simpler and More Effective
Having access to such a large collection of keywords significantly reduces research time. In your listings, use various keyword combinations or mixes. Remove any keywords that aren't converting. Then, without having to run another test, replace them with new ones.
You will only need to download keyword suggestions into a spreadsheet. As a result, you can return to the spreadsheet at regular intervals to reshuffle or select a new set. These keywords also make it simple for you to explore new Amazon niches.
Increased Visibility and Conversions
Keywords are essential, especially if you want to increase your visibility. With hundreds of keywords at your disposal, your visibility will skyrocket. Don't underestimate the effectiveness of suggestion expanders. Choose the right keywords and watch your visibility soar.
Best Amazon Search Suggestion Expanders In 2023
It may be hard to choose one from the many suggestion expanders available. Even worse if you haven't used one before. There are many options, and they all claim to be the best. Here are a few that have caught our attention.
This is the best option for a quick overview of the Amazon search results page. Jungle Scout offers a variety of tools, including:
Use the link above to get USD10 off the one-time fee for the JS Chrome Extension.
Splitly Jumpsend JS Web App
Because of Jungle Scout's inaccurate sales estimates, they focus on profits after Amazon fees, competitor analysis (number and rating of reviews), and a general sense of sales velocity. After you've narrowed down your product list, use Helium 10 to find search terms to target and Viral Launch (Market Intelligence and Keyword Research) to validate actual numbers.
Best for Amazon search results page analysis, reverse ASIN keyword research, keyword rank tracking, copywriting tool, and calculating sales velocity required to rank at the top for specific keyword search terms.
Helium10 is quite expensive, but it is a suite of 13 tools. The following are the most useful:
Cerebro: for Reverse ASIN searches to discover keyword data (Exact Search Volume) and the calculated sales velocity required to achieve a high page 1 ranking.
Refund Genie: Download lost or damaged FBA inventory reports for reimbursement to Amazon Seller Support.
Keyword Tracker: to monitor the exact search volume and search results and rank for search terms for which each of my listings is ranking.
Scribbles: To assist in writing an optimized listing without leaving out essential keywords.

You can use this tool to access hundreds of Amazon's search suggestions and manually select keywords from this list. You can also add them all by clicking the "Add all" button next to each keyword suggestion.
Copy the search suggestions into a text file or your clipboard to create a list of downloaded keywords. The downloaded keywords can also be imported into the Amazon keyword list tool. You can get this Chrome extension from any Chrome web store. It is available as a free tool, but there is a paid version.
Chrome extension that increases the number of search suggestions displayed in the Amazon search bar.
For Amazon Vendors!
This Chrome extension increases the number of search suggestions displayed in the Amazon search bar by displaying keywords that Amazon would suggest before and after the keywords you've entered.
This makes it simple to find new product niches!
Works in the following markets: US, CA, MX, UK, DE, FR, IT, AU, and ES.
This extension will make Amazon keyword research for FBA products and KDP book niches much easier and faster.
Simply start typing a keyword into the search bar, and Amazon will quickly pull up a massive list of suggested search keywords. To close the suggestions screen, click outside of the expanded search suggestion. Very straightforward and effective.
It is the ultimate Amazon search suggestion expander, and what makes it even better is that instead of writing them down one by one, you can simply download them as an excel document with a single click and use them for SEO research, or simply create a keyword ad campaign with them, among many other great uses.
What To Do With Your Keyword Suggestions
What should you do after receiving keyword and search suggestions from your expander?
1 | Create a keyword list.
An Amazon search suggestion expander generates several keyword variations. However, not all of them guarantee success. Whether your goal is increased sales or increased visibility, you must carefully select from the many options available.
Selecting viable keywords from the search bar results can be difficult, but here's one approach. Make a list of the most relevant search suggestions by copying them into a spreadsheet. Then, from your final list, select keywords for use in your listings. Create your listings using your preferred keywords.
2 | Improve your listing and PPC campaigns.
Creating a list of keywords is not enough to generate conversions. That requires you to create and optimize your listings. Including keywords in titles and descriptions is one way to optimize your listings. Because you have a list of keywords, the trick is to choose keywords at random from your list. Then, incorporate them into your listings and campaigns.
After that, perform a routine check. This allows you to determine which keywords work best for your listings and which do not. Once you've identified the keywords that don't convert, you can remove them. In your listings and ads, only use keywords that convert. Otherwise, you will not receive any results.
Read More: 4 Effective Tips for Amazon PPC Conversion Rate
How Can Eva Help Your Brand With Listing Optimization?
Eva combines superhuman artificial intelligence technology with top human expertise to provide you with a holistic solution to meet all your needs, from pricing and Amazon SEO, and A+ Content to 3PL logistics and returns management.
By deeply integrating pricing and supply chain management, Eva's cutting-edge platform ensures that you have maximized sales and profit without ever losing profitability or going out of stock.
You are always welcome to give Eva a try with a 15-day Free Trial — the results speak for themselves!
Conclusion
An Amazon search suggestion expander is a great tool for sellers looking to improve visibility and make more sales on Amazon. Using Amazon software alongside suggestion expanders is a perfect way to get the desired results. Now to achieve perfection with your Amazon SEO efforts, get a Free Consultation from Eva!
Eva is one of the preeminent Amazon advertising agencies with the perfect solution for your business
Getting Started With Eva Is Easy
Ready To Grow?
Start A Free Trial
Create an Eva account in seconds & link your Amazon account. Get a complimentary onboarding call to properly configure & dial in your settings or do-it-yourself using our help library containing 150+ articles and videos.
Have Questions?
We Got You
Need a little more guidance? Connecting with one of our experienced consultants is the best place to start.