As an Amazon seller, you're likely always looking for ways to improve your ranking and increase your sales. If you haven't been keeping up with all the changes in Amazon's Algorithm, you may miss out on some easy ways to boost your ranking. In this blog post, we'll break down everything you need to know about the new Amazon A10 algorithm so that you can rank #1 and see those increased sales! Keep reading to learn more! 🥇
What is the Amazon A10 Algorithm?
The Amazon A10 algorithm is Amazon's search engine organic ranking algorithm. It takes into account several factors to determine the order in which search results are displayed. These factors include keywords, customer reviews, price, shipping time, etc.
The A10 Algorithm is constantly being updated, and Amazon does not release details about how it works. However, there is some speculation that the Algorithm prefers products with a high degree of customer satisfaction and positive reviews.
Additionally, it is thought that the Algorithm favors products priced competitively and with Amazon's Choice designation. While the specifics of the Amazon A10 algorithm remain a mystery, understanding how it works can help optimize your product listings for better visibility in search results.
Read More: Amazon Search Suggestion Expander
How Does the Amazon A10 Algorithm Work?
No evidence can clearly determine how an online shopper searches for a product, and there is no way to pinpoint how Amazon's Algorithm targets customer queries. As a result, everything from keyword relevance and sales velocity to product availability and fulfillment methods can make or break your ascension to the top of Amazon search results.
What happens is that the search algorithm evolves and changes all the time. To adapt to the ever-evolving market trends, an Amazon seller should understand the main ranking factors used as input into the A10 Algorithm.
What Are the Ranking Factors for Amazon A10 Algorithm?
Keywords
First things first, the customer your product should match the customer's query. That's why you need to enrich your product listings with related and high-volume keywords in the title and description section. Using bullet points in the description helps both customers and the Amazon A10 algorithm understand everything about your product as quickly as possible.
Customer Reviews
Amazon is famous for being customer-obsessed. It ensures customer satisfaction by ranking the popular products on top of the search results. That's why a product with more positive Amazon reviews [and generally with more reviews] will definitely sit on top of the search results page. Not to mention, customer reviews are also one of the customers' most important decision-making factors.
Price
Most Amazon shoppers are budget-conscious, and Amazon is obsessed with the customers; that's why the products with more competitive prices have a better chance of ranking #1 on the search results page as well as winning the Amazon buy box.
Delivery Time
Another result of Amazon's customer-first philosophy is delivering as fast as possible. So the products with faster delivery time get the higher rank. If you're an FBM seller, you'll have a great challenge competing with Amazon FBA's 2-day delivery system. That's why we highly recommend dual-listing for FBM sellers to have the best of both worlds!
Customer's Location
A10 also considers the customer's location and the location of the Amazon warehouses where the product is available for shipping.
Customer's Purchase History
Amazon A10 also looks at how likely a customer is to purchase a product based on their past purchase history. For example, if a customer has already shopped from a store and given them a 5-star review on Amazon, chances are higher that they'll see other products from that store on higher ranks. Rumor has it that a customer's favorite list also plays a part in the A10 Algorithm, but Amazon hasn't confirmed that yet.
A+ Content
Amazon A+ Content (also known as Enhanced Brand Content) is the magic potion to get both Amazon and customers to love your brand. Using A + content on your product details page confirms your authority, responsibility, and expertise which will have Amazon prefer your brand over the others.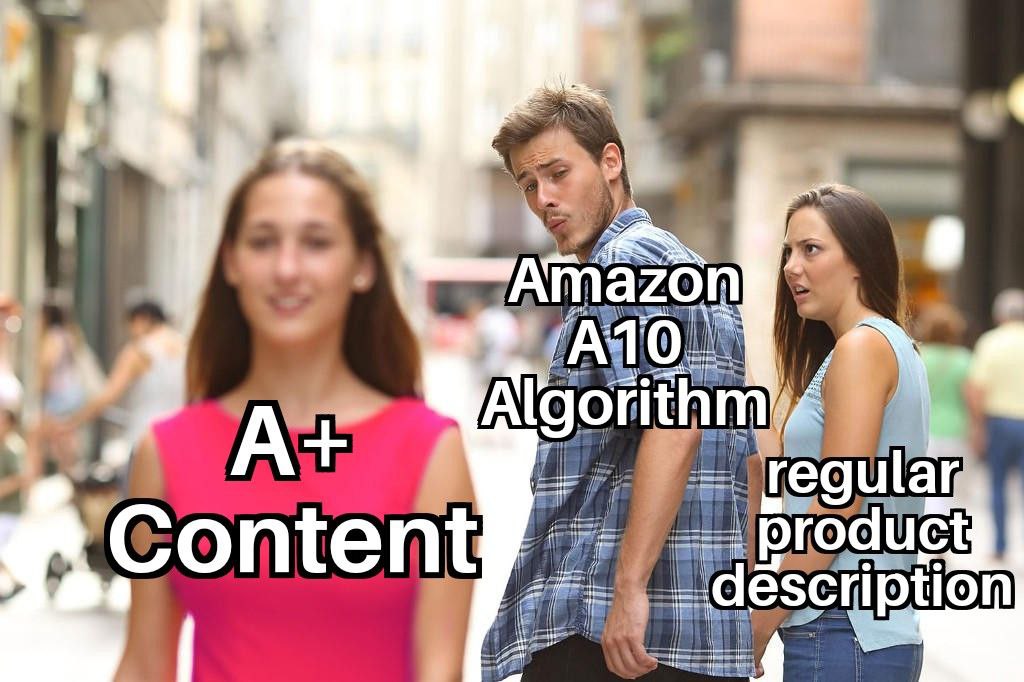 Amazon A10 vs. A9: What's New?
Amazon Reviews
Because consumers are most likely to trust other consumers, a high number of positive Amazon reviews equates to a review that has already been done. This provides social proof for the product. As a result, Amazon's policy on questionable reviews is quite strict.
Relevant and High-Volume Keywords
Keywords and search terms, incorporated into texts based on the customer's intent, are critical factors in determining the relevance of a search result for a potential customer.
Sales History
How well the product has sold on Amazon over its entire life tells a lot about how high you rank organically. If your own products are always "in stock," your product ranking will rise.
Conversion Rate The percentage of people who look at a product and then buy it. The higher the conversion rate, the higher the ranking of the product.
See Also: How to Avoid Stock-Outs with Dynamic Pricing
What Is More Important for the Amazon A10 Algorithm?
This refers to the seller's authority via Buy Box ownership. This is influenced by factors such as Amazon activity duration, feedback rating, key performance indicators, and the number of products in the catalog.
Organic Sales
Another way to ensure relevance in search results is to emphasize organic sales rather than paid ads. Amazon now downplays Pay-Per-Click (PPC) sales, emphasizing the importance of brands implementing a secure organic SEO strategy. When a potential shopper searches for a product and purchases it from the non-advertised search results, this is referred to as an organic sale.
External Traffic
This is always a motivating factor for achieving high rankings. Externally forwarded traffic to Amazon – for example, from social media platforms such as blogs, Instagram, Facebook, TikTok, Pinterest, and YouTube – is now rated even higher. Traffic must be relevant; otherwise, it increases page views but not conversions, lowering the conversion rate.
CTR Rate
How often is a product clicked after a quick glance at the search result? This is why having a clear, high-quality main product image and a meaningful title is critical because encouraging consumers to click means being rewarded by the Amazon algorithm. Important: At this point, the interaction with the conversion rate is important – the product should be clicked and then purchased.
How to Improve Your Search Results on Amazon?
Use The Right Keywords

When choosing keywords, it's important to think like a customer and choose keywords relevant to your product. You can use online tools like Helium10 to find the best keywords on Amazon.

Once you've chosen the right keywords, the next step is to optimize your product listings for those keywords. You'll need to include the keywords in your product title, description, and bullet points to do this. Try to use variations of the keywords to target different customer demographics.

Use High-Quality Image

Product images are most probably the first things that potential customers will see when they find your listing, so it's important to create an unforgettable first impression. So make sure that your product images are clear and professional and that they show your product in the best light possible.

Get More Customer Reviews

Customer reviews are key in ranking high on Amazon's search results page. The more positive reviews you have, the higher you'll rank. You need to encourage customers to leave reviews by offering discounts or freebies in exchange for their feedback.
To find out how to get more Amazon reviews, watch the video below or read the blog that completely covers this subject here.
Conclusion
While the inner workings of the Amazon A10 algorithm remain a mystery, there are a few things we do know for sure. Products with high customer satisfaction and positive reviews are likely to rank higher in search results. Additionally, the Algorithm also favors products that are priced competitively and have Amazon's Choice designation. 

Contact us today to get a Free Consultation about it!
Getting Started With Eva Is Easy
Ready To Grow?
Start A Free Trial
Create an Eva account in seconds & link your Amazon account. Get a complimentary onboarding call to properly configure & dial in your settings or do-it-yourself using our help library containing 150+ articles and videos.
Have Questions?
We Got You
Need a little more guidance? Connecting with one of our experienced consultants is the best place to start.