When it comes to outsourcing Amazon advertising, it can be tough to know whom to trust. To get the best results from Amazon PPC ads, you need someone who knows what they're doing. That's where working with an Amazon advertising agency comes in! Here are four quick reasons why you should work with one:
1) They have experience creating successful ad campaigns on Amazon.
2) They know the ins and outs of the Amazon Advertising Platform (AAP).
3) They can help you get the most out of your budget.
4) They're experts in compliance and troubleshooting, so you don't have to worry about things going wrong. If you're looking for success when advertising on Amazon, then working with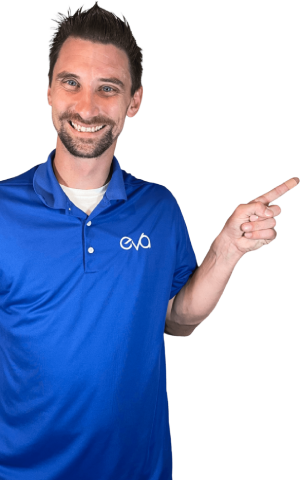 Discover How To Supercharge Your Profits From Amazon & Beyond
Tech – unlock more revenue, increase efficiency & maximize profitability with integrated AI solutions
Agency Services – our ex-Amazonian team provides key insights, expertise & handles everything for you from A-Z
3PL Fulfillment Solutions – real-time inventory management connected to Eva tech across Amazon marketplaces
Why Should Your Business Work with an Amazon Advertising Agency?
Choosing the right Amazon advertising agency can be the difference between becoming a thriving seller on Amazon and being a flop.
A group of over 2.5 million Amazon sellers struggles to capture the attention of customers every second. Only 10% generate annual sales of over $100,000. Do you want to increase the visibility of your Amazon store and generate more revenue?
By working with a top Amazon advertising agency, you can improve your store's share of voice, reach more potential buyers, and increase profits. Below, you will find practical steps on how to select a qualified Amazon advertising agency to grow your Amazon business substantially.
Any brand deciding to sell on Amazon needs expertise, knowledge, and a workforce completely dedicated to its Amazon business. Unfortunately, many companies don't have that capability and instead turn to an agency for support.


Top reasons to work with an Amazon Advertising Agency:
1- Expert expertise and experience
You may not yet have sufficient experience in the Amazon marketplace (content creation, advertising, product launch, or strategic advice). Still, you need an expert in your category to help you expand your current knowledge and raise your level.
The entire team in an Amazon advertising agency is completely dedicated to your business. They can also help you increase your knowledge by working with Amazon to guide you.
2- Flexibility and high capacity, fast
Amazon advertising agencies can provide the additional workforce needed to get the job done. However, getting started fast is essential for every business, especially when launching new products, entering a new category, or building out your product portfolio. Setting this up internally can be complicated and time-consuming, so an external partner may be beneficial to set up at least the first phases and support ongoing steps.
3- Free PPC Audit
An Amazon advertising agency can apply its expertise to perform a type of "audit" by taking a snapshot of the setup and processes of the business's internal team. The agency can quickly find out what is working and what is not from a professional standpoint. For example, Eva's Free PPC Audit monitors advertising activity the content and evaluates market conditions and competitors to identify and exploit the potential for improvement.

See Also: 10 Quick and Helpful Tips to Supercharge Your Advertising on Amazon
4- Visibility
Visibility on Amazon is vital to your business, and external support is necessary to maintain it. You have to take a proactive approach rather than a passive one to achieve and maintain adequate visibility. An Amazon advertising agency gives you the expertise and workforce to get your product listings in the spotlight in front of millions of potential customers.
Ultimately, Amazon businesses will need to gain expert input, an additional set of hands for fast and efficient portfolio tasks, and work efficiently and at an expert level.
Know Your Goals and Desired Results before Hiring an Amazon Advertising Agency
No Amazon advertising agency will reinvent your store. They will work with you to achieve the goals you already have set.
If you, the store owner, fail to define those goals and outcomes, then how can an Amazon advertising agency swing the magic wand and turn your business into a quick success?
To begin with, let's look at some scenarios when you should cooperate with an Amazon advertising agency. See how Eva can drive huge amounts of traffic to your Amazon store.

Example #1: Make your products rank higher in Amazon search
Retail Touchpoints shows over 353 million different products are for sale on Amazon.
With countless competitors, your Amazon store doesn't exist unless it ranks well on Amazon searches.
Let's say you sell phone cases, and someone goes to Amazon to find them:
This search term alone produced more than 96 different products on Amazon's first search results page, covering 12 stores.
What if your Amazon store isn't one of them? Your goal should be to fuel your Amazon SEO because the higher your ranking, the higher your visibility with Amazon customers will be. And more visibility equals more sales and profits.
A great way to achieve this is by making sure your store and product descriptions are SEO-optimized with relevant keywords. Is this the reason you are looking for an Amazon advertising agency? Then, consider one with a battle-tested content marketing program powered by Amazon SEO, as both store and product descriptions are well-targeted forms of content creation.
Example #2: Promote your products on Amazon
This time, let's say you have optimized your store and product descriptions to comply with all Amazon SEO requirements.
Despite this, it is still possible for other sellers with similar products to rank higher than you on Amazon. You can expect this as Amazon has many ranking factors.
For example, see the first product listed for the phone case we discovered earlier:
This sponsored product was promoted to first place on the Amazon search results page. The store spent money to get its ad to the top of the list. It is pay-to-play. That's why it is labeled "Sponsored".
This means you can promote your products on Amazon to reach the target buyers based on various criteria like search terms, locations, age range, etc.
If that's your goal, the result will be to skip the queue and reach potential buyers on Amazon.
Amazon's advertising platform comes with an entire ad network that you can access now. But, like any ad network, it requires a ton of setup and much attention if you want to make a decent profit.
An Amazon advertising agency is ideal for this type of job. You already have established a store with product listings on it and just want an expert team to run Amazon PPC ads for you. Would an Amazon advertising agency increase your overall costs instead of running the ad itself? Yes. But ads will also do much better. The agency will easily pay for itself.
So if you have either of these goals, we highly recommend that you work with an Amazon advertising agency. So, what features should you look for when choosing one?
6 Features That Make a Great Amazon Advertising Agency
Below are six features you'll find in exceptional Amazon marketing agencies.


Demonstrated Knowledge of Amazon Marketplace
Amazon has its own best platform for digital marketers and business people. But t also has do's and don'ts. To find out if an Amazon advertising agency is qualified enough, check if they have practical expertise in how to sell on Amazon Marketplace and ads with high conversion rates.
Eva gladly shares these best practices in the form of how-to guides and training resources, showing how to drive more sales on Amazon. We also offer Free PPC Audits to inform you about the process and everything that must be done to help you make decisions with peace of mind.
A Team of Experts
Advertising by itself won't do all the heavy lifting needed to turn your Amazon store into a thriving brand.
Other essentials such as proper store setup, product inventory optimization, brand-specific creatives, PPC management, and more should go into the equation.
There's almost no chance that you'll achieve all that with a one-person team. Therefore, one of the characteristics of a great Amazon advertising agency is that they work with a diverse team of experts.
A Clear Process to Implement Their Core Service
Among Amazon advertising agencies, a battle-tested process makes all the difference. This is the only way to deliver reliable results.
Working with an Amazon advertising agency without comprehensive research about their background is like rolling the dice without a solid process.
A high-qualified Amazon advertising agency customizes the process based on your unique needs. Still, they must have a solid core with a proven track record.
For the team at Eva, we have developed a comprehensive program to help Amazon sellers drive traffic to their stores and product pages by combining 20 years of expertise with the power of genuine AI.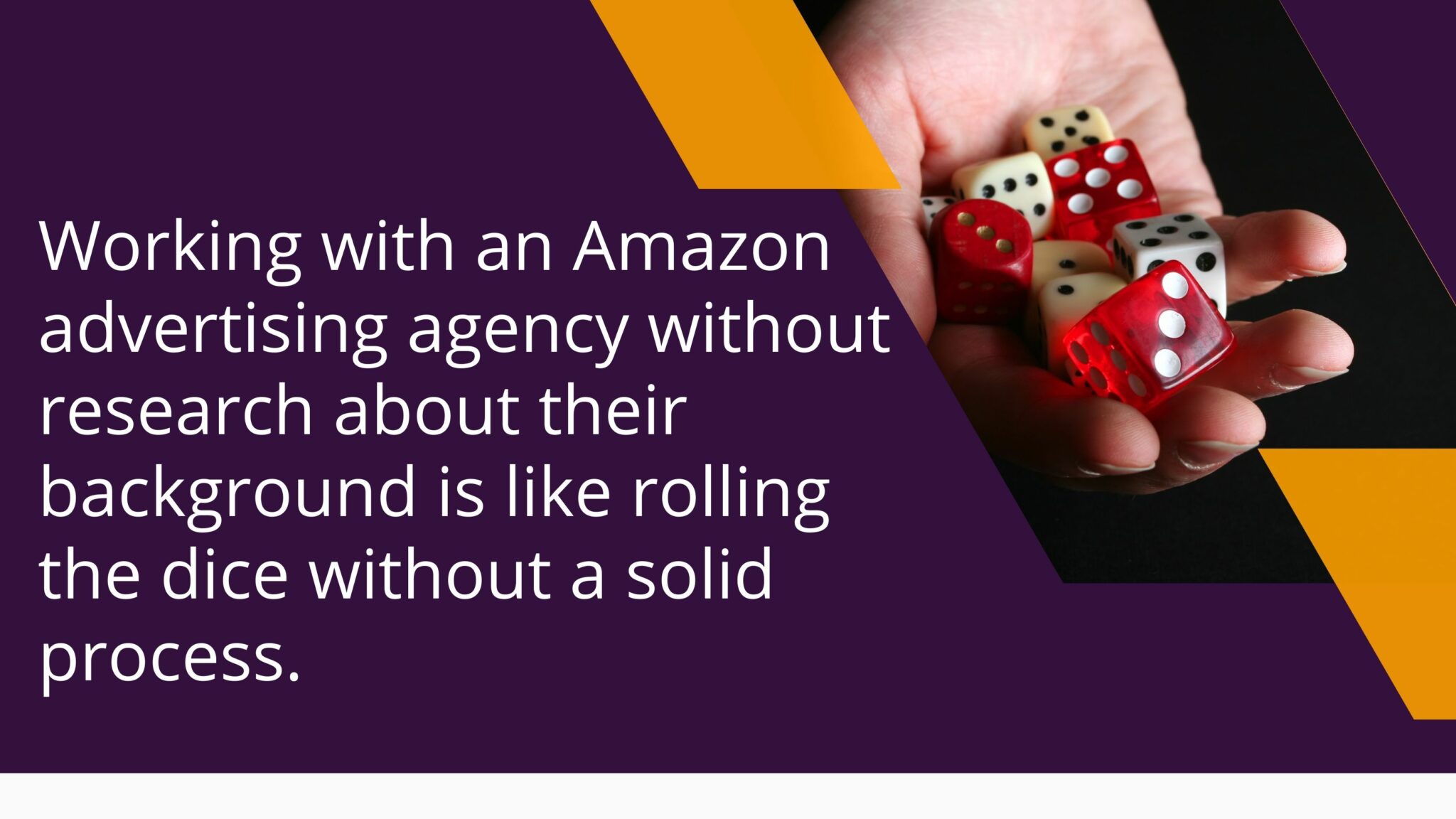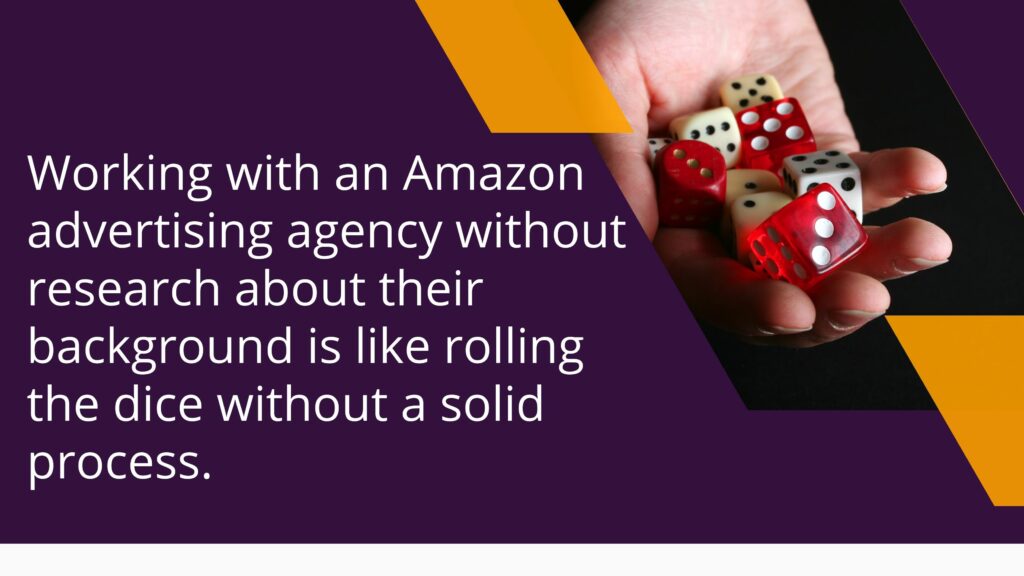 An Impressive Portfolio of Clients
Before you choose an Amazon advertising agency, it is essential to check whom they have worked within the past. You will find it in their portfolio of clients.
That's also an important feature to check as it gives you a sense of the types of companies the agency typically works with. Great Amazon marketing agencies take it a step further with an impressive portfolio of clients.
Great Company Culture
When choosing an Amazon advertising agency, most people let go of the company culture of the agency they want to partner with.
Working with an agency is usually a long-term partnership. If your beliefs are not in sync, you may run into problems in the future.
To prevent this, choose an Amazon advertising agency with a great company culture with values ​​similar to yours.
Customer Inquiry
Before you choose an Amazon marketing agency, please take a moment to look at the testimonials they've received from past and current customers.
That tells you how people think and feel about their services. It also helps you see if what the agency offers is worth the fee.
See Also: Should You Do Amazon PPC Management By Yourself?
How to Work with an Amazon Advertising Agency
Cooperating with an Amazon advertising agency follows several steps. And you must follow them to ensure a smooth partnership. For great agencies, expect to go through the following steps:
You will fill out an inquiry form.
When you visit the website of an Amazon advertising agency, the first step is to fill out their inquiry or contact form.
There are usually forms for basic information about your business. This is also your first time sharing your needs and how you want them to help you.
For any well-run Amazon advertising agency, you should hear a reply from them within a day. If it takes longer than that period, proceed with caution.
Discovery session
Experienced Amazon agencies would like to have one-on-one counseling sessions. You should expect this to allow you to share your needs and speak directly to a marketing expert.
Research and Strategic Recommendations
No two business cases are 100% alike. Great agencies take what you share from the first call and do in-depth research to come up with unique recommendations for your Amazon store. Typically, a second call will set everything up to go through.
See Also: Amazon PPC Strategy, 10 Simple and Helpful Tips to Touch the Sky!
An Audit and Contract
By reading the audit given to you by an agency, you'll gain more clarity if you think it's worth working with them. After this, you will usually receive an offer and a contract that sets out the terms of working together.
Official Client Onboarding
Project management plays an essential role when working with an Amazon advertising agency. Excellent agencies will take you through an official client onboarding process to ensure both parties understand who does what and when.
During the onboarding process, you will get to know your account manager (the specialist overseeing your project) and get the full scope of the project, deliverables, and timeline.
And… How to Start an Amazon Marketing Agency?
Starting an Amazon advertising agency is not as difficult as it might sound. The first step is to build up some experience with Amazon advertising by working with a few clients on a freelance basis. Once you've got some experience under your belt, you can start to think about setting up your own agency. You can choose from a few different business models, but the most important thing is to have a clear understanding of the Amazon ad platform and how it works. Once you have that knowledge, you'll be well on your way to starting a successful Amazon marketing agency.


FAQ | Amazon Advertising Agency
What are the leading Amazon marketing agencies?
Selecting an Amazon advertising agency depends on your marketing needs. Many different Amazon marketing agencies specialize in services like PPC and SEO, product launch campaigns, analytics tracking tools, and more. A leading agency has extensive Amazon marketplace experience and a proven track record of success.
How much does an Amazon advertising agency charge?
The cost of an Amazon marketing agency varies depending on the services offered. Eva Guru typically charges a monthly fee ranging from $30 to $400. It can also go up to $10,000 dollars for campaigns and consulting services, such as PPC campaign setup and optimization. Some agencies also charge a one-time fee for product launch campaigns.
Why do you need an Amazon advertising agency?
Working with an agency is incredibly beneficial if you want to optimize your Amazon marketing and advertising efforts. An experienced amazon marketing agency understands the nuances of Amazon's algorithm, which helps you make strategic decisions that will drive results. Additionally, agencies often have access to sophisticated tools to help analyze data and identify growth opportunities.
How to Lower Your CPC on Amazon?
Reducing your cost per click (CPC) as an Amazon advertiser requires you to focus on improving the relevance of your campaigns. You should structure campaigns and ad groups based on product categories or keyword themes, create unique copy for each ad group, use Amazon-specific keywords, and adjust bid prices as needed. Additionally, you can analyze which keywords are performing well and focus your budget on those.
Is it worth it to advertise on Amazon?
Amazon advertising is crucial for many retailers looking to increase their visibility and drive more sales. With its comprehensive suite of tools and targeting capabilities, Amazon ads can be a great way to reach customers on and off the platform. Additionally, Amazon Ads are highly cost-effective, as they allow you to target shoppers making buying decisions in specific categories.
Is it expensive to market on Amazon?
Advertising on Amazon can be expensive if you don't know what you're doing. To get the most out of your budget, you'll need to understand how Amazon ads work and are willing to invest in research and testing. Additionally, ensuring that your campaigns are well-structured and optimized for relevance is essential. A knowledgeable Amazon advertising agency can help you get the most out of your budget and optimize your campaigns for success.
Conclusion
If you're looking for someone to help you run successful Amazon PPC ads, then Eva is one of the best Amazon advertising agencies with the perfect solution. They have experience creating marketing campaigns on Amazon, know the AAP inside and out, and can help you get the most out of your ad spend. Plus, they're experts in compliance and troubleshooting, so you don't have to worry about things going wrong. Contact us today for a Free Consultation if you're ready to take your Amazon advertising to the next level!