Amazon Attribution is a simple yet effective way to track the activity of external traffic customers when their ad directs them to the marketplace.
Creating custom attribution links lets you explore your customer's journeys and discover how external advertising impacts sales.
As an advertiser, if you want to capitalize on a full-funnel approach to advertising, taking advantage of this tool's invaluable insights is essential.
This article explains three simple ways to grow off-Amazon traffic from data you receive from Amazon Attribution. Once you're done reading, you'll understand
What Is Amazon Attribution And How Does It Work?
At its core, Amazon Attribution is designed to provide you with analytic information on non-Amazon marketing channels.
This includes PPC, social media, search, email marketing, and display advertising. It's free for Amazon Brand Registry sellers and vendors within the US, UK, Canada, and several European countries.
When assessing an ad's performance, it is essential to consider metrics such as CTR, impressions, and page views.
However, Amazon Attribution provides a more granular view of your data – like when customers add items to their cart versus when they make successful purchases.
Amazon Attribution delivers insight into the customer journey by tracking their activities with a particular URL, similar to how Facebook Pixel and Google Analytics site connections work.
A tracking URL anonymously collects data on buyer behavior when they click on an ad, leaving a cookie behind. Amazon Attribution aggregates this information and provides it so sellers can improve their full-funnel advertising strategy.
Benefits of Amazon Attribution
There are several advantages to using Amazon Attribution. These include generating more sales, reducing ad costs, and improving your seller rank.
Generate More Sales
Identifying where prospective buyers are coming from and tracking their actions can help you create more efficient ads. You can adapt by adjusting budgets, targeting, or messaging to boost conversions.
Reduce Ad Costs
By understanding how different channels and tactics affect sales, you can optimize your campaigns to reduce spend. Keep your Amazon TACoS aligned with marketing goals by allocating the budget to the most productive channels.
Improve Your Seller Rank
Your seller rank will improve when you increase the number of sales and ratings. Amazon Attribution's analytics can help you identify what tactics drive more sales and ratings, so you can replicate them.
Identify How Non-Amazon Ads Further Your Sales
Should you spend more on radio ads and less on social media? Should you target a different age range or geography? It's all about finding out what works and focusing on it. Amazon Attribution provides data to help you get the most effective non-Amazon ads.
How To Use Amazon Attribution
First, it's important to note that not all sellers can access Amazon Attribution. Brand Registry, vendors, Amazon KDP authors, and agencies with clients who sell on Amazon can access the platform, but sellers with basic Professional accounts cannot.
With that out of the way, here's a strategy on how to use Amazon Attribution:
Focus On Your Marketing Strategy
Start with tags that measure the performance of your external marketing channels. Take the time to identify where buyers are coming from and track their actions on Amazon.
Make Tags For Your Search & Display Ads
Once the tags are created, you'll want to set up tags for search and display ads. These tags track user activity through the customer journey and provide valuable data on your ad performance.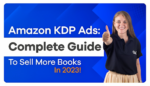 Amazon KDP Ads: Complete Guide To Sell More Books In 2023!
Track Your Social Media Ads
When you purchase ads, Amazon Attribution will track them on social media channels. This data will allow you to understand better which ad campaigns are performing well and which need improvement.
Go granular. Focus on specific campaigns and track activity during the busy season in your industry. By the following year, you should have a better idea of which campaigns work best for your specific niche.
Don't Forget Your Video & Audio Ads
Every interaction within the customer journey is your opportunity to uncover new insights. Amazon Attribution tracks video and audio ads, which are excellent ways to reach new customers and drive sales.
Improve Your Email Marketing
Add Attribution tags to your email content so you can track the performance of email campaigns. This way, you'll know exactly which emails drive more engagement and conversions.
What's working? What's not? The data gathered through Amazon Attribution will help you answer these questions and optimize your future campaign performance.
3 Simple Ways To Use Amazon Attribution To Grow Off-Amazon Traffic
Making use of data doesn't need to be complicated. However, when considering your overall strategy, think about the details you would like to know about your customers and go granular.
By building an Amazon Attribution strategy before building tags, your team will uncover the analytic data that empowers their decision-making.
Here are three simple ways to grow your off-Amazon traffic with Amazon Attribution.
1. Use The Analytic Data To Expand Your Full Funnel Advertising Strategy
Analytics gained through Amazon Attribution can help you make better decisions about your full-funnel advertising strategy.
You can use this data to understand customers' journeys from initial contact to purchase. The insights can help you create more efficient ads and campaigns by targeting customers at the right time throughout their journey.
2. Adjust Your Strategy By Uncovering Customer Insights
With Amazon Attribution, you can uncover customer insights such as the age and gender of your customers.
You can also use this data to identify the geographic regions where you have a higher conversion rate. This can help you adjust your campaigns for better performance where customers have different preferences.
3. Track Every Action On Advertising Channels & Do More Of What Works Best
Creating tags for each channel will allow you to receive more granular performance insights and make better decisions.
You can track every action taken on an advertising channel, including impressions, clicks, and conversions. This will give you the insights needed to identify and do more of what works best.
In conclusion, analyzing data to grow off-Amazon traffic is essential for any seller or vendor looking to increase sales and improve their ranking.
With Amazon Attribution, you can use analytics to understand customer journeys, get insights on your customers, and track every action on advertising channels.
This will help you expand your full-funnel advertising strategy and do more of what works best. So take advantage of this data-driven tool to help make better decisions and drive more sales today.