Amazon Belgium just launched, and you may be wondering how to take advantage of this biggest store in human history! This post provides a step-by-step guide to launching your business on Amazon Belgium in 2023 .
We cover everything from registering as a seller to setting up your business page and listing your products. Read on to learn more! 🧇🍫
Abut Amazon Belgium Marketplace
In 2021, Amazon EU generated sales of more than €51 billion. This figure shows how lucrative Amazon Belgium can be! Now that Amazon Belgium has launched, you can sell in about 28 EU countries and have access to millions of customers. 
To get started on Amazon Belgium, you need to create a new seller account for the region. When creating the account, you need to provide information and documents such as your credit card, company information, phone number, bank account information, and product identification information such as UPC/EAN and VAT number.
Step 1: Choose your business model on Amazon
Your Amazon business strategy should cover the types of products you will sell and how you will get them. There are a few common business models to sell on Amazon:
Private labeling means that you only sell products that you legally own. In other words, a private-label company sells the product on Amazon under its own brand. These can be products you make yourself or white-label products you buy from a seller.
As a amazon private label retailer, you must add your brand to the product before it hits the market. If you source products from a white label manufacturer, they might have the same contract with another private label seller on Amazon. This means you don't have to reinvent the wheel or create a new concept to sell products under your own Amazon brand.
Retail arbitration.
If you buy an item below market value and resell it at a higher price and earn the difference, it is retail arbitrage. Sellers can search various marketplaces for clearance or clearance items, such as Target, Best Buy, or Big Lots, and then sell them on Amazon Belgium at a higher price. 
Retail arbitrage is recommended to make money quickly, but it's not a reliable career with almost zero growth perspective. Resellers are always competing with others selling the same products. If you can't sell fast enough, you'll get stuck with an old inventory unless you sell it at a loss.
White labeling
Generic products to which you add your own brand or logo are called white label products. You can order white label products in bulk, ship them via dropshipping or have them printed on demand.
Amazon sellers find it easier to sell white label products because this way they can skip product research and start selling right away. You don't need to have experience in manufacturing or product design to sell white label products. 
Affiliate marketing
If you don't want to worry about finding products to sell, you can start an affiliate marketing business on Amazon Belgium. All you have to do is choose what you want to sell and promote it to your audience on your own website, Instagram, YouTube, or TikTok accounts. Every seller gets a unique link to include in the content they share. When someone buys a product through the link, they earn a percentage of the sale.
Dropshipping
With dropship on Amazon, you never keep products in stock. The order is passed to a third party when someone buys a product. This third party then takes care of fulfilling and shipping the products to the customer.
The profit margin is small for Amazon's wholesalers. The average margin for dropshipping is between 10 and 30%, and Amazon takes about 15% of your sales. So you have a margin of about 15% for each product sold.
Step 2: Create an Amazon Seller Account
When you want to create a seller account on Amazon, you have two options: Individual Plan and Professional Plan.
Now let's see which one is right for your business:
Choose a professional plan if …
If you sell a lot of products
If you plan to sell a lot of products on Amazon, the Professional account is probably the best option for you. With this account, you pay $39 per month plus a referral fee (which ranges from 6% to 20% of the item price). Although the monthly fee may seem high at first, it can save you money in the long run if you sell a lot of products.
If you want to access more features
If you want access to more features and tools, then the Professional account is the best option for you. With this account, you can access features like ad optimization and promotional tools. You can also create multiple shipping options and manage your orders more easily.
Choose an individual plan if …
Choose an individual plan if …
If you are just starting to sell on Amazon, the individual account is probably the best option for you. With this account, you pay $0.99 per item sold, plus a referral fee (which ranges from 6% to 20% of the item's price). No monthly fees are associated with an individual account, so this option can be very profitable if you are just starting out.
Now that you've made your decision on the plan, let's create an account:
1. Go to Amazon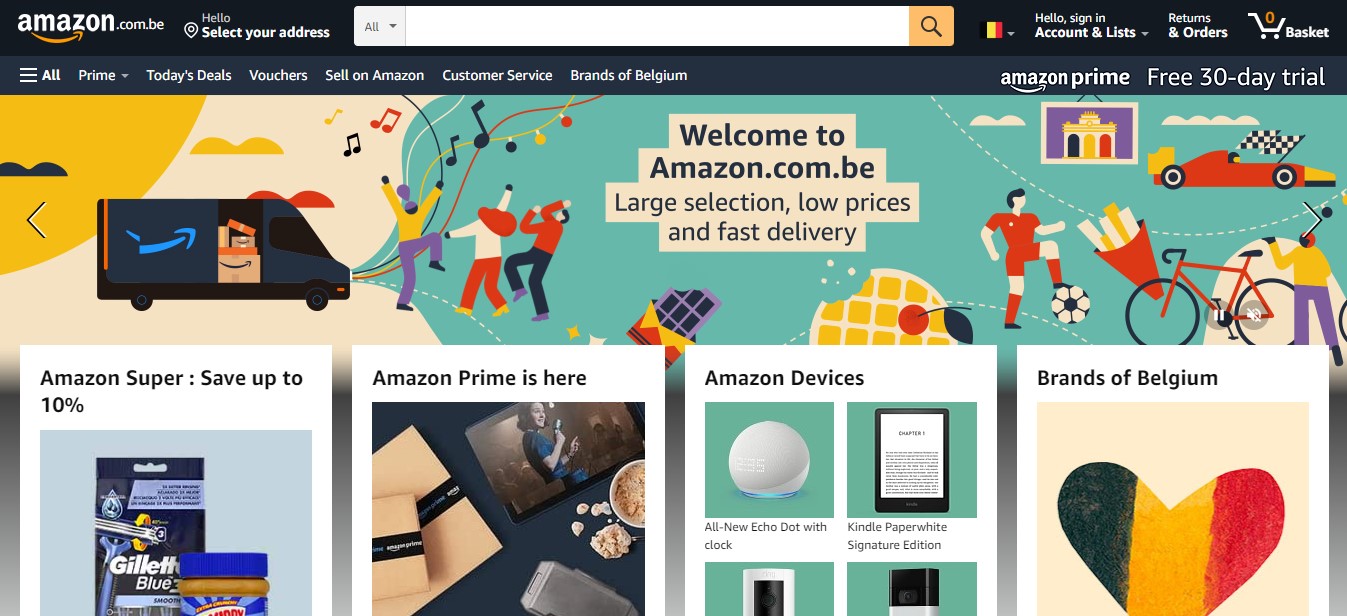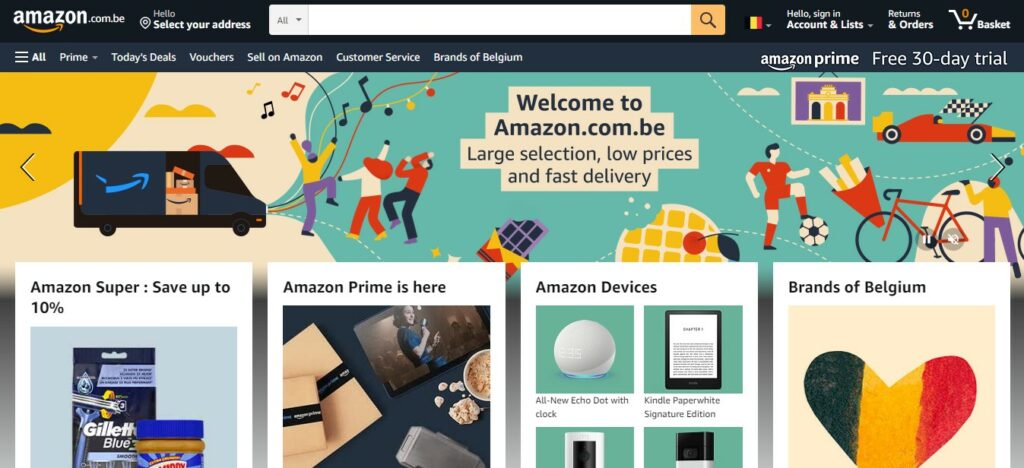 The first step in creating an Amazon seller account is to visit Amazon.com.be. Once on the site, you should create an account if you don't already have one. To do this, click on the "Sign Up" button in the upper right corner of the page and then select the "Create your Amazon account" option.
Once you have created an Amazon account, you will need to click on the "Sell on Amazon" link at the bottom left of the page. This will take you to the page to create your seller account.
2. Enter Your Personal Information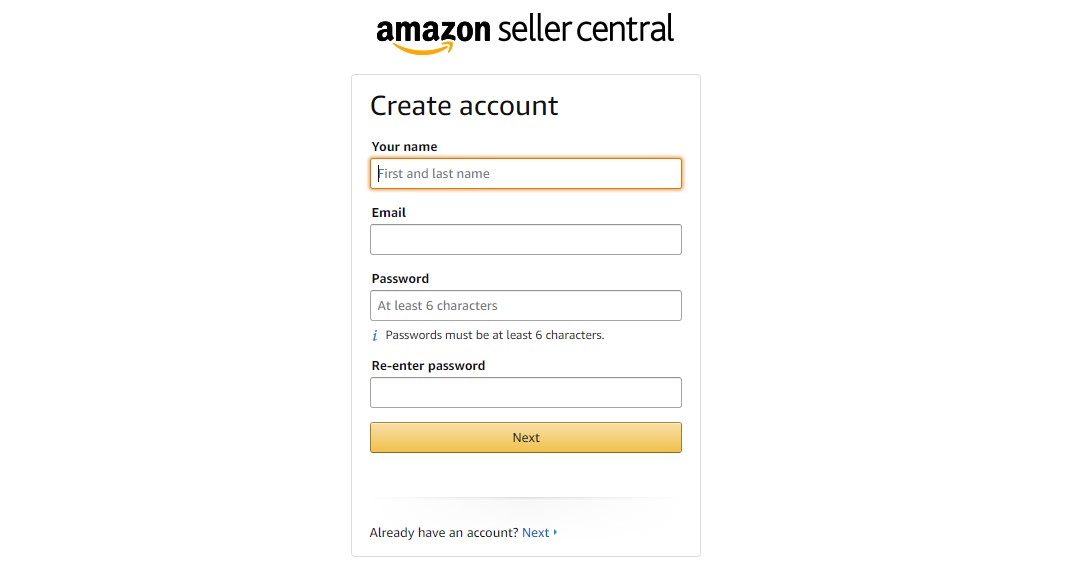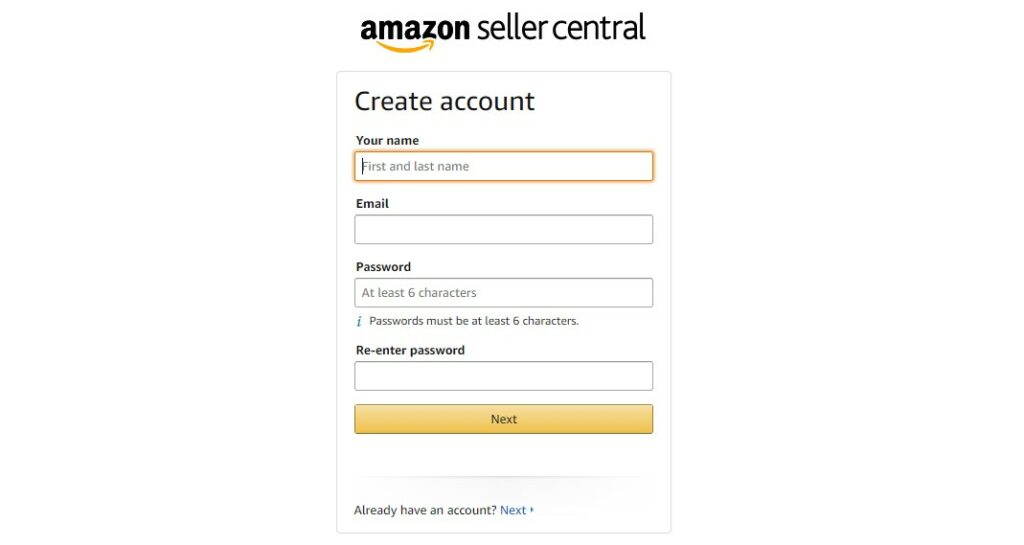 The next step is to create a new seller central account. Please have the following information handy before signing up:
Professional email address
Bank account number or bank routing number
Active credit card
Government-issued national identity card
Tax information
Phone number
3. Choose Your Payment Method
The next step is to choose your payment method. You have the option to be paid by direct deposit into your bank account or by check. If you choose direct deposit, you must enter your bank information. If you choose payment by check, you must provide a mailing address where the check can be sent.
Step 3: Choose a Fulfillment Method
As a seller, you can choose between two options for order processing: the do-it-yourself option or using FBA, where Amazon takes care of receiving, packaging, and shipping the orders.
Amazon FBA
Amazon FBA is a fulfillment service offered by Amazon. With FBA, you ship your products to Amazon's fulfillment centers, and Amazon takes care of the rest, including packaging, shipping, and customer service.
One of the benefits of using Amazon FBA is that your products qualify for Prime delivery, which means they get to customers faster. In addition, using FBA can save you time to focus on other aspects of your new business on Amazon Belgium.
Amazon FBM
Amazon FBM is a service from Amazon where you ship your products to Amazon's warehouses, and they take care of the rest, including packaging, shipping, and customer service. One of the benefits of using Amazon FBM is that you have more control over your inventory and how it is stored. In addition, FBM allows you to offer customers the option of picking up their orders in your own store or office.
Read More: Amazon FBA vs. FBM
Which One Is Best for You?
The answer depends on a number of factors, including your budget, the time you spend on it, and your business goals. Amazon FBM may be a better option for you if you have a limited budget because it requires a less initial investment. If you have a large budget and are looking for a hands-off solution, then Amazon FBA may be a better option. Ultimately, the best option for you depends on your specific needs and goals.
Pros & Cons
Both Amazon FBA and FBM have their advantages and disadvantages. Here are some of the drawbacks of Amazon FBA:
-Your products are eligible for Prime shipping
-You don't have to worry about storage or shipping.
-This can free up so much time and effort for you to focus on other aspects of your business.
The disadvantages of Amazon FBA include
-You have less control over your inventory
-It can be more expensive than other order management options
-This requires an initial investment
How Can You List Your Products on Amazon Belgium?
You need to take care of a few things before posting your products on Amazon. They are quite simple, but it is important not to forget any of them, as it will take a lot more work later.
1. Get UPC codes for all products:
Every item you list on Amazon must have its own UPC, whether it's a single item or multiple bundled items (Amazon considers a bundled item to be a single item). We wrote this guide on Amazon's UPCs that explains what they mean, how and where to find them, and the differences you must know.
2. Measure and Weigh the Products:
Part of uploading a product to Amazon Belgium is adding its dimensions and weight, and there are two ways to do this. If you are lucky enough to have your product already sold elsewhere on Amazon, you can copy and paste the dimensions and weight from that listing. Otherwise, you need to physically measure it (length, width, height) and weigh it.
Now it's time to list your products!
3. Log Into Your Sellers Central Account
Go to the Inventory drop-down menu and select Add Product". You can also reach this point by clicking Add Products by Upload, which is helpful if you are used to working with spreadsheets.
4. Add the Products
Choose one of the three options on the "Add a product" page.
Use the search bar to search for a product by name or ID.
Under the search bar, click "Create a new product listing".
Go to the right side of your screen for batch downloads and click on "Batch download."
Finally, confirm the main category and add any other categories or subcategories to which your items belong.
5. Add the Product Variations
Go to "Advanced View" and fill in all the fields under the different tabs, i.e., Vital Information, Variations, Offer, Images, Description, Keywords, and More Details. If you sell the same products except for minor differences, such as color or size, you will see these differences in the Variations tab.
Amazon Reimbursement Service: Get Your Money Back Fast is a program designed to help Amazon sellers quickly and easily recover lost revenue.
Translate and Localize Your Listing for Belgium
When expanding your business to Belgium, it is essential to localize your products and services for the Belgian market. This includes translating your listing into the three official languages of Belgium: Dutch, French, and German. Do not rely on online translating services like Google Translate for this task; it is much better to ask a native speaker to write and proofread the product description before you publish it.
It is also worth mentioning that you should take into account the specific dialects used in Belgium. For example, Belgian Dutch (Flemish accent) has a little different choice of words than in the Netherlands. Also, Belgian French (Wallonia accent) uses a different vocabulary for numbers compared to metropolitan French. By localizing your products and services for the Belgian marketplace, you will be much more likely to succeed in this new venture.
Discover how reimbursements can add revenue back into your business with our easy-to-follow guide.
How To Price Amazon products?
Setting the right price for your product on Amazon can seem like a daunting task. On the one hand, you want to be competitive to attract buyers. But on the other hand, you need to make a profit to stay in business. That's where Eva comes in. 
Eva is an AI-powered pricing software that takes into account your production costs, Amazon fees, ACoS, competitors, and market demand to generate the most competitive but profitable price for you, regardless of your situation.
With Eva by your side, you can be sure that you will always get the best possible price for your products. So why wait? Try Eva today and see how easy it is to win the price war on Amazon Belgium.
When to Start Using Amazon Ads?
There is no one-size-fits-all answer as the best time to begin Amazon advertising varies depending on your business and marketing goals. However, as a general rule of thumb, we recommend waiting to launch your first ad campaign until you have submitted your listing and received some positive reviews. This will ensure that your ads are more effective and that you don't waste your budget on qualified leads.
Of course, you also want to make sure your ad is SEO-optimized before you start placing ads, as this will increase your chances of conversion. Ultimately, the best time to start running Amazon ads will depend on several factors, so it's important to do your research and make a decision that makes sense for your business.
Conclusion
Now that you know all about Amazon Belgium, it's time to get started! Creating a new seller account is easy and only takes a few minutes. Once your seller central account is set up, you can begin offering your products for sale in the 28 countries of the European Union.
If you have questions or need help getting started, our team of Eve experts is here to help. We offer free consultations to help you sell on Amazon Belgium, and beyond! Don't wait – contact us today for more information!