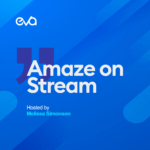 "If I help them to reflect on how they're doing that brings massive value to them and so that's been really the best thing I've done in business" –Michael Veazey.
This week on Amaze on Stream, host Melissa Simonson learns more about Amazon Podcaster, Consultant, and Mastermind Convenor, and the leader of Amazin FBA, Michael Veazey. Listen to our insightful podcast to learn more about Michael's business tips and more!
Getting Started With Eva Is Easy
Ready To Grow?
Start A Free Trial
Create an Eva account in seconds & link your Amazon account. Get a complimentary onboarding call to properly configure & dial in your settings or do-it-yourself using our help library containing 150+ articles and videos.
Have Questions?
We Got You
Need a little more guidance? Connecting with one of our experienced consultants is the best place to start.