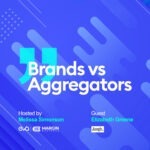 The 17th episode of Brands and Aggregators is all about Amazon Advertising! Elizabeth Greene shares her experiences with Junglr, which was an outstanding example of success when running PPC ads on Amazon 🏆
Melissa Simonson from Eva will be co-hosting this episode as well. Elizabeth and Melissa share some invaluable tips that can help you achieve years' worth of hands-on learning by using their proven methods. ✅📈
Don't miss out on this episode if you want to run top-converting PPC ads with the lowest Amazon ACoS! 🏃🏻‍♂️
If you're impressed by the story of Elizabeth Greene and would like to take the first step towards taking your Amazon Advertising to the next level, don't forget to get a Free PPC Audit from Eva today. Our experts will run a comprehensive audit on your running Amazon PPC campaigns, find the areas for improvement, and give you expert tips for each.
Getting Started With Eva Is Easy
Ready To Grow?
Start A Free Trial
Create an Eva account in seconds & link your Amazon account. Get a complimentary onboarding call to properly configure & dial in your settings or do-it-yourself using our help library containing 150+ articles and videos.
Have Questions?
We Got You
Need a little more guidance? Connecting with one of our experienced Amazon consultants is the best place to start.