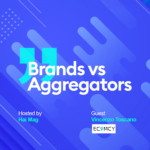 If you're an aggregator trying to keep up with the unstoppable changes in eCommerce, then this episode is just the right fit for you!
Hai Mag, the CEO Eva along with the one and only Vicenzo Toscano from Ecomcy will tell you:
✅ How to Be Customer-Obsessed to be Obsessed-By-Customers
✅ Why PPC is just the tip of the iceberg and PPC agencies won't work out for you
✅ Why it's getting harder and harder to make money with Amazon PPC
✅ How to boost Supply Chain Efficiency
✅ The biggest challenges facing Full-Service Amazon Agencies and how to overcome them
Getting Started With Eva Is Easy
Ready To Grow?
Start A Free Trial
Create an Eva account in seconds & link your Amazon account. Get a complimentary onboarding call to properly configure & dial in your settings or do-it-yourself using our help library containing 150+ articles and videos.
Have Questions?
We Got You
Need a little more guidance? Connecting with one of our experienced Amazon consultants is the best place to start.