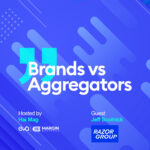 If you've been following the Aggregators news, you should have noticed they've been quite inactive for a while. But why is that?🤔
To find out the answer, don't miss out on the 30th episode of Brands and Aggregators!
Jeff Scolnick from Razor Group GmbH together with Hai Mag find out about that + some expert insights for CPG brands on Amazon and real-time bidding. ⏲
Getting Started With Eva Is Easy
Ready To Grow?
Start A Free Trial
Create an Eva account in seconds & link your Amazon account. Get a complimentary onboarding call to properly configure & dial in your settings or do-it-yourself using our help library containing 150+ articles and videos.
Have Questions?
We Got You
Need a little more guidance? Connecting with one of our experienced consultants is the best place to start.