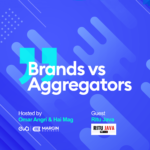 🦖📢 Wanna hear the evolution story of Amazon Advertising? Then don't miss the 24th episode with the superwoman of PPC Ninja, Ritu Java.
In this episode, Hai Mag, Omar Angri from Margin Business, and Ritu deep dive into Amazon advertising. They'll especially discuss the significant advantages of Amazon DSP and how your business can benefit from them. 💎
If you're wondering if your Amazon PPC campaigns are on the right track or if you wanna start fresh, get a Free PPC audit from our experts to drive maximum conversions with minimized costs from your PPC campaigns on Amazon. 🎯✅
Getting Started With Eva Is Easy
Ready To Grow?
Start A Free Trial
Create an Eva account in seconds & link your Amazon account. Get a complimentary onboarding call to properly configure & dial in your settings or do-it-yourself using our help library containing 150+ articles and videos.
Have Questions?
We Got You
Need a little more guidance? Connecting with one of our experienced consultants is the best place to start.