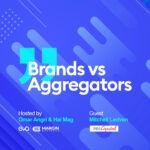 Welcome to another episode of the Brand and Aggregators from the CEO of Eva, Hai Mag, and the CEO of Margin Business, Omar Angri, and our guest is Mitchell Ledven from PIRS Capital.
In this episode, Mitchell, Hai, and Omar talk about how the new year started and what awaits brands and aggregators in 2022. What will happen with COVID and everything? What is expected of us after Amazon's new regulations? What is the future of the industry? What will the future look like?
Follow our series for more answers to all these questions!